BuzzFeed
Millions Of People Will Get Sick And The US Is On Track For 100,000 Deaths Because Of The Coronavirus, Fauci Says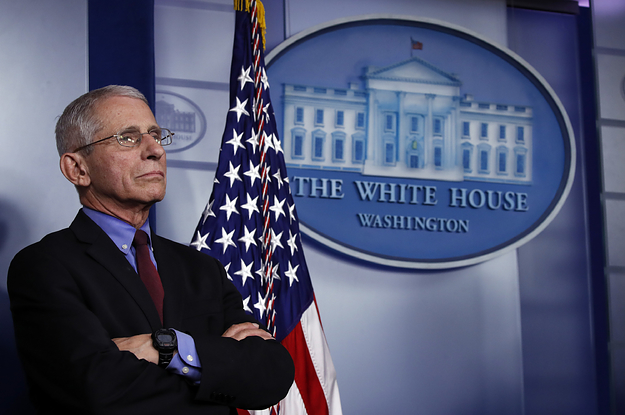 Between 100,000 and 200,000 people will likely die in the US because of the coronavirus outbreak, and the country is on track to see millions of cases of COVID-19, Dr. Anthony Fauci, director of the National Institute of Allergy and Infectious Diseases, said Sunday.
Fauci spoke on CNN's State of the Union, emphasizing that the numbers were based on models that considered best and worst-case scenarios. Looking at those models, Fauci said he believed the US would see between 100,000 and 200,000 deaths.
"I mean, we're going to have millions of cases," he told host Jake Tapper.
As of Sunday, the US had recorded more than 100,000 cases and more than 2,000 deaths as the virus continued to spread throughout states. Fauci said it is critical that Americans continue to take preventative measures, such as staying home except when necessary, to keep other cities from experiencing the dramatic spike in cases that have been seen in places like New York and New Orleans.
President Trump has said he hopes to soon begin lifting restrictions in some parts of the country, reopening businesses and schools. On Sunday, Fauci said the outbreak hadn't slowed enough to make that a safe possibility in the immediate future.
"It's not going to be tomorrow, and it's certainly not going to be next week," he said.
The White House's coronavirus task force will continue to discuss the issue as it considers what recommendations it will make in the coming week, he added.
More testing in particular is necessary to understanding the full scope of the outbreak, Fauci said. Some areas with few confirmed cases of the virus have had relatively few tests available, and it's likely the outbreak is much more widespread than is officially known.
Before Americans can get back to their daily routines, Fauci said enough tests need to be in place to track how the virus is actually spreading. And testing needs to be conducted rapidly, so infected people aren't left in the dark for days about their status — potentially infecting others in the meantime.
"If we can do that, Jake, I think we could reasonably, with the safety of the American people in mind, pull back on some of the restrictions," Fauci told Tapper. "But you got to have all the players and all the material in place. That's what we're trying to do."