BuzzFeed
14 People Who Were Probably Happy Their Delivery Arrived Until They Actually Saw It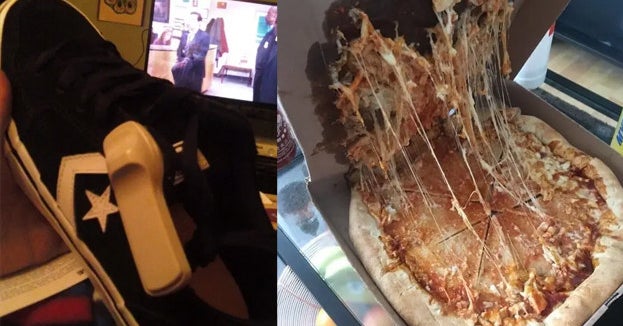 We all love getting packages, but not like this.
1.
This person who ordered 27 books and got them in 27 different boxes.
2.
This pizza that came with its most important parts stuck to the roof of the box.
3.
This super discreet sex toy delivery.
4.
This person whose hot sauce didn't survive the journey.
5.
This person who unexpectedly received $94 worth of pizza because their baby ordered it via an app that didn't require payment info.
6.
This person whose apple cider was delivered in the box, but like actually soaked into its cardboard.
7.
This vinyl record delivery that most definitely isn't functional.
8.
This person who just wanted their battery and got it inside of extremely excessive packaging.
9.
This person who ordered shoes that came with the security tag still attached.
10.
This person's school supplies delivery that came as a sloppy mess.
11.
This person who received their plates in pieces.
12.
This person who ordered video games and got one of 'em still locked in its security case.
13.
This person who ordered a toaster at a discount because it was said to have "minor cosmetic damage."
14.
And finally, this person who was probably bent out of shape when their diploma came bent out of shape.
BuzzFeed Daily
Keep up with the latest daily buzz with the BuzzFeed Daily newsletter!