2020
Vandals defaced a justice for Breonna Taylor sign and accidentally made it even more powerful
A billboard in Louisville, Kentucky's Irish Hill neighborhood calling for justice for Breonna Taylor has been defaced by vandals. The vandals splashed red paint on the image of Taylor's face, making it look like a gunshot to the forehead.
No one is sure of the vandals' intent, but the defaced image of Taylor has turned the billboard into an even more powerful reminder that the officers involved in her murder have yet to face justice.
Editor's Note: Some readers may find the following image to be upsetting.
---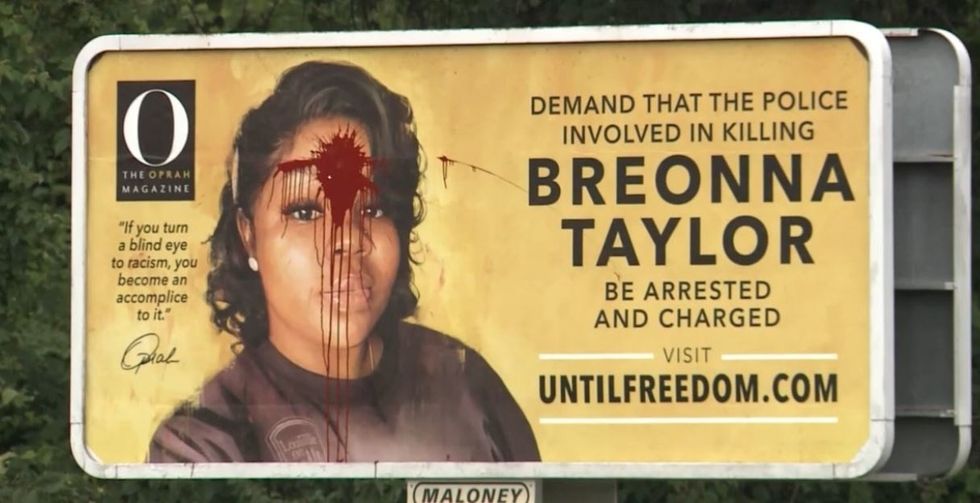 via WTKR News 3
Taylor, a Black emergency medical technician, was killed when three officers opened fire on her in her apartment. Only one officer has been fired for the incident.
The plainclothes police were serving a "no-knock" narcotics warrant which took her boyfriend, Kennet Walker, a registered gun owner, by surprise. Assuming that the intruders were attempting to rob them, Walker opened fire and shot one of the officers in the leg.
The police returned fire killing Taylor. No narcotics were found in the apartment.
Walker was cleared of all charges in the incident. Taylor's murder has led to countless protests over the past five months. But, according to Kentucky officials, the incident is still under investigation.
Last week, Taylor's mother, Tamika Palmer, met with Louisville Mayor Greg Fischer and Kentucky Attorney General Daniel Cameron, to discuss the investigation into the killing.
"One hundred and fifty days," Palmer said at a news conference. "Every day is still March the 13th."
Palmer was asked what she learned from the attorney general about the probe.
"Just that he wants to have the right answer at the end of this," Palmer said. "He doesn't want to rush through it. So for me, I'm trying to accept that and be patient with that. Because I definitely want him to come out with the right answer."
The defaced billboard was one of 26 placed in Louisville by officials from O, Oprah Winfrey's magazine, to keep the investigation top-of-mind with the community and pressure officials for justice.
"Demand that the police involved in killing Breonna Taylor be arrested and charged," the billboard reads.
It also has a quote from Oprah Winfrey: "If you turn a blind eye to racism, you become an accomplice to it."
Winfrey isn't the only celebrity keeping Taylor's death in the public eye while the investigation drags on.
Justice for Breonna Taylor https://t.co/vkDYRc0Eb1

— Los Angeles Lakers (@Los Angeles Lakers)1597792690.0
Some of the Los Angeles Lakers donned striking, red MAGA hats as they left the Disneyland Hotel on Tuesday. The hats had the "Great Again" portion Donald Trump's notorious slogan crossed out and "Arrest the Cops who Killed Breonna Taylor" scrawled in white beneath it.
Lakers star LeBron James explained the meaning behind the hats, telling reporters that Taylor "had a bright future and her life was taken away from her and there've been no arrests and no justice, not only for her but for her family. And we want to continue to shed light on that situation, which was unjust. That's what it's about."
From Your Site Articles
Related Articles Around the Web