BuzzFeed
Two People Were Fatally Shot And One Person Was Injured In Kenosha During Protests For Jacob Blake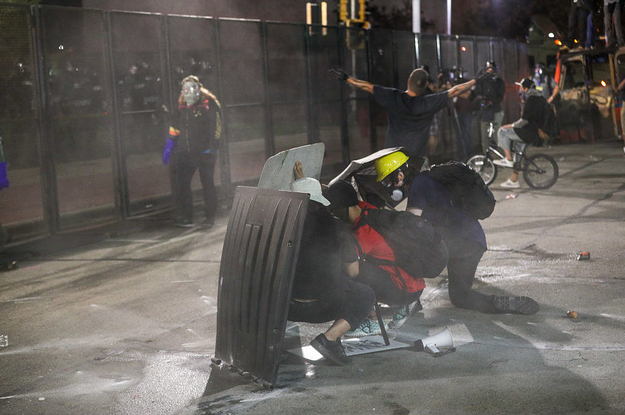 Two people were fatally shot and one was injured in gunfire during the third night of protests in Kenosha over the police shooting of Jacob Blake, a 29-year-old Black man, police said early Wednesday.
Tuesday night's shooting took place near a gas station following a confrontation between protesters and men armed with guns who claimed to be guarding the gas station, the New York Times reported.
Kenosha police said officers responded to shots fired at around 11:45 p.m. Two people were killed and a third gunshot victim was transported to a hospital with serious, but non-life-threatening injuries, police said.
Kenosha County Sheriff David Beth told the Times that the investigation was focused on the group of armed men outside the gas station.
Kyle Rittenhouse, 17, was arrested in connection with the shooting on Wednesday morning in Antioch, Illinois, which is about 20 miles from Kenosha.
He was charged with first degree intentional homicide in Kenosha and was separately charged as a fugitive from justice in Antioch, according to police records obtained by BuzzFeed News. Rittenhouse allegedly fled Wisconsin after the shooting to "with the intent to avoid prosecution," the police complaint said.
Lake County Circuit Court records show that he will appear in court again on Friday for an extradition hearing.
A video shared on social media shows a white man carrying a rifle and running down a street as protesters follow him. As the man falls to the ground, he fires multiple shots into the crowd, the video shows. It is unclear if the armed man is Rittenhouse.
One person was reported to be shot in the chest and another in the arm. The armed man is then seen walking down the street toward a police car with his hands in the air as armored trucks pass by him.
Beth told Kenosha News that one suspected shooter is white, as was one of the men who was killed.
In separate video clips shared on Twitter, the same armed man is seen running away from a scene after at least three gunshots can be heard and one person appears to be shot. A graphic video shows people trying to help the man who appears to have been shot in the head.
In another video clip, a law enforcement official in an armored truck is seen handing over a bottle of water to the same armed man. It is unclear when the video was taken.
In a separate video, the armed man says he was "pepper sprayed by a person in the crowd" and that he was ready to defend property.
The sheriff's office did not respond to a request for comment.
A militia group calling itself Kenosha Guard on Facebook said they had mobilized their members during Tuesday night's protests. Their Facebook page says they are "a group of citizen volunteers that are ready to protect our great City."
In a Facebook post before Tuesday's protests, the group called for "patriots willing to take up arms and defend our City tonight from the evil thugs."
In a statement on Wednesday, the group said it was unaware if the armed suspect involved in the shooting "was answering the Kenosha Guard Militia's call to arms."
Sheriff Beth told the Milwaukee Journal Sentinel that he was aware of the"vigilante group" but said that he did not know if the suspect was involved with that group.
A Facebook live video captured the confrontation between a group of armed civilians and Black Lives Matter protesters at the gas station before the shooting on Tuesday night. The video shows them verbally sparring as well as objects being thrown.
An unidentified armed civilian present during Tuesday night's protests told the Washington Post that he was there to stop people from breaking into local businesses and that he had heard rumors of people throwing pipe bombs. It is unclear if pipe bombs were used during Tuesday night's demonstrations.
"If the cops aren't going to stop them from throwing pipe bombs on innocent civilians, somebody has to," the man said.
"Ain't nothing being done. We're the only ones," Joe, a 29-year-old man who identified himself as a US Marine veteran, told the Post. "Three thousand of us are armed and ready."
Kenosha has been plunged into three days of civil unrest after a police officer shot Blake seven times as he got into his car with three of his children nearby on Sunday. Blake's family and attorney said that he has been paralyzed by a bullet.
The shooting, captured on viral video, has sparked demonstrations during which police teargassed protesters and businesses were broken into and burned, prompting Wisconsin Gov. Tony Evers to deploy the National Guard to Kenosha.
On Wednesday, President Trump announced he was sending federal law enforcement officers to Kenosha.
Evers authorized 500 members of the Wisconsin National Guard on Wednesday to support local law enforcement in Kenosha County, a spokesperson for the governor's office told BuzzFeed News.