2020
The top U.S. military official makes loyalty clear: 'We do not take an oath to a king…'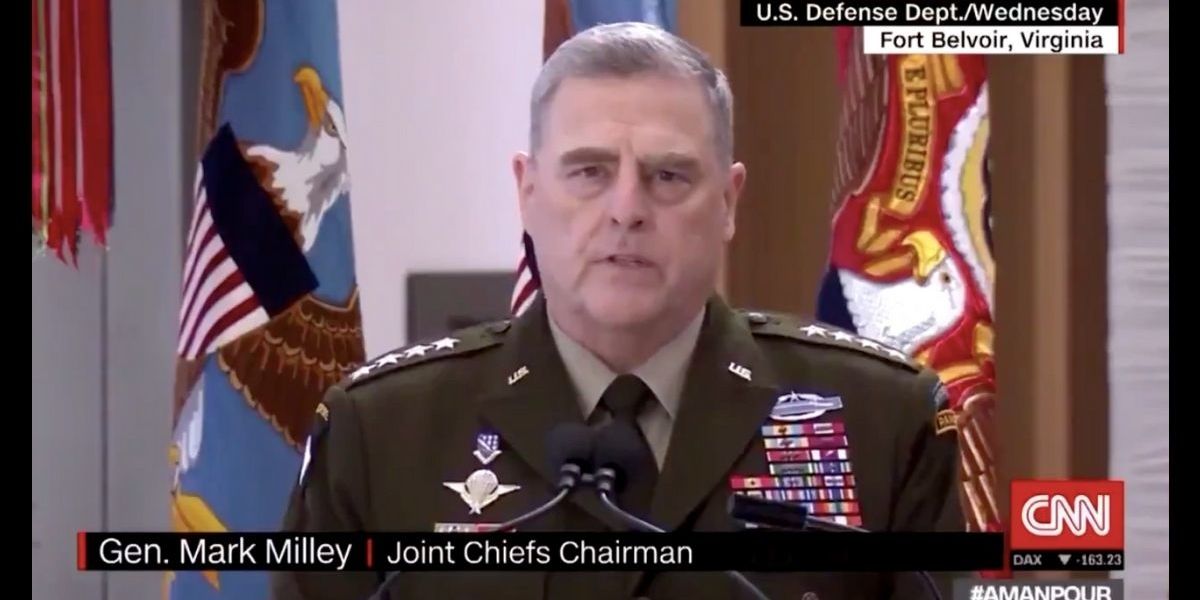 With President Trump still refusing to concede the election to Joe Biden, despite his own administration's Cybersecurity and Infrastructure Security Agency saying,"The November 3rd election was the most secure in American history," and "There is no evidence that any voting system deleted or lost votes, changed votes, or was in any way compromised," the U.S. finds itself in an embarrassingly awkward position. It was predictable, of course—Trump is incapable of admitting defeat, even when it's obvious—but the scenario we're in raises questions about how far he'd be willing to go to cling to power.
One of those questions is "What if Trump tries to use the military to help him stay in power?" That question seems to have been answered by General Mark Milley, the chairman of the Joint Chiefs of Staff, in a speech he gave at the opening of the US Army's museum. As the top ranking member of the military, Milley made it clear that the armed forces do not serve an individual, whether it be a king or a dictator. And though this may have been a run-of-the-mill reminder of where the military places its loyalty, his remarks feel almost as if they're directed at President Trump himself.
---
"We are unique among armies," Gen. Milley said. "We are unique among militaries. We do not take an oath to a king or a queen, a tyrant or a dictator. We do not take an oath to an individual."
"We do not take an oath to a country, a tribe, or a religion," he continued. "We take an oath to the Constitution. And every soldier that is represented in this museum—every sailor, every airman, Marine, Coast Guardsman—each of us will protect and defend that document regardless of personal price."
Gen. Mark Milley, the chairman of the Joint Chiefs of Staff: "We do not take an oath to a king or a queen, a tyrant… https://t.co/Zl1OoPydbs

— MeidasTouch.com (@MeidasTouch.com)1605226710.0
General Milley had recently expressed concern about the politicization of the military in the wake of President Trump complaining about leadership at the Pentagon and amid questions about the possibility of the president invoking the Insurrection Act in possible post-election unrest.
Milley had also distanced himself from Trump after the president's photo stunt at St. John's church during the country's widespread racial justice protests. Milley had accompanied the president on his walk to the church, which was preceded by the National Guard being deployed to forcibly clear a path for the president, resulting in peaceful protesters and members of the press being hurt—a move that Milley later called "a mistake."
Let us never forget that when the President of the United States ordered U.S. forces to gas peaceful American citiz… https://t.co/7UQlU45GEz

— Keith Boykin (@Keith Boykin)1591482797.0
"My presence in that moment and in that environment created a perception of the military involved in domestic politics," the general said in his National Defense University commencement ceremony remarks. "As a commissioned uniformed officer, it was a mistake that I have learned from, and I sincerely hope we all can learn from it."
Yes, being complicit in the U.S. government attacking its own citizens so that the president can get a photo of himself holding a bible in front of a church and create a North Korea-style propaganda video of the whole thing was definitely a mistake.
@WhiteHouse 🚨 What the White House DOESN'T want you to see: https://t.co/D2UDZ7nY5b

— Biden | Harris VICTORY Room (@Biden | Harris VICTORY Room)1591073653.0
So yeah. It is good to hear the top military official in the country make it clear that our troops will not be used to satisfy the narcissistic whims of a wannabe autocrat who doesn't know how to lose with grace and dignity. Especially as that wannabe autocrat is taking sledgehammer to leadership at the Pentagon as we speak, and to what end, no one knows. Somebody has to be willing to be the grown-up who tells the child that they can't always get what they want. If the nation's top Army general couldn't or wouldn't do that, the U.S. would be in a world of trouble.
From Your Site Articles
Related Articles Around the Web