2020
Obama's post-election lunch with the former presidents is what America should look like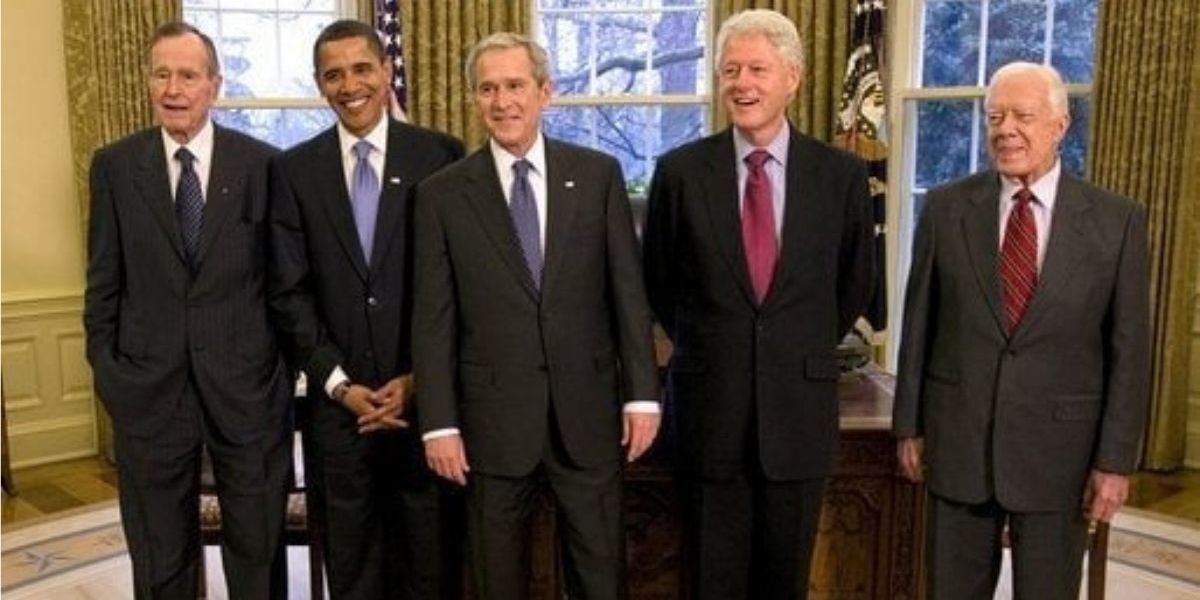 I've never been a fan of politics. I've always made conscientious decisions when I vote and engaged in discussions about challenges facing society, but the world of politics itself has always been a turn off. The partisan bickering, the power of expensive lobbyists to sway leaders who are supposed to work for the people, the mudslinging and inherently divisive nature of our two-party system—it's all just felt gross to me.
The office of the presidency, oddly enough, has not felt that way. Though a president brings their partisanship with them, of course, the office itself is non-partisan. The fact that it is a job held by a single individual has always humanized it for me, prompting me to feel some sympathy even for presidents I wasn't a fan of. "President of the United States" is an inarguably difficult position to be in, with impossibly hard choices to make. When unexpected crises land in your lap—the world's worst terrorist attack, a classroom full of first graders gunned down, the arrival of a global pandemic—it's your responsibility to handle it with care and wisdom. Every decision you make will be examined through the lens of history. Every statement you make becomes historical record. That's no small thing.
The weight of the office is unmatched in our country, and the status of the U.S. as a superpower makes it unlike any other position in the world. Everything U.S. presidents do and say matters, not just to Americans, but to people and governments all over the world.
Up until four years ago, I felt like every president understood that.
For some beautiful proof, consider this story of President-elect Obama's asking President Bush if he could meet the former presidents during his transition. A Facebook post from Sebastian Copeland shared an excerpt from Jean Edward Smith's biography of George W. Bush that reads:
---
"As part of the presidential transition, Barack Obama asked Bush if it would be possible for him to meet all the ex-presidents. Bush was happy to oblige, and organized a White House luncheon in the Oval Office on January 7. Bush and Obama were joined by Jimmy Carter, Bill Clinton, and George H. W. Bush. The luncheon lasted over two hours, each former president ordered his lunch à la carte from the White House mess, and the tone was convivial and friendly. 'All the gentlemen here understand both the pressures and possibilities of this office,' said Obama before the meeting. 'For me to have the opportunity to get advice, good counsel and fellowship with these individuals is extraordinary, and I just want to thank the President for hosting us.'
Bush was equally effusive. 'We want you to succeed,' he replied. 'Whether we're Democrat or Republican we care deeply about this country. And to the extent we can we look forward to sharing our experiences with you. All of us who have served in this office understand that the office transcends the individual.'"
What a stunning contrast to where we are today.
Right now we have a President-elect not only being denied the most basic transition protocols, but being accused of crazy global conspiracies to to cheat in order to get elected. Nevermind that the pre-election polling from practically every respected polling firm had him ahead the whole time, making his win not remarkable in any way. Nevermind that the DHS cybersecurity head issued a statement saying, "There is no evidence that any voting system deleted or lost votes, changed votes, or was in any way compromised." Nevermind that that official was subsequently fired by the president for fact-checking him and that the president's legal team is next-level cuckoo bananapants. Nevermind that that legal team is currently 1–30 in post-election court cases, proving that the claims of widespread fraud are not based in reality.
It's as embarrassing as it is baffling. And on top of that, the dignity and decency we see in the Obama transition story is gone. The current occupant of the White House has shat upon the office of the presidency. It's going to have to be hosed down, disinfected, and saged in a hazmat suit before President-elect Biden takes the reins.
I exaggerate—but only slightly—because I'm frustrated that I can't do much else. It's a helpless feeling to watch the country you love having its foundations sledgehammered by a malignant narcissist who wouldn't recognize decency and dignity if they slapped him across the face, knowing that you can't personally do anything about it. While I'm hopeful for the future, I mourn for what we've lost these past four years and weep over the fact that tens of millions of Americans appear to not care that the office of the presidency has been befouled beyond recognition by this man's ongoing behavior.
There is plenty to criticize in every president's time in the Oval Office, and some certainly had moments which were neither decent not dignified. But when their terms were over, when it was time to pass the baton to the next person in line, they did it. They didn't try to undermine a free and fair election with criminal accusations of their opponent. They didn't lie constantly to the American people in a desperate attempt to cling to power. They recognized that the office was bigger than they were, that the safety and security of the country was more important than they were, that even though their party was passing power to the opposing team, the person elected deserved a chance to govern because the will of the people said so.
Politics is ugly, but not like this. This is far beyond partisan squabbles and typical mudslinging. For the first time in modern history, our peaceful transfer of power is being threatened by the delusions of an egomaniac who can't admit defeat. I just hope and pray that this nightmare ends soon so we can bring dignity and decency back to the White House, for all our sakes.
From Your Site Articles
Related Articles Around the Web