BuzzFeed CyberS
22 Behind-The-Scenes Photos From This Year's Most Popular Movies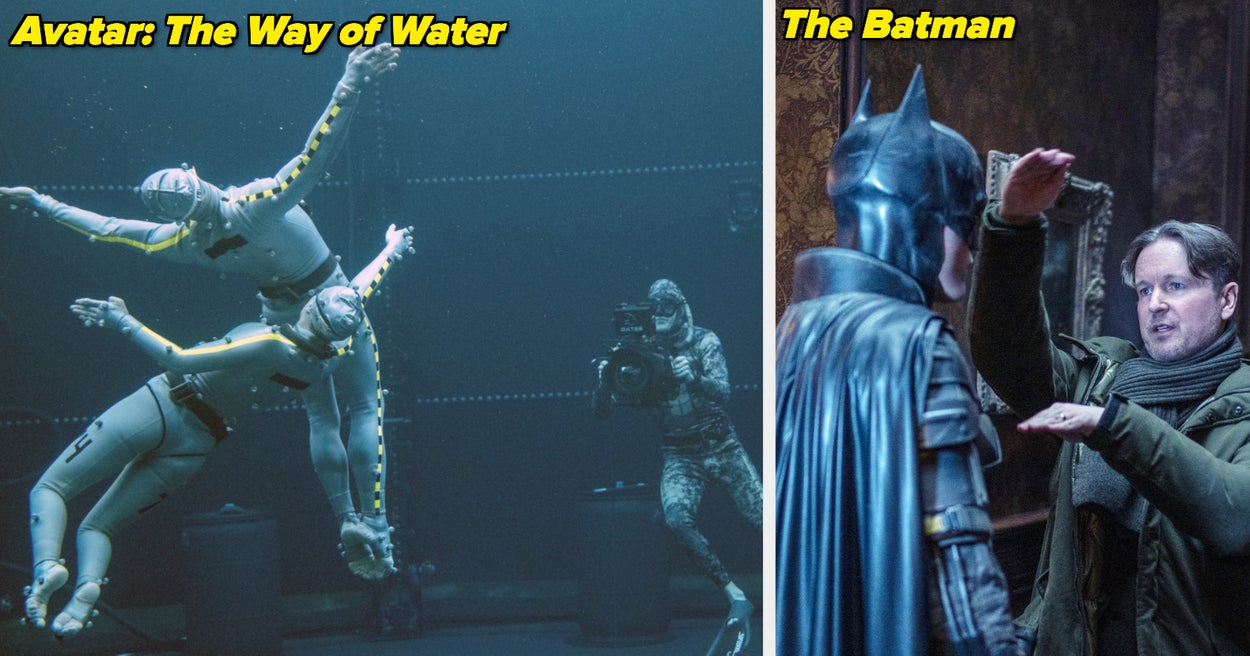 So it goes without saying that 2022 was a hell of a year for movies, but you better believe I'm going to say it anyway: 2022 was a hell of a year for movies.
So, with that in mind, here are just a few awesome behind-the-scenes shots from movies that came out this year that I bet you haven't seen before (or maybe you have, I'm not sure! But hey, here they are again):
1.
Here we see a couple of stunt actors look especially ethereal during an underwater sequence on the set of Avatar: The Way of Water:
2.
And Harry Styles shares a (not-so-intimate) moment with his on-screen wife, Florence Pugh, on the set of Don't Worry Darling:
3.
Sophia Turner takes up a new hobby on the set of Do Revenge:
4.
While Ana De Armas realizes that diamonds are, in fact, a girl's best friend on the set of Blonde:
5.
Director Ol Parker, Julia Roberts, and George Clooney giggle on the set of Ticket to Paradise:
6.
And Dwayne "The Scorpion King of my Heart, The Rock" Johnson gets into character for his next take while filming Black Adam:
7.
Jordan Peele sets up what's sure to be a nightmare-inducing shot for Nope:
8.
Director Taika Waititi and Chris Hemsworth take a break to watch back a scene on the colorful set of Thor: Love and Thunder:
9.
While director Halina Reijn shows Amandla Stenberg and Maria Bakalova a playback while they're water-bound on the set of Bodies Bodies Bodies:
10.
Austin Butler shows director Baz Luhrmann that Elvis has NOT left the building while filming Elvis:
11.
Jennifer Lopez sits in one of the most stunning gowns I've ever seen in a movie while chatting with director Kat Coiro on the set of Marry Me:
12.
And director Matt Reeves gives an interesting looking note to Robert Pattinson on the set of The Batman:
13.
Tom Cruise gets into character while looking at a throwback photo on the set of Top Gun: Maverick:
14.
While this sweet dino prepares for its close-up with director Colin Trevorrow on the set of Jurassic World: Dominion:
15.
The one and only Wong (Benedict Wong) gets ready for a fight on the set of Doctor Strange in the Multiverse of Madness:
16.
Aaron Taylor-Johnson looks like he means business on the set of Bullet Train:
17.
Sterling K. Brown and director Adamma Ebo chat (I can only assume about how good they both look in the color pink) on the set of Honk for Jesus. Save Your Soul.:
18.
Jamie Lee Curtis strikes a power pose while listening to director David Gordon Green on the set of Halloween Ends:
19.
Co-directors Daniel Kwan and Daniel Scheinert make sense of multiverses on the set of Everything Everywhere All At Once:
20.
Director Ti West looks terrifically modern while directing the time period-appropriate Martin Henderson and Mia Goth on the set of X:
21.
Director Tommy Wirkola gets David Harbour ready for some "season's beatings" on the set of Violent Night:
22.
And last, but certainly not least, whatever the heck is going on here with director Rian Johnson on the set of Glass Onion: A Knives Out Story:
There you have it! What was your favorite movie released this year? Share in the comments below!
Share This Article