dailydot CyberS
'A little too on the nose': Fans react to 'SNL's' take on Marjorie Taylor Greene, O.J. Simpson getting vaccinated before teachers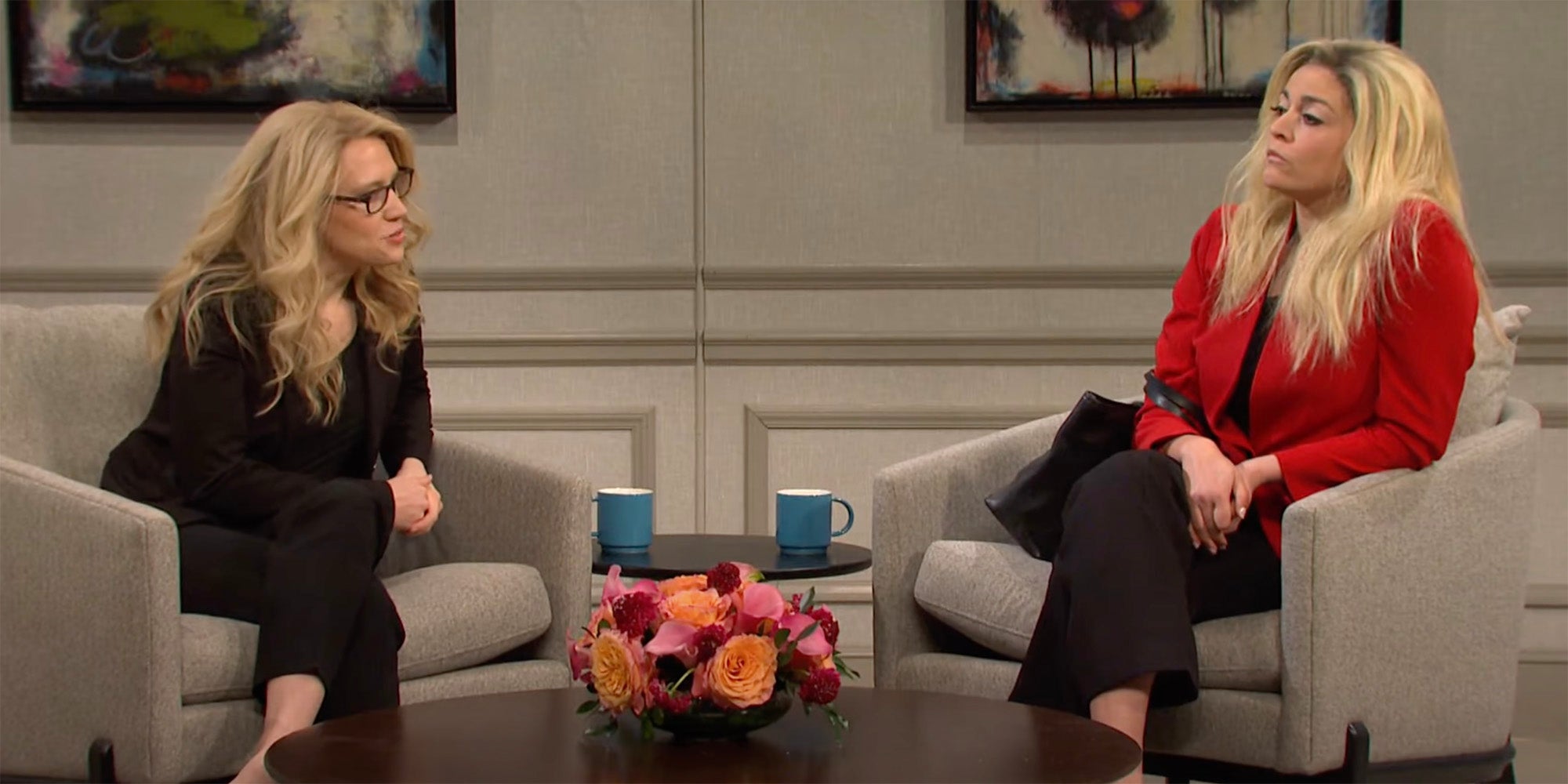 Saturday night's cold open on SNL featured Kate McKinnon as the host of a fictional show called "What Still Works?" After running through government, the stock market, social media, and the coronavirus vaccine rollout, she concluded that the only thing that works in the U.S. is Tom Brady's reliability in getting teams to the Super Bowl. But fans found the wrap-up of life in 2021 a little too real.
A lot of that had to do with McKinnon's first guest in the sketch: Cecily Strong portraying QAnon-friendly Rep. Marjorie Taylor Greene (R-Ga.), whose actual public proclamations over the week became punchlines.
CNN commentator Ana Navarro-Cárdenas noted of SNL's treatment of Greene, "Stuff she spews is so absurd and cray-cray, it's impossible not to make fun of her. Except she's now in a position to affect policy, specifically education policy. Not a laughing matter."
Miranda Yaver pointed out, simply, "SNL didn't even exaggerate," with the show including Greene's belief about what caused the 2018 California wildfires boiled down to the phrase "Jewish space laser."
One person labeled the jokes throughout a series of "izzies," in which "the joke is basically what is," before stating, "It's not great sketchwriting."
Another reported that her fiancé was blown away by all the wild news being unveiled throughout the sketch, noting that "he keeps pausing it and being like 'Babe, did you hear about this Marjorie Taylor Greene thing? Have you heard about GameStop? How about OJ?'" She declared, in all caps, "BITCH I AM ON TWITTER I KNOW EVERYTHING- IT IS A CURSE."
The segment also mocked the ongoing Game Stop situation, with Pete Davidson on to help McKinnon break down the "stonk market," and unflattering depictions of Twitter's Jack Dorsey and Facebook's Mark Zuckerberg. That portion included Dorsey asking McKinnon if his beard is "working;" she responded, "It's working in terms of keeping me a lesbian."
It also rolled out Kenan Thompson as O.J. Simpson, based on his tweet Friday showing him getting a coronavirus vaccine. (McKinnon opined, in the mock interview, that teachers were among those who should be getting vaccines before Simpson, who has been a polarizing figure since his 1995 murder trial.)
It led Ina Fried to conclude "The SNL cold open was amazing (if a little too on the nose)."
Perhaps adding to that feeling was McKinnon's closing line for all of us: "Stay strong… or weak! Weak is a good option, too!"
The post 'A little too on the nose': Fans react to 'SNL's' take on Marjorie Taylor Greene, O.J. Simpson getting vaccinated before teachers appeared first on The Daily Dot.