upworthy CyberS
A male 'feminist' criticized Phoebe Bridgers' guitar-smashing on SNL. It didn't end well.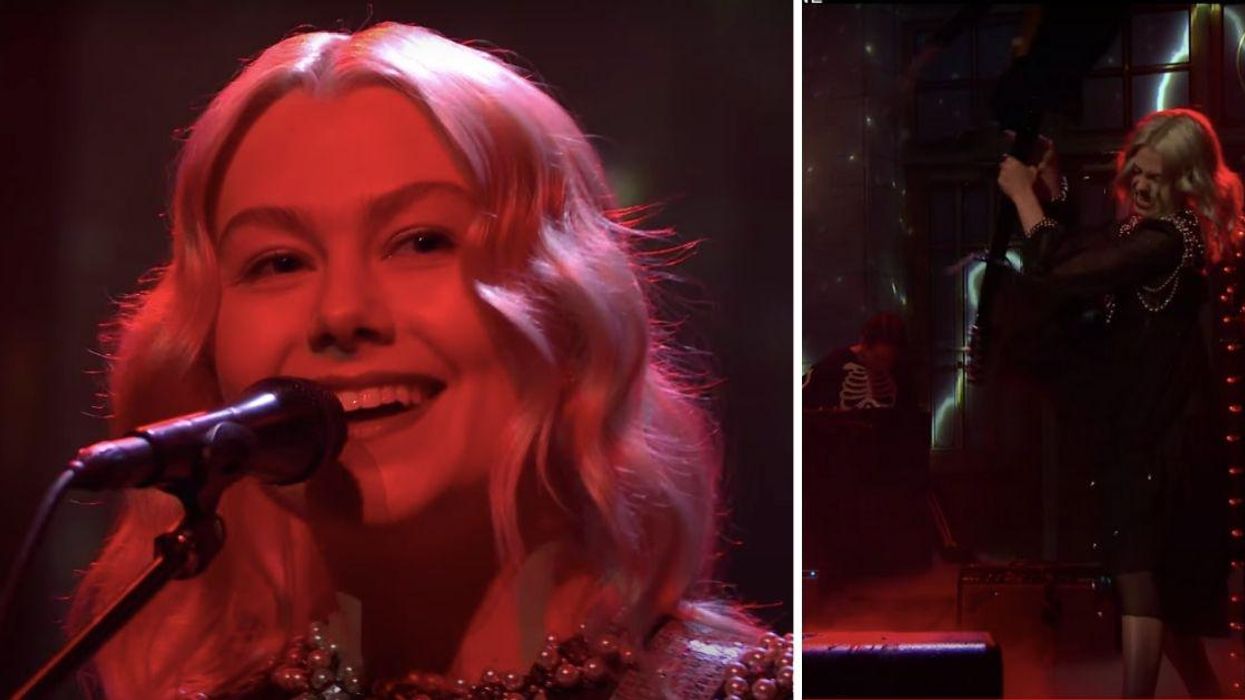 Singer-songwriter Phoebe Bridgers made waves with her performance on Saturday Night Live for perhaps the most modern-day reason ever.
At the end of her second song, "I Know the End," Bridgers let out a primal scream before smashing her guitar on a monitor. As could be predicted, some people had opinions—including a popular Twitter account "BrooklynDad_Defiant!" who got himself into hot water as a self-described feminist with a rather un-feminist take.
"Why did this woman, Phoebe Bridgers, destroy her guitar on SNL?" he wrote. "I mean, I didn't care much for the song either, but that seemed extra."
Before we get into the whole "policing a female musician for doing something male musicians have done for decades" thing, here's Bridgers' full performance of the song so you can see what leads up to the guitar smashing. "I Know the End" is a ballad that escalates to heavy metal. The lyrics of the song are up for interpretation, but they seem to start with a kind of personal storytelling and gradually lead to an apocalyptic ending.
---
Phoebe Bridgers: I Know The End (Live) – SNL youtu.be
For some, the scream and the guitar smashing at the end were cathartic. If you haven't felt like letting out a big, guttural "AAAAAHHHHHHH!!!!!!" and smashing something during the past year, you're definitely living a charmed life.
But even without the pandemic/political dumpster fire of 2020, smashing a guitar during a performance isn't anything unprecedented. Male rock band members have been destroying instruments after playing since at least the 1960s.
Some people poked fun at BrooklynDad for his grandpa-like response (although most grandpas of today were young during the original guitar-smashing era).
Others pointed out the sexist nature of the complaint. (The addition of "this woman" in the original tweet is what really pushes it into this category, on top of the fact that male guitar smashers are viewed as badass rock 'n' roll stars.)
However, some complaints came from people who say they just hate seeing a musical instrument being destroyed no matter who does it. Having a musician with a handmade violin in my household, I understand the visceral response. However, not all instruments are precious works of craftsmanship, and even if you hate to see a perfectly good guitar get smashed, there's the performance art element that goes with the apocalyptic ending of the song to consider.
The same argument about waste could be made with any movie that destroys cars. The question of what is wasteful when it comes to art is totally subjective. But also, that guitar doesn't appear to be some kind of priceless instrument.
In fact, Bridgers says she contacted the guitar company to tell them she was going to do it, and they wished her luck and told her they were hard to break.
They were right. One funny part of all of this is that it doesn't really look like the guitar even broke. Though it may have some damage, it appeared to stay intact throughout the "smashing." Feels like maybe she should have turned it on its side for full smashing effect.
The monitor she smashed the guitar against appeared to take a beating, but Bridgers clarified that it wasn't even a real monitor.
So yeah. Much ado about nothing, and all because people can't stop themselves from voicing an unsolicited opinion any time a woman does anything outside of the prescribed norm.
As far as the "why" question in the original post? Maybe it's because of stuff like this.
Marilyn Manson is a whole other article, but suffice it to say that pretty much every woman on Earth has every justification to scream and smash things, especially in times and places where no one is being harmed by it. Doing so in a performance of a song about the world ending during a time period where we all need to let off some steam feels about right. Carry on, Ms. Bridgers.