dailydot
A mother on TikTok is bringing attention to the danger of amber teething necklaces after one killed her son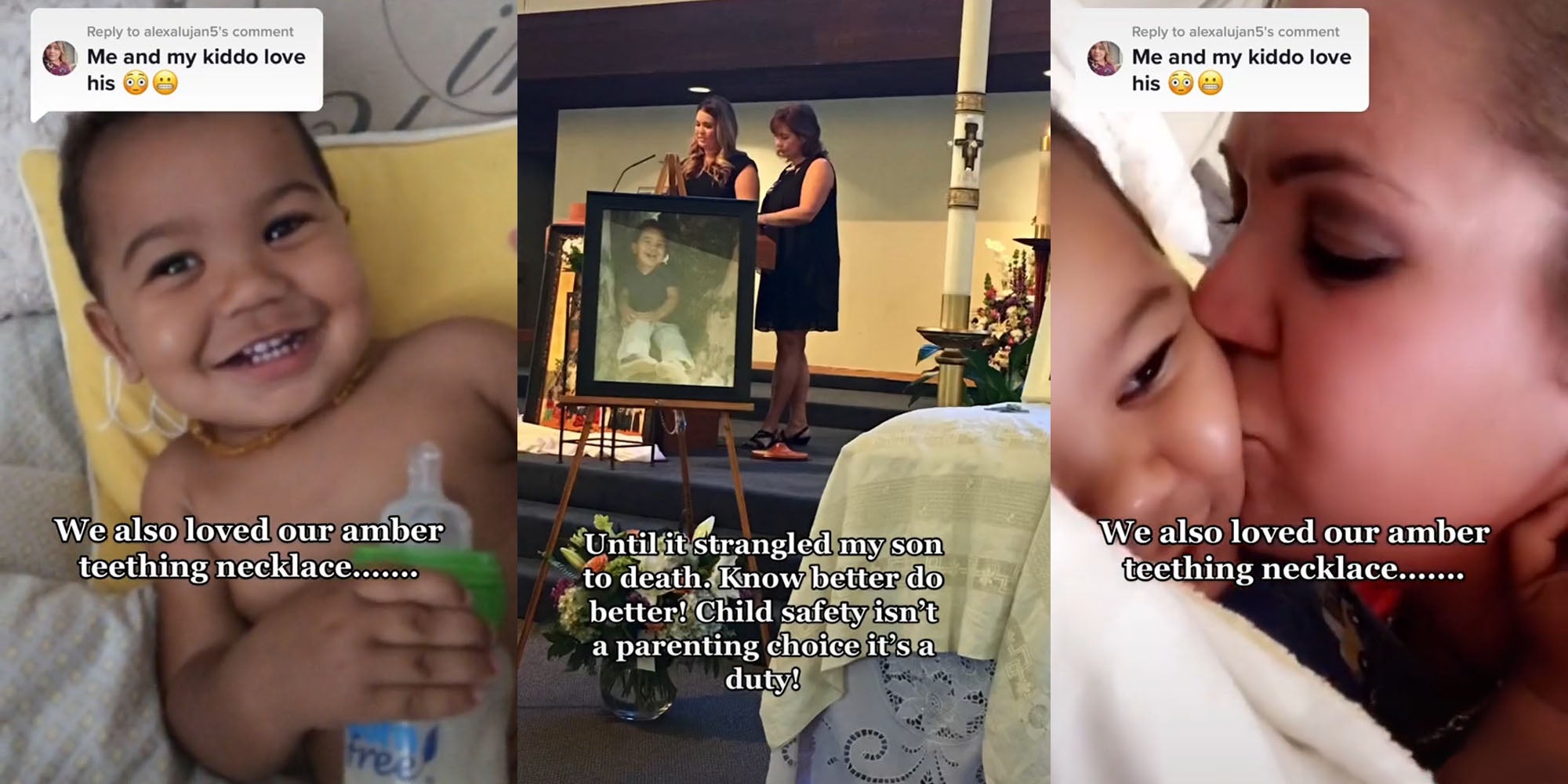 A mother on TikTok is sounding the alarm about the danger of amber teething necklaces.
In a now-viral video, user @danimorin13 shared the heartbreaking story of losing her child after an amber teething necklace got caught around his neck, strangling him.
The video currently has over 403,000 views.
For context, an amber teething necklace is a piece of jewelry made of pieces of Baltic amber, or fossilized tree resin, that is given to infants during teething.
Some who support the continued use of amber teething necklaces claim that the minor amounts of succinic acid in the amber will have a soothing effect on the child's gums as they chew.
However, the New York Times notes that there is no evidence supporting this claim and substantial evidence that teething necklaces can pose a strangulation risk. In 2018, the FDA backed up this idea, putting out a warning against the use of teething necklaces owing to the risk of strangulation and choking.
The woman featured in the TikTok video is Danielle Morin. In 2016, her 18-month-old child Deacon was strangled by his amber teething necklace, eventually leading to his death, per the New York Times.
Since then, Danielle has become an advocate against the use of amber teething necklaces. She's sued the online marketplace Etsy to stop the sale of the teething necklaces, and when she spots continued listings of amber teething necklaces on the platform, she uses her considerable social media audience to help get the listings removed.
In comments, users continued their support for Danielle, thanking her for warning parents about the dangers of amber teething necklaces.
"I want you to know that I bought one before my daughter was born and your awareness saved me from ever putting it on my daughter. Thank you," wrote a commenter.
"Sick to my stomach that I ever sold these at a boutique I worked at. Lord forgive me. Praying for you mama!" added another.
"I'm surprised that moms today still buy and defend those, being countless child death cases due to those necklaces," a third stated. "Thank you for sharing."
While many offered encouragement, Danielle noted in comments that her fight against the product is still ongoing.
"I had to block over 40 moms that just wouldn't quit," she says in comments about a recent anti-teething necklace video. She later added, "Any purchase of Baltic amber is supporting the manufacturing of the necklaces. They do nothing anyways and that's been proven."
For parents who have an amber teething necklace and are just learning of their danger, Danielle's message is simple: get rid of it, but don't feel guilty about not knowing the truth.
"Do not ask for forgiveness for something you and I did not know was dangerous," she said in response to a commenter. "Now we know. And we are doing better."
The Daily Dot has reached out to Danielle Morin via email for comment on this story.
The post A mother on TikTok is bringing attention to the danger of amber teething necklaces after one killed her son appeared first on The Daily Dot.