upworthy CyberS
A teen with cerebral palsy asked Nike for more accessible shoes—and they keep on delivering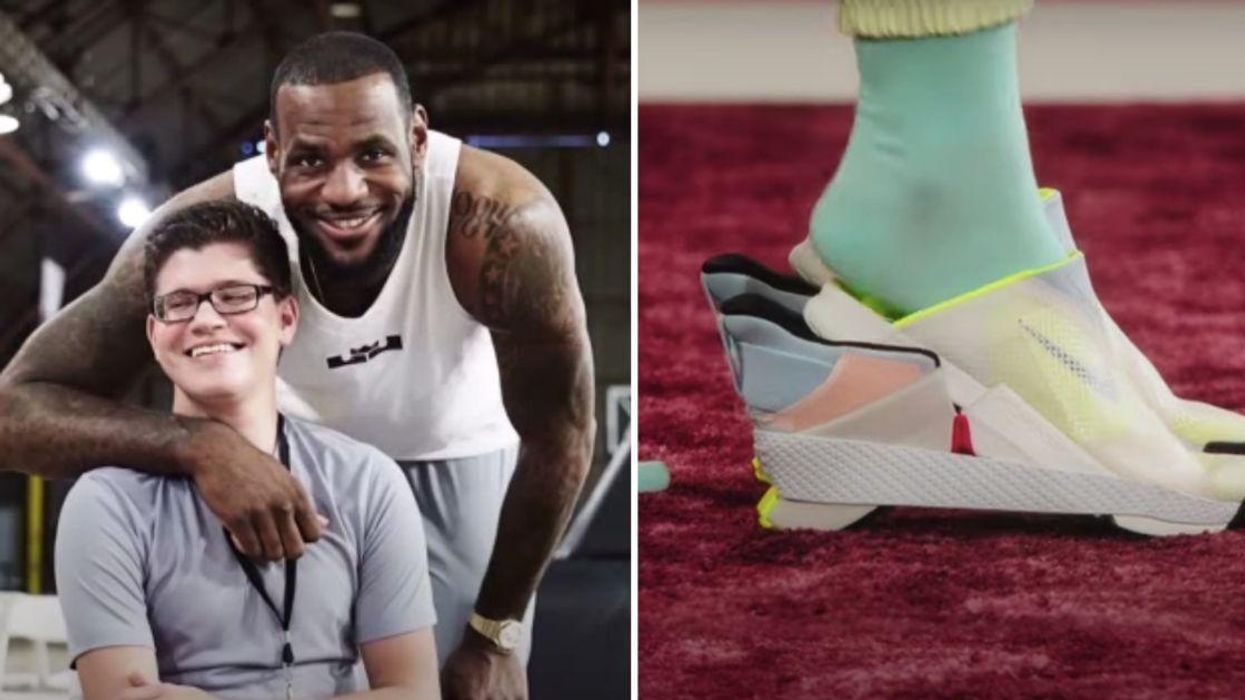 In 2012, Matthew Walzer wrote a letter to Nike with a request.
"I was born two months premature on October 19, 1995," the letter began. "I weighed only two pounds fourteen ounces, and because my lungs were fully not developed, my brain did not receive enough oxygen. As a result, I have a brain injury that caused me to have Cerebral Palsy. Fortunately, I am only affected physically, as others can be affected mentally, physically or both."
Walzer explained that doctors had told his parents he would never walk and that if he ever talked, he'd have a lisp. Both of those diagnoses turned out to be false. "I walk somewhat independently around my home and use crutches when I'm out or at school," he wrote. He's never had a problem with his speech. He said he wanted to go to college to become a journalist, and loved writing sports columns.
"Out of all the challenges I have overcome in my life," he continued, "there is one that I am still trying to master, tying my shoes. Cerebral palsy stiffens the muscles in the body. As a result I have flexibility in only one of my hands which makes it impossible for me to tie my shoes.
---
"My dream is to go to the college of my choice without having to worry about someone coming to tie my shoes every day. I've worn Nike basketball shoes all my life. I can only wear this type of shoe, because I need ankle support to walk…At 16 years old, I am able to completely dress myself, but my parents still have to tie my shoes. As a teenager who is striving to become totally self-sufficient, I find this extremely frustrating and, at times, embarrassing."
Walzer said he wasn't making a business proposal, but bringing a need to Nike's attention.
"If Nike would design and produce basketball and running shoes with moderate support and some kind of closure system that could be used by everyone, Nike could create a shoe line that attracts people that face the same physical challenges I did and still do, yet it could still be possible for anyone to wear them," he wrote. "I am always searching the web for any type of shoe brand that makes athletic shoes that provide good support, are self-lacing and are made for everyday wear or for playing sports. It is disappointing that no athletic brand has taken the creative initiative to design and produce athletic shoes in this category."
Nike took Walzer's words to heart.
#NikeLetter lands teen awesome shoe deal! www.youtube.com
The letter made its way to Tobie Hatfield, a shoe designer at Nike who had been designing shoes for Special Olympics athletes and Paralympians with similar shoe needs. Hatfield reached out to Walzer and the two worked together to design a shoe that would work for him.
Walzer was blown away. He said his letter had been a "Hail Mary" attempt to find a shoe that would work for him, and he expected maybe a polite response letter, not a personal design partnership.
For several years, Hatfield would send Walzer designs to try and he would give his feedback. Ultimately, Nike developed a whole line of shoes that are quick and easy to get into. The FlyEase line makes athletic shoes accessible for a wider range of people—and they keep on making even better designs.
The new Nike GO FlyEase is the latest design—a completely hands-free shoe that's even easier to get into and out of. The Nike FlyEase website describes how it works:
"Behind the shoe's smooth motion is a bi-stable hinge that enables the shoe to be secure in fully open and fully closed states.
This duality allows another signature detail: the Nike GO FlyEase tensioner. The tensioner's unique flexibility super-charges an action many might take for granted (kicking-off a shoe) and completely reimagines this movement as basis for accessible and empowering design."
If that's confusing, here's a visual demonstration and explanation for how the design came about:
Nike Go FlyEase | Behind the Design | Nike www.youtube.com
The Nike GO FlyEase will initially be available by invitation-only on February 15 and will become more broadly available later this year. We're looking at a price of $120.
Pretty darn cool, Nike. This is what innovation should be used for—to make life better for everyone, no matter how people themselves are designed.