upworthy
Adam Sandler opens up about losing his friend Chris Farley in tribute to the late star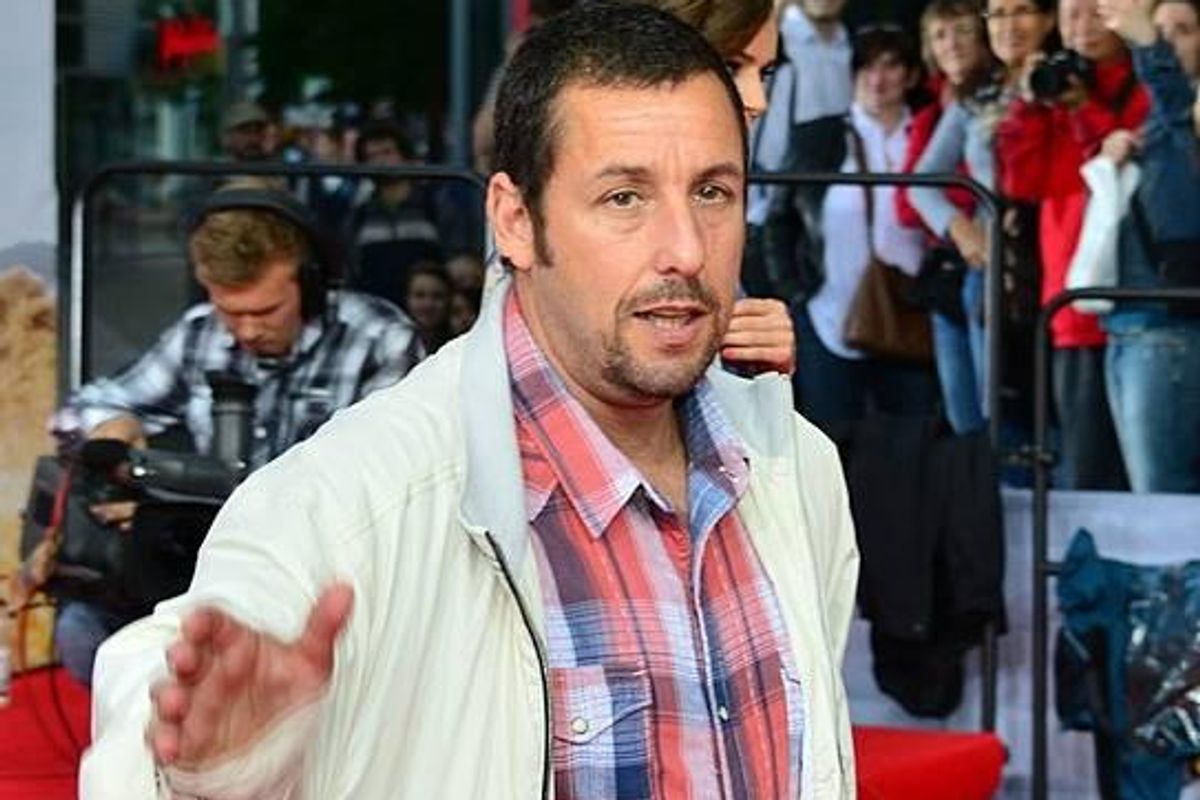 When comedian Chris Farley was found dead from an overdose on December 18, 1997, he left behind an impressive body of work for someone so young. Farley was a breakout hit on "Saturday Night Live" from 1990 to 1995 and would go on to star in the comedies "Tommy Boy," "Black Sheep" and "Beverly Hills Ninja."
Farley was beloved by his fellow cast members on SNL in the mid-'90s, many of whom went onto superstardom. including Chris Rock, Adam Sandler, David Spade, Rob Schneider and Mike Myers.
Even though Farley has been gone for 25 years, Sandler still hasn't gotten over the loss, and on the latest episode of the "Happy Sad Confused" podcast, he admitted that he still gets choked up when talking about him on stage. Sandler has been playing the "Chris Farley Song," a tribute to his late friend, during his one-man show since 2019.
He played an emotional version of the song in 2019 when he returned to SNL to host after being fired from the show 24 years earlier.
---
Here's an excerpt of the lyrics to "Chris Farley Song" by Adam Sandler:
On a Saturday night my man would always deliver
Whether he was the bumblebee girl
Or living in a van down by the river
He loved the Bears and he could dance
That Chippendales with Swayze
When they replaced his coffee with Folgers
He went full-on crazy
The sexiest gap girl
Without him, there'd be no lunch lady
In lunch lady land
Oh, I'm thinking about
I'm thinking about my boy
Chris Farley
"The first few times we played that song, I would tear up and I couldn't really sing it well because I'd get so emotional and then I felt it and was able to get it out there," Sandler told "Happy Sad Confused" host Josh Horowitz. "It's weird, but when that song starts, I go, 'Oh f–k, alright, don't cry and don't do that' still. I've sang it maybe a hundred times already, but it rocks me."
He misses him deeply because he knows him as much more than a performer.
"I think it's because we show a video of Chris and I see his face," he said, referring to a montage that plays behind Sandler as he sings. "And I remember his dad and I'm friends with his brothers and his mom and everybody and they still miss him a lot. So yeah, it gets me."
It's hard for Sandler to talk about Farley but it's wonderful to hear how much he is still loved.
"I love hearing the crowd go nuts for Farley," he said, adding, "Every show I do, by far the biggest applause of the night is talking about Farley and any time I mention his name, the audience goes nuts. It feels great."
Sandler said that when he and his friend David Spade, who was also Farley's comedic partner, went on tour together, he had a hard time hearing the song. "He's like 'Man, sometimes I can't listen, I gotta walk away because I get so upset,'" Sandler said of Spade. "We loved him. We loved him so much … He was as cool as it gets."
Farley's life ended in tragedy, but his memory lives on through his work and friends like Sandler and Spade, who keep his memory alive. It's a testament to the love that these friends had for Farley that his memory still brings up such strong emotions. It's a testament to his talent that audiences are still overjoyed when they hear his name.