upworthy CyberS
After being criticized by Peter Dinklage, Disney announces a 'different approach' to Snow White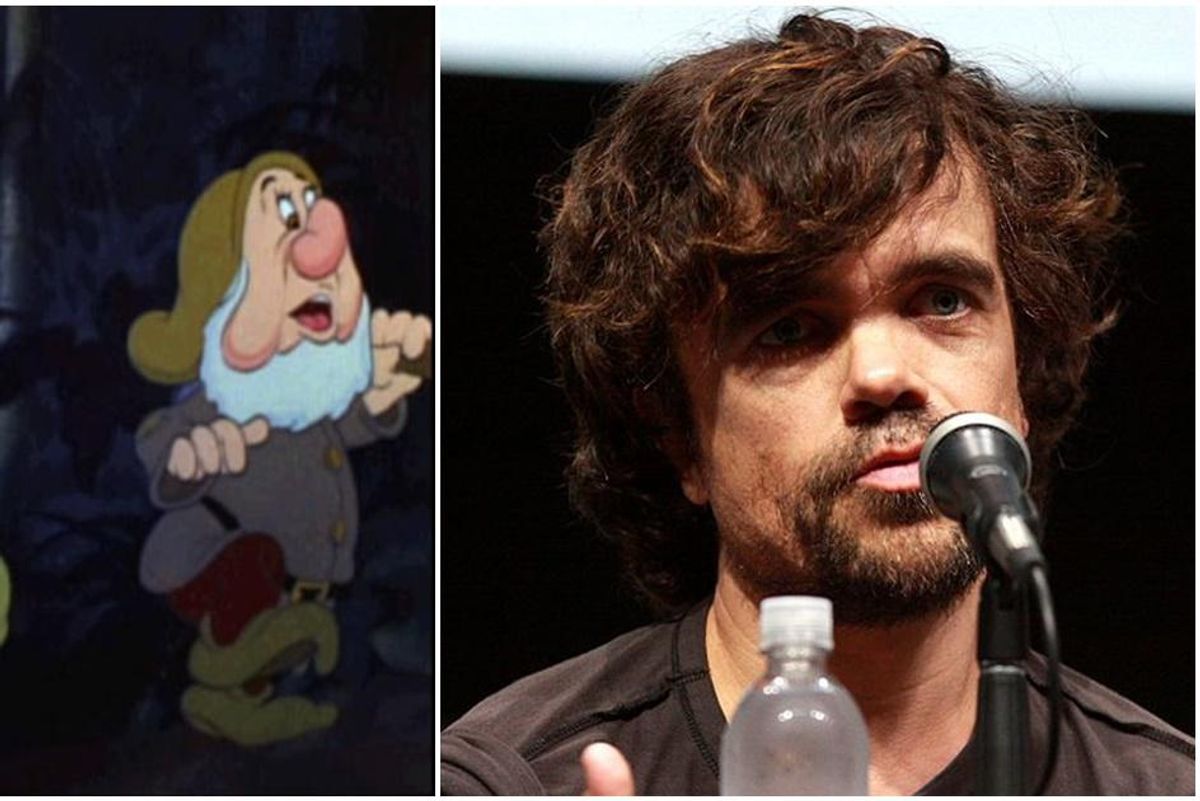 On Tuesday, Upworthy reported that actor Peter Dinklage was unhappy with Disney's decision to move forward with a live-action version of "Snow White and the Seven Drawfs" starring Rachel Zegler.
Dinklage praised Disney's inclusive casting of the "West Side Story" actress, whose mother is of Colombian descent, but pointed out that, at the same time, the company was making a film that promotes damaging stereotypes about people with dwarfism.
"There's a lot of hypocrisy going on, I've gotta say, from being somebody who's a little bit unique," Dinklage told Marc Maron on his "WTF" podcast.
"Well, you know, it's really progressive to cast a—literally no offense to anybody, but I was a little taken aback by, they were very proud to cast a Latino actress as Snow White," Dinklage said, "but you're still telling the story of 'Snow White and the Seven Dwarfs.' Take a step back and look at what you're doing there."
---
"It makes no sense to me, because you're progressive in one way and then you're still making that fucking backward story of seven dwarfs living in a cave. What the fuck are you doing, man?" Dinklage added. However, he could get on board if Disney made some drastic changes to the fairy tale.
"If you tell the story of 'Snow White' with the most fucked-up, cool, progressive spin on it—let's do it!" he said.
Dinklage is one of the most high-profile dwarfs in the world, so when he speaks out about matters facing the dwarfism community, his words carry a lot of weight. They clearly caught the attention of Disney, which responded with a statement on Tuesday.
"To avoid reinforcing stereotypes from the original animated film, we are taking a different approach with these seven characters and have been consulting with members of the dwarfism community. We look forward to sharing more as the film heads into production after a lengthy development period," a Disney spokesperson said in a statement to The Hollywood Reporter.
The Hollywood Reporter notes that the film will have cultural consultants and that the updated "dwarf" characters will be "CG/animated." Disney has employed cultural consultants in the past on films such as "Coco" and "Mulan" to avoid promoting any harmful stereotypes. It's a tough lesson that the company has had to learn. Some of Disney's most classic films now come with a disclaimer notifying people that they contain outdated depictions of certain groups.
The story of "Snow White and the Seven Dwarfs" is a sensitive topic for the dwarfism community. Although it's a cartoon, it's often a child's first exposure to dwarfs, or "little people" as they are sometimes called, and it promotes some of the worst stereotypes attached to them.
Throughout film history, dwarfs have been depicted as magical, communal people, villains or characters to be laughed at. Only recently has Hollywood has begun telling stories where little people are portrayed as fully developed humans. Dinklage has been a wonderful example of someone with dwarfism playing characters that are about more than simply being short-statured.
Historically, bigots have used "Snow White" as a cudgel against little people by comparing them to the characters in the story and by playing cruel jokes such as shouting "Hi-ho" at them in public. So it's important for Disney to get the characterization of Snow White's short-statured friends right or risk giving more fodder to those who wish to victimize them.