In Among Us, there's a tactic called the "double kill." When two imposters are with two innocent crewmates, they can wipe out both players at once.
During my imposter round, I was playing on MIRA HQ, an enormous building high up in the Earth's atmosphere. MIRA has a greenhouse and office complex that's somewhat secluded from the rest of the map, making it the perfect location to pull a double kill and flee. My friend Jimmy and I were playing as the imposters and tagging along with our friend Sariya and a second crewmate up in an admin office. It was the perfect opportunity to flex my double kill muscles.
I made a move and sliced straight through the spare crew member. But Sariya stood right next to us, alive and well, footsteps away from the body. Jimmy hadn't realized what I had in mind, and was still pretending to complete a task. We were at risk of being caught by Sariya if they didn't act fast.
Here's where things took a turn from a normal Among Us game: I hurriedly shouted into the mic, telling Jimmy to kill off Sariya and finish the double kill quick. It was a last ditch effort. Yell loud enough, and maybe Jimmy would clean up the botched situation before anyone walked in.
Unfortunately, the plan backfired—hard. Sariya heard me telling Jimmy to make the kill and immediately realized they were surrounded by two imposters. This was our undoing. They reported the dead corpse, our friends collectively met in the cafeteria, and Sariya spilled the truth amid my exasperated laughs. Oh, well. Off I went, plummeting to the Earth surface as the remaining crewmates prepared to kick Jimmy off as the second imposter.
Seasoned Among Us players are used to playing the game without any voice-related antics. In fact, crewmates and imposters specifically wander around the map with their microphones off. But Sariya, Jimmy, and I were using CrewLink, which lets crewmates and imposters communicate directly with one another as they run around the map.
CrewLink is a free third-party application by programmer Ottomated available for Among Us players on PC. In CrewLink, players connect to a voice server that handles audio input and spits out client-side output in relation to players' distance. This is called "proximity voice." Through distance-based voice communication, crewmates can organize together, plan how to handle imposter sabotages (such as reactor shutdowns or oxygen malfunctions), or even alert one another to dead imposters and downed bodies—all while keeping conversations confined based on players' distance to each other.
Of course, the imposters may overhear crewmate conversations or try to fool innocent players into their own demise over voice.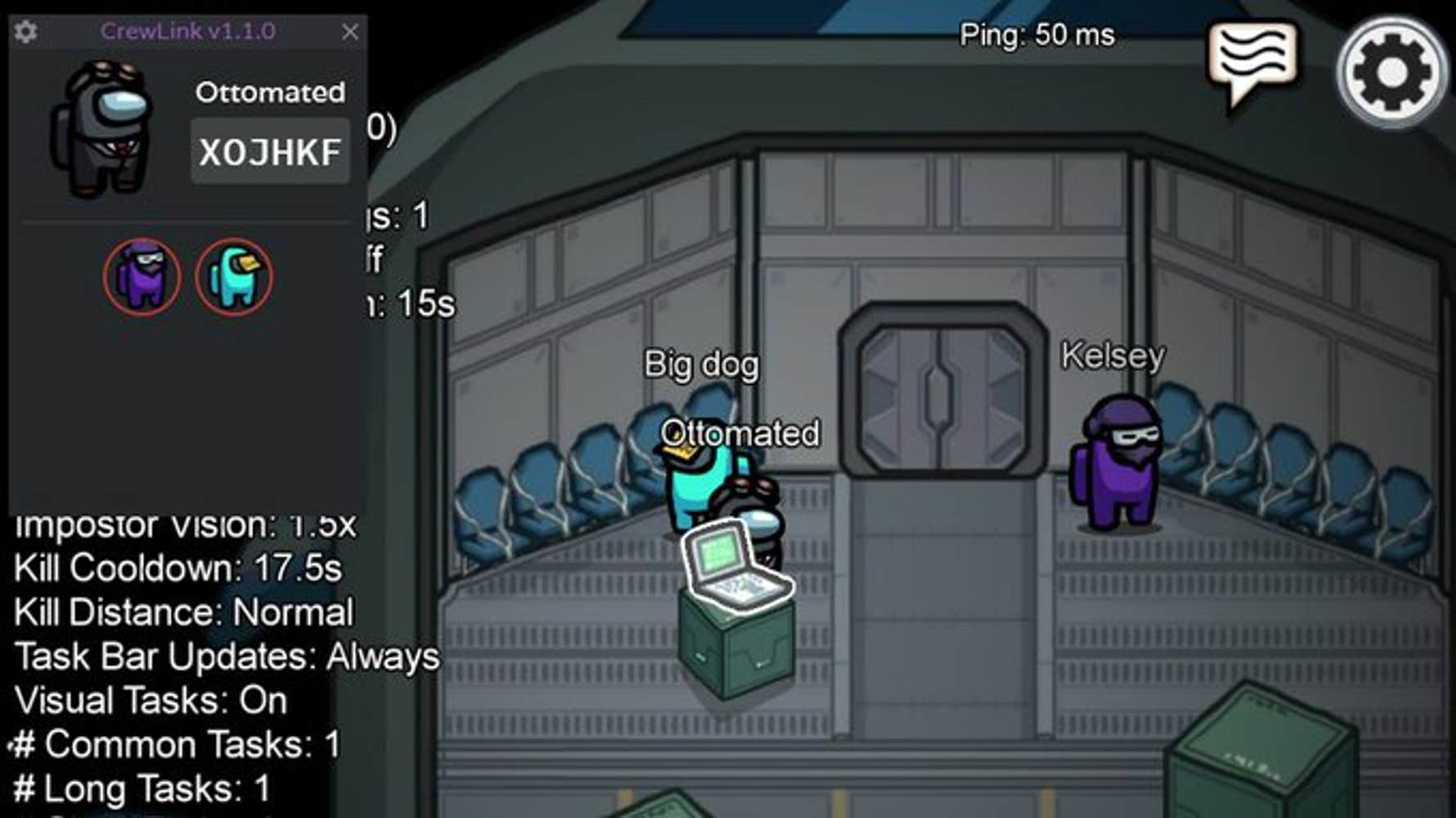 In an interview with the Daily Dot, Ottomated said he was brainstorming a proximity voice modification for Among Us when he discovered he could implement the feature using WebRTC, an open-source peer-to-peer real-time communication project consisting of multiple application programming interfaces (APIs). He asked his Twitch viewers if they would be interested in watching him develop CrewLink in October, and the offer was "instantly popular" with his fans. One month later, he released the app.
"CrewLink wasn't the first iteration of proximity chat," Ottomated told the Daily Dot, "but what makes it so popular is that I designed it specifically for ease of installation and use."
Initially, CrewLink's reception "was a bit lackluster," he said, but once his friends introduced the program to streamers such as Ross "RubberNinja" O'Donovan, CrewLink took off. The app spread to popular Among Us content creator player groups like OfflineTV and eventually reached non-streamers like my friends and me. Since late 2020, the app's userbase has grown "from a few hundred concurrent users to several thousand," Ottomated said, and peaks "at about 5,000 users each day."
"Among Us was originally a mobile game designed for strangers to play with each other, and proximity voice turns it into a game designed for friends to play with each other," Ottomated said. "It's an idea that people have been approaching for a while, by using Discord calls during meetings, and having it integrated more smoothly into the game makes it a feature most people are interested in."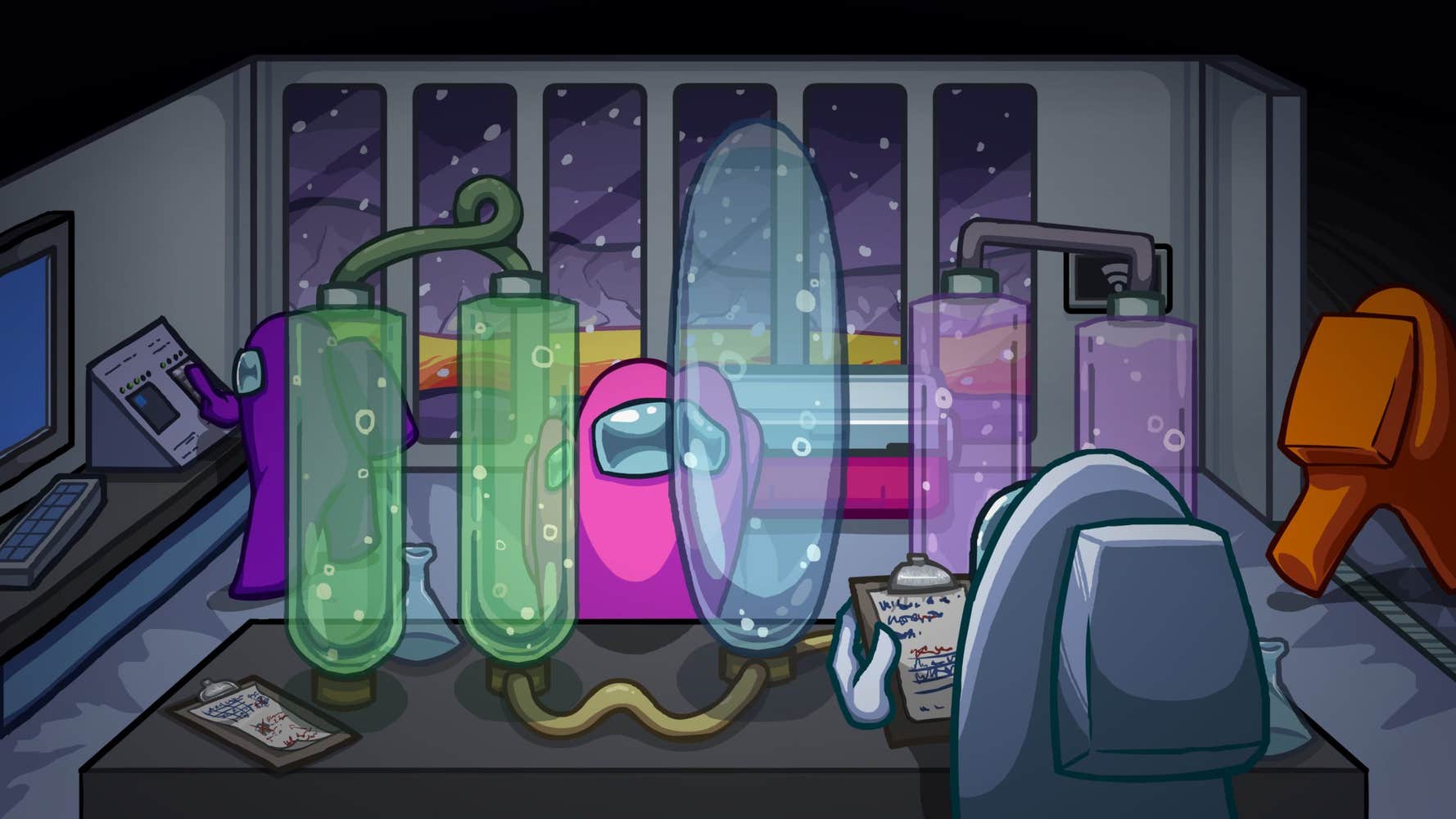 Social deduction video games aren't new. The PC sandbox game Garry's Mod features the immensely popular "Trouble in Terrorist Town" game mode, which pits players against each other to find and shoot their traitorous comrades. Similar games like Unfortunate Spacemen and Project Winter have delighted players. To maintain the game's suspense and social intrigue, all three games feature some form of proximity chat (although "Trouble in Terrorist Town" is optional).
CrewLink isn't the only Among Us mod that switches up the game's multiplayer design. One popular mod assigns a player the "Sheriff" role, letting them try to kill the imposters first. If the Sheriff kills an innocent, they die, too. Another mod assigns players the "Doctor" role and lets them revive fallen comrades if they stumble across a dead body in the wild.
But these mods significantly change how Among Us works and, generally speaking, decrease the role that social deduction plays through voting. CrewLink, in comparison, enhances the game's core features of interrogation, deception, communal decision-making, and dramatic irony. As far as mods go, it adds a dimension to gameplay that can make it more intense and, when things go wrong, incredibly hilarious.
But one of the mod's biggest appeals is also its simplest: It's a fun way to connect with friends while everyone is stuck at home. Among Us skyrocketed in popularity during the coronavirus pandemic, and CrewLink fits into the game's appeal.
"Among Us is already a pretty social game without CrewLink, but 90% of the gameplay is spent in complete silence. Making the entire game social is attractive to everyone who plays Among Us socially—which is a large portion of the playerbase," Ottomated said. "The number of people who message me saying they had a good time using CrewLink with their friend group might even make up for the much larger number of people who message me asking if I'll ever make a mobile app (the answer is no, at least not until I've polished all the bugs in the desktop app)."
CrewLink is available to download via Ottomated's GitHub. A forked version by OhMyGuus, BetterCrewLink, provides additional features, including support for copies of Among Us launched off the Epic Games Launcher or itch.io's storefront app.
The post Among Us is even more addicting with this voice app appeared first on The Daily Dot.