upworthy CyberS
Anti-Asian hate crimes are skyrocketing in the U.S. Here's what we can all do to help.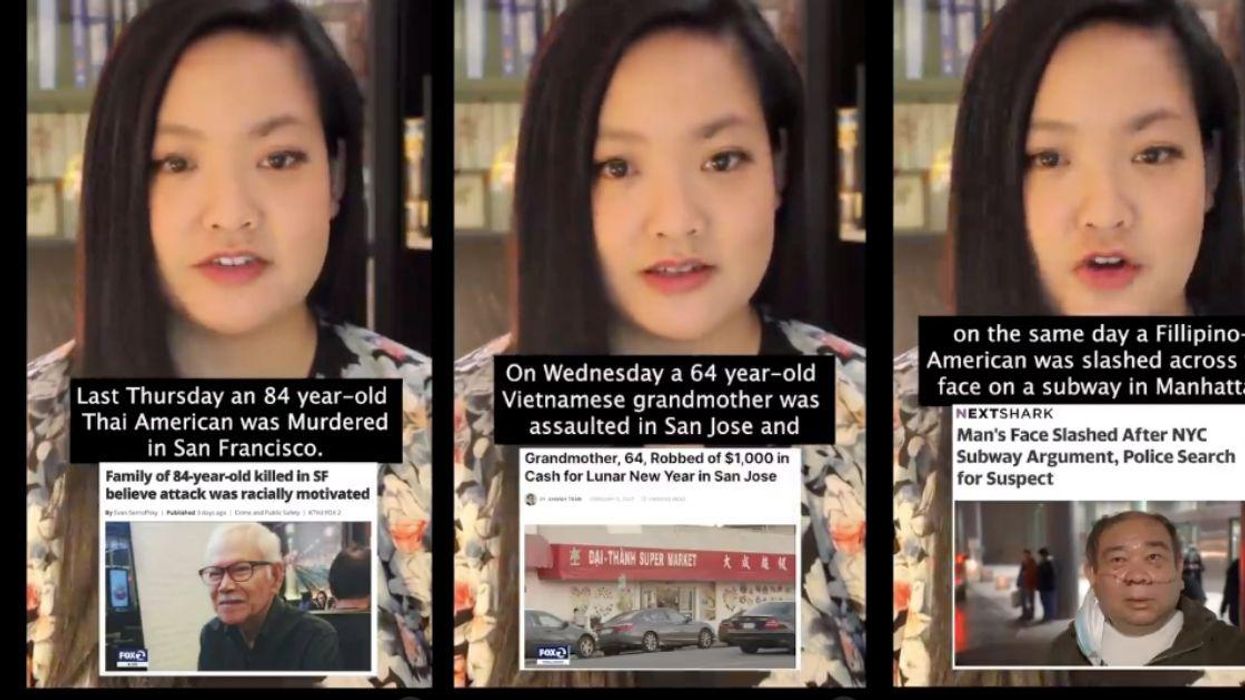 In countries throughout Asia, people ring in the Lunar New Year with cultural traditions as diverse as Asian people themselves. From China to Vietnam to Malaysia to South Korea—and in communities of people of Asian descent around the world—families gather to celebrate, pay homage to ancestors, and welcome in the blessings of a new year.
This year, however, such celebrations in the U.S. are impacted not only by the upheaval of the ongoing pandemic, but by fear in the wake of skyrocketing violence against people of Asian and Pacific Islander descent.
Hate crimes against Asian-Americans and Pacific-Islanders (AAPI) have been highlighted by advocacy groups since early in the pandemic, but have not received the broad media coverage they deserve. Unfortunately, it's taken vicious attacks on elders in the AAPI community to get the nation's attention.
---
Last week, the death of an 84-year-old Thai man who was violently tackled in his driveway shone a spotlight on the issue in the Bay Area, where a spate of attacks has erupted in recent months. A video of a 91-year-old man being violently shoved to the ground in Oakland prompted actors Daniel Dae Kim and Daniel Wu to offer a reward of $25,000 to anyone who could help identify the attacker. (It turned out police already had him in custody as a suspect for other similar attacks.) A 64-year-old Vietnamese grandmother was assaulted and robbed of $1000 while walking to her car in San Jose last week as well, and Chinatown businesses have been hit by an alarming increase in robberies.
Amanda Nguyễn, CEO and founder of the civil rights organization Rise, shared a plea on Instagram for people to raise awareness about the increase in anti-AAPI violence.
The heinous attacks in the Bay Area are making headlines, but violence and harassment are not just happening there, not just happening to the elderly, and not just happening now.
According to NYPD data reported in the Queens Chronicle in September, anti-Asain hate crimes had already increased 1900% from 2019 to 2020 before fall even hit. (In the same time period, anti-Jewish and anti-Black hate crimes in New York had decreased.) The Anti-Defamation League reported in June that there had been a "significant" number of reports of harassment and attacks against people in the Asian-American and Pacific Islander community, and the United Nations stated in October that hate crimes against Asian-Americans were happening at "alarming levels," citing 1800 incidents just from March to May of 2020.
Throughout the pandemic, there has been an alarming rise in anti-Asian sentiment resulting in violent hate crimes b… https://t.co/DCqL6O5suQ

— Alex Shibutani (@Alex Shibutani)1612718045.0
Reading people's individual stories, it's clear that the vast majority of incidents include references to the COVID-19 pandemic. People blame Asian-Americans for the coronavirus—a xenophobic idea that has been inflamed by politicians who insist on calling it the "China virus" or "Kung flu." (That's not merely conjecture; Manjusha Kulkarni, executive director of the Asian Pacific Policy and Planning Council said that their data showed that the increase in racist and xenophobic attacks was "catalyzed by rhetoric from the president and other government leadership.")
The AAPI community needs every American of goodwill to step up, speak up, and act to put an end to these attacks. Here are some things everyone can do to help:
– Personally: If you see or hear someone using anti-AAPI language, say something. Don't let phrases like "China virus" or comments blaming AAPI for the pandemic go unchallenged. Commit to not being a passive bystander, but rather an active disrupter, of harassment when you see it. If you witness an incident, report it at stopaapihate.org.
– Socially: Get to know AAPI members of your community and listen to their concerns. Raise awareness by following and sharing the hashtag #StopAAPIHate on social media. Speak out about AAPI hate crimes and share positive stories about people from the AAPI community as well.
– Educationally: Seek out information about the kinds of discrimination people in the AAPI community face. Click on the links from this article or simply Google terms like "Anti-Asian" and "AAPI hate crimes." If you're a parent, teach your kids how to recognize when their peers are engaging in anti-Asian jokes or behavior and how to be an ally.
– Organizationally: Make sure your workplace and organizations you're a part of are committed to protecting AAPI members of your community from harassment. This PDF from the Asian Pacific American Labor Alliance put together has specific action items employers and organizations can use as a guide.
– Monetarily: Buy from AAPI-owned businesses, many of which have suffered during the pandemic both from economic loss and discriminatory attacks. Support AAPI advocacy and anti-discrimination organizations such as iHollaback! (an anti-harassment organization that provides free bystander intervention training) or the National Coalition for Asian Pacific American Community Development (a coalition of more than 100 organizations advocating for AAPI communities). Keep an eye out for crowdfunding efforts for individual victims of hate crimes.
– Democratically: Reach out to your local, state, and national government representatives to voice your support for the AAPI community and ask them to denounce xenophobic rhetoric in politics. Learn about the president's plan for the AAPI community and push him to take action on those commitments. Elevate the voices of elected officials from the AAPI community and those who speak up against anti-AAPI discrimination.
Let's all commit to creating a society in which everyone is uplifted and where all people can feel safe no matter who we are or where we come from.