dailydot CyberS
AOC dumps on Ted Cruz for latching on to her call for hearings over Robinhood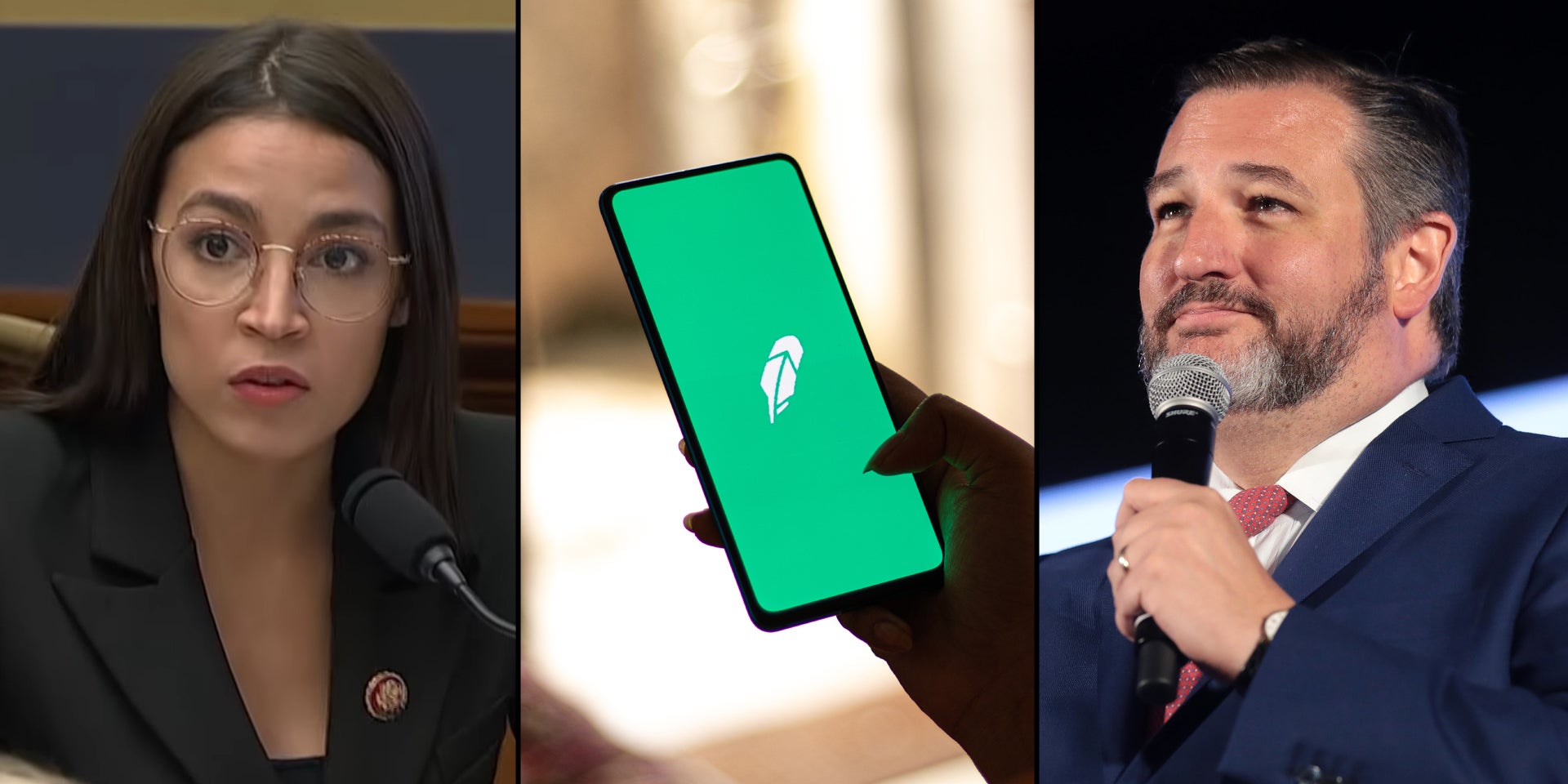 Rep. Alexandria Ocasio-Cortez (D-N.Y.) weighed in on Robinhood's decision to restrict trading for several stocks, including GameStop, on Thursday afternoon.
Robinhood said it was restricting transactions on the stocks "in light of recent volatility." GameStop's stock has been at the center of a days-long saga spearheaded by Reddit users who joined together to push the stock price higher as hedge funds shorted it.
The New York lawmaker called that decision "unacceptable" in a tweet on Thursday and said as a member of the House Financial Services Committee, she would support a hearing in Congress about it.
"This is unacceptable. We now need to know more about @RobinhoodApp's decision to block retail investors from purchasing stock while hedge funds are freely able to trade the stock as they see fit. As a member of the Financial Services Cmte, I'd support a hearing if necessary," Ocasio-Cortez tweeted.
She added: "Inquiries into freezes should not be limited solely to Robinhood. This is a serious matter. Committee investigators should examine any retail services freezing stock purchases in the course of potential investigations – especially those allowing sales, but freezing purchases."
Soon enough, Sen. Ted Cruz (R-Texas) jumped in. The Texas senator retweeted Ocasio-Cortez and wrote: "fully agree."
While Cruz may have agreed, Ocasio-Cortez quickly responded that she didn't want his help—specifically because of his objection to the certification of Electoral College votes on the day of the Capitol riots.
Democrats recently filed an ethics complaint against Cruz, as NPR reports, where they said that by objecting to the certification of the Electoral College votes he and Sen. Josh Hawley (R-Mo.) "lent legitimacy" to rioters.
Earlier this month Ocasio-Cortez said during an Instagram Live session that she had a "very close encounter where I thought I was going to die" during the Capitol riots.
"I am happy to work with Republicans on this issue where there's common ground, but you almost had me murdered 3 weeks ago so you can sit this one out," Ocasio-Cortez tweeted. "Happy to work w/ almost any other GOP that aren't trying to get me killed. In the meantime if you want to help, you can resign."
The New York representative continued in a series of tweets saying that Cruz needed to resign and noted that he hasn't "apologized for the serious physical + mental harm you contributed to from Capitol Police & custodial workers to your own fellow members of Congress."
"In the meantime, you can get off my timeline & stop clout-chasing. Thanks. Happy to work with other GOP on this," she wrote.
The post AOC dumps on Ted Cruz for latching on to her call for hearings over Robinhood appeared first on The Daily Dot.