upworthy
Artist creates stunning—but temporary—wildlife portraits with natural, foraged materials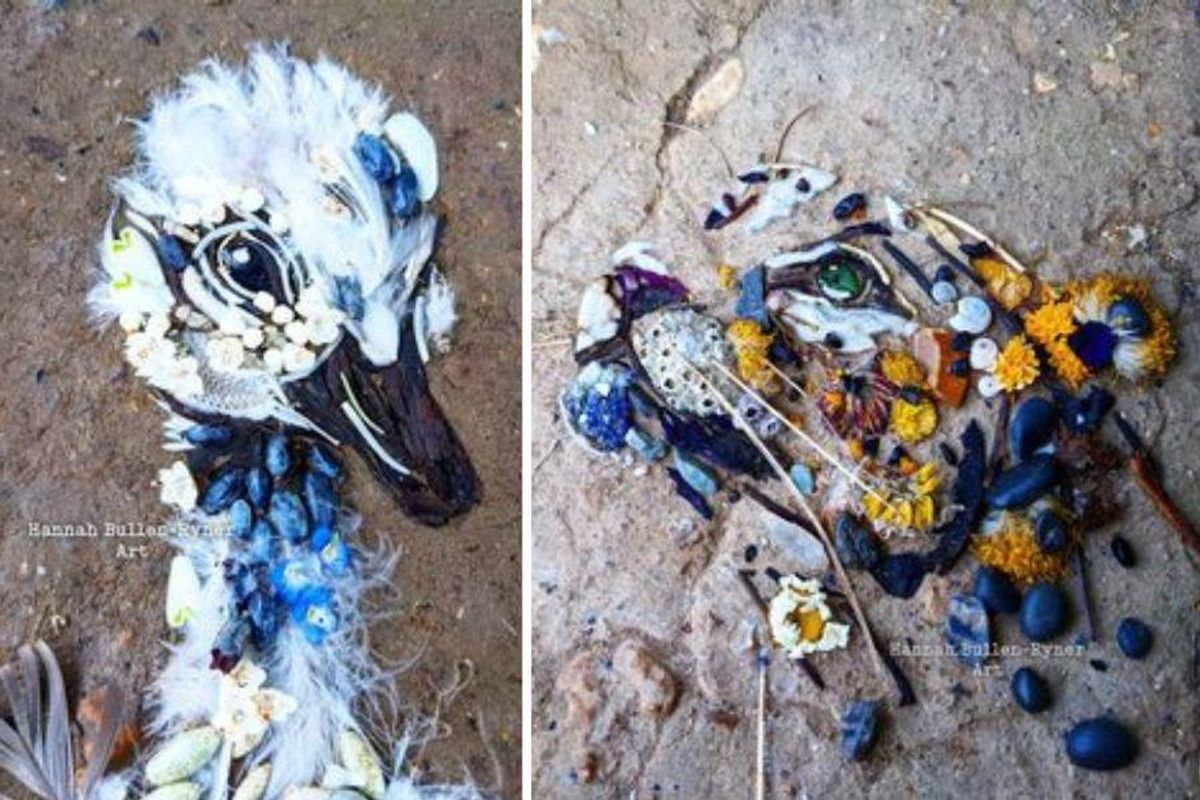 Some people create art as a way of immortalizing a piece of themselves, to leave behind some creative evidence of their existence and communicate through their art long after they are gone. But what of those who create art that isn't meant to last?
Hannah Bullen-Ryner, a full-time mother to twins, walks to the woodlands and fields about 10 minutes from her flat in Hertfordshire, England, each day as a ritual. She sits immersed in nature, in all kinds of weather, and creates whatever creature decides to "visit" her out of whatever natural items she can forage.
She uses no tools—no scissors, clippers or glue. All she has are her hands and her camera to capture her creations before they are scattered by the wind or washed away by rain.
---
Sometimes her land art "visitors" blow away within seconds of her creating them, but Bullen-Ryner isn't bothered.
"Right now it is the ephemeral nature of my work that makes it special to me," she shares on her website. "I lay my emotions down on the ground and they blow away. That is a very cathartic experience."
The only materials she uses are things she finds in nature—twigs, leaves, petals, rocks, shells—some of which she saves and reuses and some of which get carried off by the wind to "visit" someone else.
Bullen-Ryner used to be a painter and a photographer, and her painter's eye comes through clearly in her land art. However, it's an entirely different beast to create a brush stroke just as you want it to be and to use individual pieces of whatever you find to "paint" with.
"I flow every single day unless the weather is too crazy," Bullen-Ryner shares. "It has become a spiritual ritual and something that really improves my mental health. I decide after I have sat down, placed my gathered elements down and cleared a space…sometimes I don't know until after I have already begun and other times I use reference photos to work from. It very much depends on my mood too. Sometimes I want to make something cute and uplifting, other times it's more dark or energetic."
Some of her creations involve minimal materials for a more impressionistic animal, such as this lion.
Others look almost like an actual painting, like this wee badger.
"I create to share my love of nature and to soothe my soul," she writes.
And believe it or not, most of these creations could fit in the palm of your hand.
"My work is very, very small," Bullen-Ryner shared with Street Art Utopia. "I need very tiny ingredients and I am never not looking. I'm a magpie and have tiny pebbles and things constantly, in every single pocket. I also recycle elements over and over and over again. I store them in half coconut shells that I leave on site and cover with an old fence post. If petals have dried I dunk them in some water until they are workable again."
Oh, by the way, here there be dragons as well.
Bullen-Ryner sells prints of her favorite photos on her Etsy shop just once a month and only for a few days or until they sell out. (Her mother runs her Etsy shop and Bullen-Ryner writes that she "can't risk breaking her.")
You can follow Hannah Bullen-Ryner and see more of her ephemeral animal friends on Facebook and Instagram.