upworthy
Biden honors 500,000 U.S. ​deaths milestone with 500 candles and a heartfelt address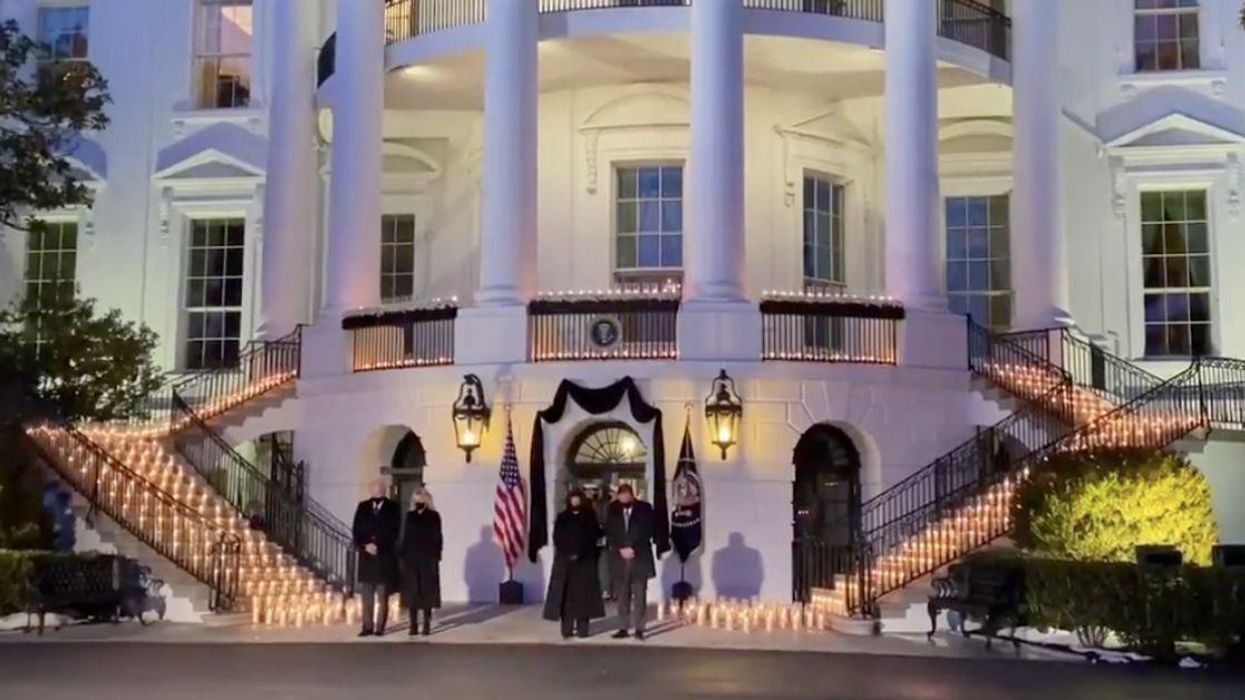 Just over a month after passing the grim milestone of 400,000 deaths from COVID-19, the United States has surpassed another one. As of today, more than half a million Americans have been lost to the virus that's held the world in a pandemic holding pattern for almost a year. It's a number that seemed unfathomable even six months ago, and yet here we are.
Despite increasing vaccine rollouts allowing us to see the light at the end of the tunnel, the loss we've experienced is immense. Having a president who not only understands loss on a personal level—having endured the tragic loss of his wife and baby daughter earlier in life and the death of his son just six years ago—but who conveys with compassion the grief of the nation as we mark this milestone is a comforting change.
Tonight, the White House honored the 500,000+ lives lost with a display of 500 candles lining the steps of the building, with each candle representing 1000 Americans. The president and first lady, along with the vice president and second gentleman, held a memorial moment of silence outside the South Portico as a military band played "Amazing Grace."
---
A military band plays a soaring rendition of "Amazing Grace" while 500 candles burn to commemorate 500,000 U.S. dea… https://t.co/BdI4eK2vVR

— Jeff Mason (@Jeff Mason)1614036906.0
Prior to the candle ceremony, President Biden spoke to the nation about the importance of marking this milestone, offered words of empathy and caring to those who've lost loved ones, and shared a message of unity and hope.
Biden started by sharing that he receives a card each day that he keeps with this schedule in his pocket that shows how many Americans have been infected with or died from COVID-19.
"Today we mark a truly grim, heartbreaking milestone: 500,071 dead," he said. "That's more Americans who have died in one year in this pandemic than in World War I, World War II, and the Vietnam War combined. That's more lives lost to this virus than any other nation on Earth. But as we acknowledge the scale of this mass death in America we remember each person and the life they lived. They're people we knew. They're people we feel like we knew. Read the obituaries and the remembrances. The son who called his mom every night just to check in, the father's daughter who lit up his world, the friend who was always there, the nurse who made her patients want to live."
Biden: "We have to resist becoming numb to the sorrow." https://t.co/KiNFIrAGAx

— Aaron Rupar (@Aaron Rupar)1614035373.0
"While we've been fighting this pandemic for so long, we have to resist becoming numb to the sorrow," he said. "We have to resist viewing each life as a statistic or a blur or one the news. We must do so to honor the dead, but equally important, care for the living that are left behind. For the loved ones left behind, I know all too well. I know what it's like to not be there when it happens. I know what it's like when you are there, holding their hands as they look in your eye and they slip away. That black hole in your chest, you feel like you're being sucked into it. The survivor's remorse, the anger. The questions of faith in your soul…"
Biden spoke directly to those who are grieving lost loved ones, sharing what he's learned through his own experiences of loss.
"To heal, we must remember," he said. "It's important to do that as a nation. For those who've lost loved ones, this is what I know: They're never truly gone. They'll always be part of your heart. I know this as well—and it seems unbelievable—but I promise you the day will come when the memory of the loved one you lost will bring a smile to your lips before a tear to your eye. It will come, I promise you. My prayer for you is that they will come sooner rather than later. And that's when you know you're gonna be okay. You're gonna be okay."
Biden spoke about finding a purpose worthy of the lives our loved ones lived and asked all Americans to remain diligent about social distancing, masking, and getting vaccinated when it's your turn.
"We must end the politics and misinformation that's divided families, communities, and the country, and that's cost too many lives already," he said. "It's not Democrats and Republicans that are dying from the virus. It's our fellow Americans, it's our neighbors, our friends, our mothers, our fathers, our sons, our daughters, husbands and wives. We have to fight this together, as one people."
This was a very moving speech from Biden https://t.co/RgQuccfsBy

— Aaron Rupar (@Aaron Rupar)1614035730.0
"Let this not be a story of how far we fell, but how far we climbed back up," he said. "We can do this. For in this year of profound loss, we've seen profound courage from all of you on the front lines. I know the stress, the trauma, and the grief you carry. But you keep us going. You remind us that we do take care of our own, that we leave nobody behind, and that while we've been humbled, we've never given up. We are America. We can and will do this."
Biden's whole speech is worth a watch. You can find it in its entirety along with the memorial candle ceremony here:

Biden Holds Memorial For 500,000 U.S. Covid Deaths | NBC News

youtu.be

Thank you, President Biden, for marking this milestone with such compassion and for offering heartfelt words of wisdom and experience to those who are suffering the loss of loved ones to this virus. That empathy is what we've been desperately yearning for, as our shared humanity is the only thing that will get us through the crises we face without doing further damage to our nation.