dailydot CyberS
'Black lives don't matter': White drill sergeant throws racist grocery store tantrum after being denied alcohol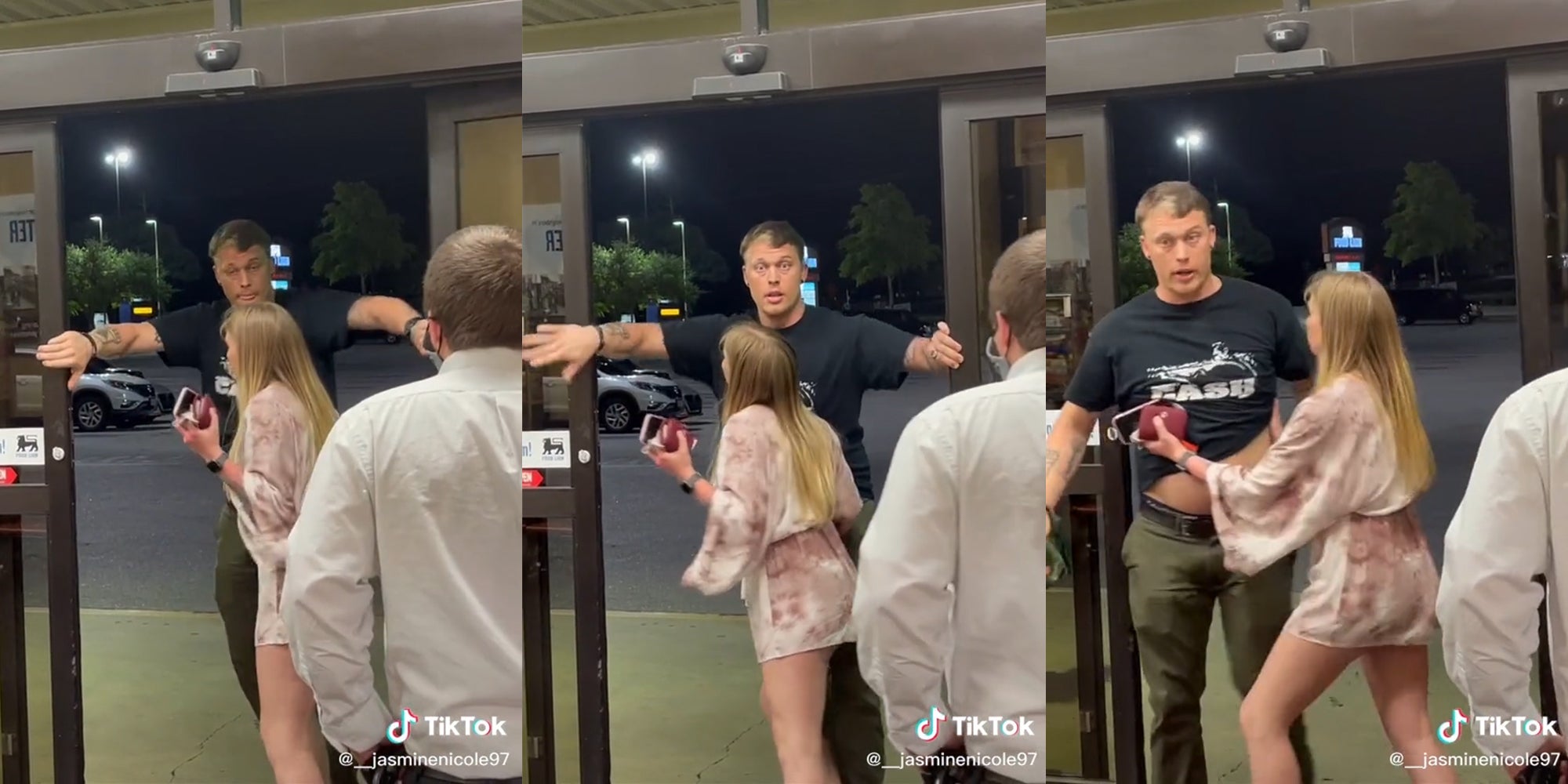 A white U.S. Army drill sergeant was arrested this week after a video of him throwing a racist, drunken tantrum inside a grocery store went viral. 
Officials have identified the man in the video as 27-year-old John Walter Miles, whose freakout took place at a Food Lion grocery store in Sumter, South Carolina, the Sumter Item reports. Miles reportedly had a meltdown because a clerk refused to sell him alcohol, and officers said he was drunk in the incident report.
In the video, shared by TikToker @__jasminenicole97 on April 9, Miles stands just outside the sliding doors to Food Lion. His girlfriend is standing in front of him, trying to restrain him as he yells at store employees and other customers. 
Miles first directs his anger at a man in a white button-up shirt, who apparently expresses pro-Black Lives Matter sentiments. (It's unclear from the video whether he's wearing any BLM attire or said anything about the movement.)
"Guess what: All lives fucking matter," Miles says. "Black lives don't fucking matter."
Aware that he's being recorded, Miles points at the cameraperson, and says, "Black Lives Matter is the most racist fucking thing we've ever fucking seen. All lives matter. All lives fucking matter. That's how it is."
Miles then slams the automatic doors fully open and staggers into the store. His girlfriend grabs him by the shirt and pushes him back outside.
"What about goddamn Brown Lives Matter? What about White Lives Matter?" Miles continues. "All of you Black fucks are goddamn racist motherfuckers."
In a second video uploaded by @__jasminenicole97, Miles continues his rant, claiming he's "got a goddamn Black kid in goddamn Georgia," and he's "not a racist motherfucker." He also dares the person filming to post the video on TikTok.
"Fuck Black lives. Fuck white lives. Fuck goddamn brown lives," Miles says at the end of the video.
So far, @__jasminenicole97's first video of Miles has about 14,000 views. The video caught the attention of popular TikToker @auntkaren0, who regularly exposes racists on her page. In a video that has been viewed more than 700,000 times since yesterday, @auntkaren0 unearthed some more information about Miles. 
Aunt Karen says that according to LinkedIn, Miles is a drill sergeant leader at the United States Army Drill Sergeant Association in Boiling Springs, South Carolina. Miles appears to have since deleted his Linkedin.
In an April 14 Facebook post, the U.S. Army Drill Sergeant Academy in Columbia, South Carolina, wrote, "Fort Jackson officials are aware of the video and it has our full attention. This type of behavior is not consistent with our Army Values and will not be condoned. We have begun our own investigation and are working with the local authorities."
Miles turned himself in last week and was charged with aggravated breach of peace and trespassing. The Daily Dot has reached out to both the United States Army Drill Sergeant Association and the United States Army Drill Sergeant Academy.
The post 'Black lives don't matter': White drill sergeant throws racist grocery store tantrum after being denied alcohol appeared first on The Daily Dot.