upworthy CyberS
Capitol Police hero Eugene Goodman escorted Kamala Harris at the Inauguration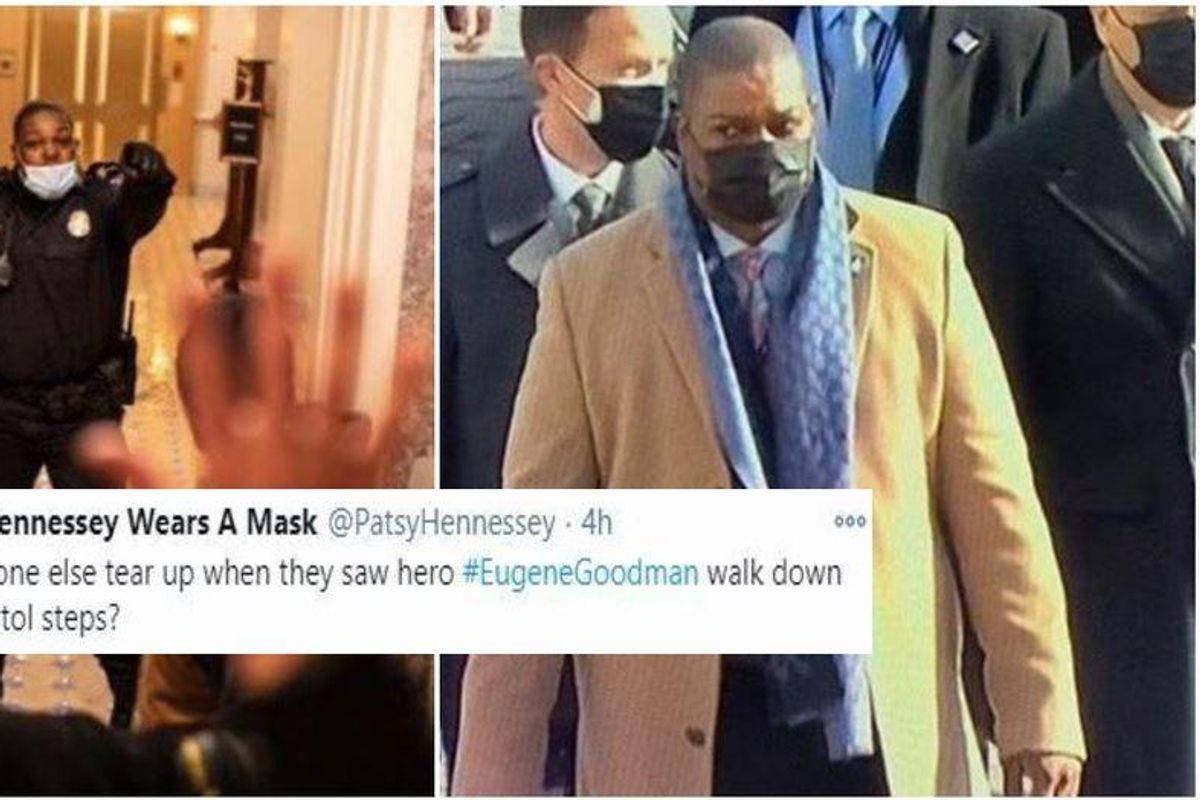 Joe Biden's inauguration was haunted by the specter of the failed insurrection that occurred just two weeks before at the Capitol building. The Capitol steps may have been adorned with beautiful banners, but it was hard to shake the images of broken windows and rampaging Trump supporters recently burned into the country's collective subconscious.
The Inauguration wasn't just the beginning of a new era in American politics, it was a symbol of the resilience of our democracy. One person whose bravery helped preserve the American way of life during the insurrection was honored at the proceedings and his name should never be forgotten: Eugene Goodman.
Officer Goodman's quick thinking and bravery on January 6 allowed for the narrow escape of countless Congressman and Vice President Mike Pence.
---
Goodman found himself alone and confronted with a mob forcing him backwards up a stairway in the Capitol. Goodman attempted to hold back the rioters, but he was clearly outnumbered.
The pivotal moment came when the mob reached the floor of the Senate chambers. Goodman appeared to glance down the hall toward the chambers, where no security can be seen, and then shove the frontman of the mob before leading them in the opposite direction.
Goodman used himself as bait to keep the mob away from the Senate chambers, saving countless lives.
"It's hard to imagine the terror this man must have felt in these moments," wrote Upworthy's Anne Reneau. "Completely outnumbered, charged with the duty of protecting the U.S. Capitol as it's being overrun, knowing that the nation's lawmakers—including the next three people in line for the presidency—were in the building and relying on the police for protection."
In the aftermath of the insurrection, Goodman was hailed as a hero. Last week, members of Congress introduced a bill to honor him with the Congressional gold medal for his bravery.
He was also promoted to Acting Deputy House Sergeant-at-Arms.
On Inauguration Day, Goodman was given the honor of escorting Vice President-elect Kamala Harris as she and President-elect Joe Biden arrived for the ceremony.
Goodman was announced when he arrived at the ceremony and received a standing ovation.
The presence of such a beloved national hero at the Inauguration made a lot of people emotional.
Two weeks ago, Goodman fended off a group of angry white men who protested the results of the 2020 election. Today, he escorted the first Black woman to take the oath of office as Vice President of the United States.
This just about sums it up.