dailydot CyberS
Chloe Bailey tears up on Instagram while responding to attacks she faced on social media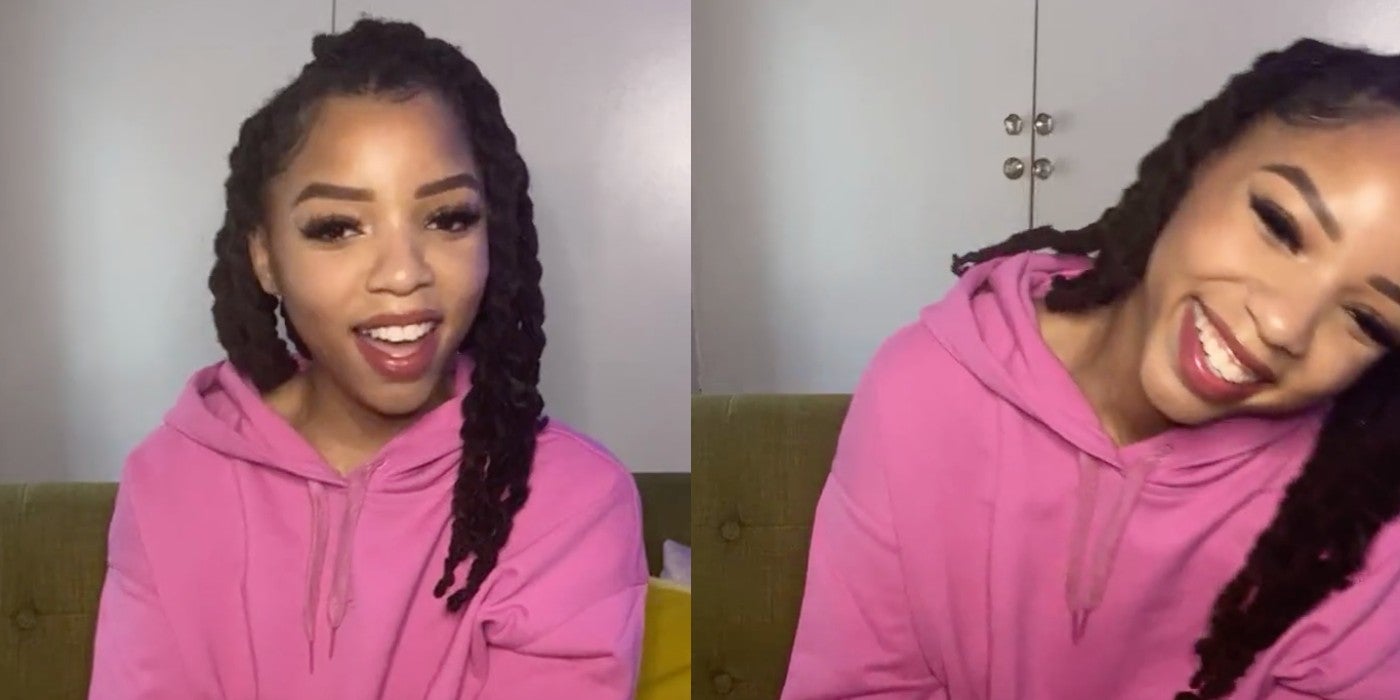 Singer Chloe Bailey, 22, opened up about her insecurities in an Instagram Live session on Sunday night while responding to attacks she said she's facing on her social media over her dance videos. 
Bailey, one half of the R&B sister duo Chloe X Halle, said she wanted to speak on Instagram to give her fans a glimpse of herself. Last week, the sisters reportedly decided to open their own Instagram pages, a break from their joint page where they currently have more than 3.5 million followers. 
"A lot of times you see what Halle and I are like together, so now you kinda get a bit of who I am as a person," Bailey said at the beginning of the video.
In just a week, Bailey's page has more than a million followers, and she's been posting videos of herself dancing.
In her video on Sunday, Bailey began by responding to a fan who asked her for advice on how to feel better during a bad day. 
Bailey said since she was "on the topic," it was time to address her dance videos, including one that shows her dancing in silhouette against neon blue lights and another that shows her dancing while burning sage in a T-shirt and underwear.
Some commenters remarked that she seemed grown up from her child acting days and criticized her for drawing attention with the dance clips.
While the negative comments were buried amid praise, they apparently hit a nerve. "I feel so confident when I get to tap into the sexier side of me because all the people who know me personally [know] I'm like such a nerd and I'm really into myself and I'm really, really shy," Bailey said. 
She explained that the video in the blue light was recorded six months ago and that it's difficult for her to share that part of herself. But she also wanted to show her own personality.
"It just wouldn't be right of me to share an image of that I'm not —like a made-up, clean-cut image of me that I'm not, inside I'm such a nerd and I'm not worldly at all," she said. "But when I perform, when I make music, and when I dance that's when I get to tap into the sexier side of myself and that's where I find my confidence."
She teared up and added that she's finally at a place where she can show her fans who she is and move past her insecurities.  "I think it's so important and so special when a Black woman can be strong and stand in her power in every single way," she said, her voice cracking. 
"With my songwriting and producing, I feel so badass—and I get the same feeling when I dance in my room and I just own who I am and my body," she said. She discussed feeling insecure about her weight and stretch marks.  
"Now I really love who I am and I don't post what I post for validation from anybody or for male attention," she said. 
She went on to respond to fans' other questions in high spirits, but on Sunday evening, "Chloe" was trending on Twitter with many expressing anger over the harassment she's faced. "Nah see y'all done made my girl Chloe cry and now we gon have to fight," one user wrote.
Celebrities including Halle Berry and Gabrielle Union shared supportive messages for Bailey on Twitter. "Please continue to fly," Union wrote. "Soaring while under attack is hard [as fuck] but you are not alone."
According to a series of stories shared on her Instagram posted on Monday, Bailey's fans came through with support. They sent her videos with personal messages; some did their own sage-burning dances, and some tagged her on their own posts on body positivity.
The post Chloe Bailey tears up on Instagram while responding to attacks she faced on social media appeared first on The Daily Dot.