dailydot
'Courtside Karen' vs. LeBron James, explained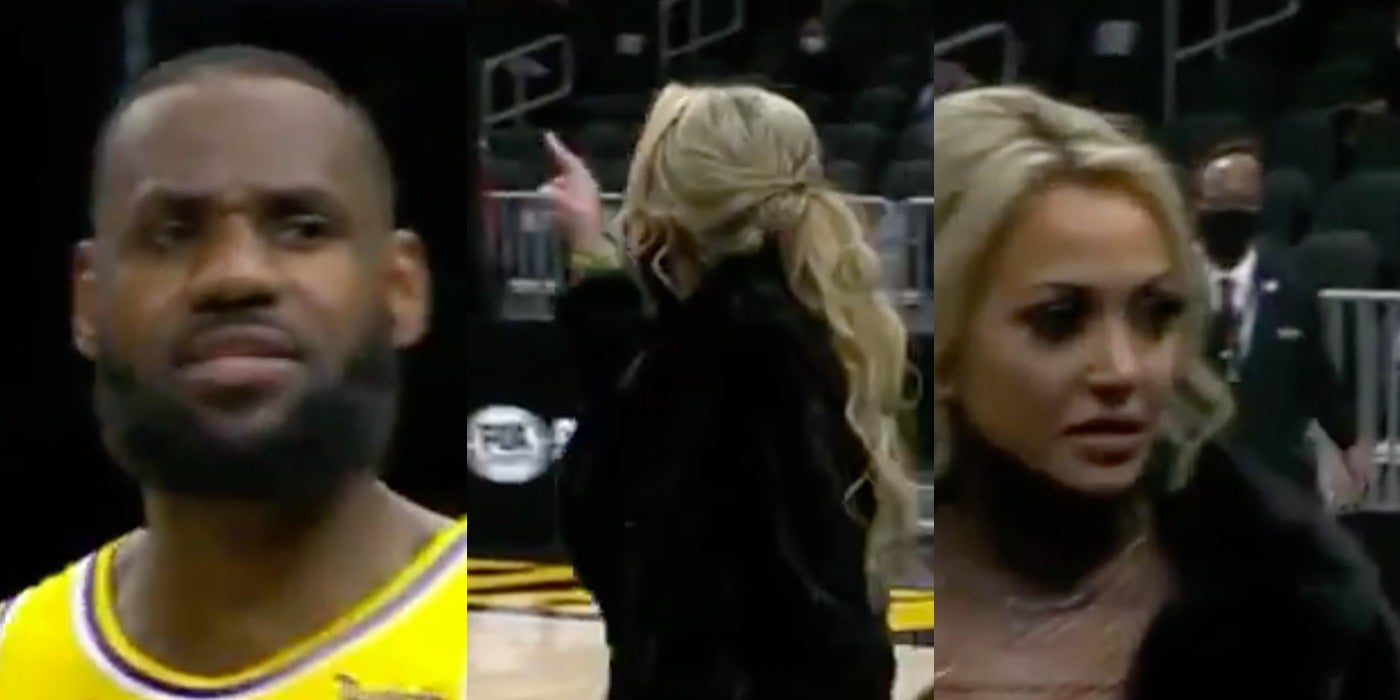 Do you know who else can't get away from Karens? LeBron James. On Monday night, the Los Angeles Lakers superstar got a "courtside Karen" and three other fans ejected during a matchup with the hometown Atlanta Hawks following a verbal dispute.
That's right: Not even the greatest basketball player ever can shake them once they're locked in.
Juliana Carlos, and her businessman husband, Chris Carlos, briefly exchanged words with James during the fourth quarter of the Lakers' 107-99 win, prompting the ejection. Referee Mitchell Ervin intervened and paused the contest to ensure Carlos and three other hecklers were escorted out of State Farm Arena.
Juliana has 52,000 Instagram followers, and postgame, she let them hear about her experience: She claims James called her a "bitch" on the scene, though he wasn't asked about it postgame and hasn't responded.
The 25-year-old so-called "courtside Karen" went into the altercation on her Instagram Stories, admitting her husband has an ongoing issue with James.
"So, I'm minding my own business, and Chris has been a Hawks fan forever. He's been watching the games for 10 years. Whatever, he has this issue with LeBron. I don't have an issue with LeBron. I don't give a fuck about LeBron," she says. "Anyway, I'm minding my own business, drinking my [beverage], having fun."
"All of the sudden, LeBron says something to my husband, and I see this, and I stand up. And I go, 'Don't fucking talk to my husband.' And he looks at me, and he goes, 'Sit the fuck down, bitch' And I go, 'Don't fucking call me a bitch. You sit the fuck down. Get the fuck out of here. Don't fucking talk to my husband like that.'"
For his part, James was not at all fazed by the incident and also believed the ejection was unnecessary.
"At the end of the day, I'm happy fans are back in the building," he said, relaxed during postgame, per ESPN. "I miss that interaction. I need that interaction; we as players need that interaction. I don't feel like it was warranted to be kicked out."
"They might have had a couple drinks, maybe," he said. "And they could have probably kept it going during the game, and the game wouldn't have been about the game no more, so I think the referees did what they had to do."
Also, Chris Carlos had a reason to be upset with James. The last significant game the Hawks played was Game 4 of a playoff sweep by James' Cleveland Cavaliers, their second consecutive sweep of Atlanta. The four-time MVP almost single-handedly attended to Atlanta's dismantlement and current rebuild.
The post 'Courtside Karen' vs. LeBron James, explained appeared first on The Daily Dot.