dailydot CyberS
'Delete them all': Girl catches older men taking pictures of girls in bikinis on beach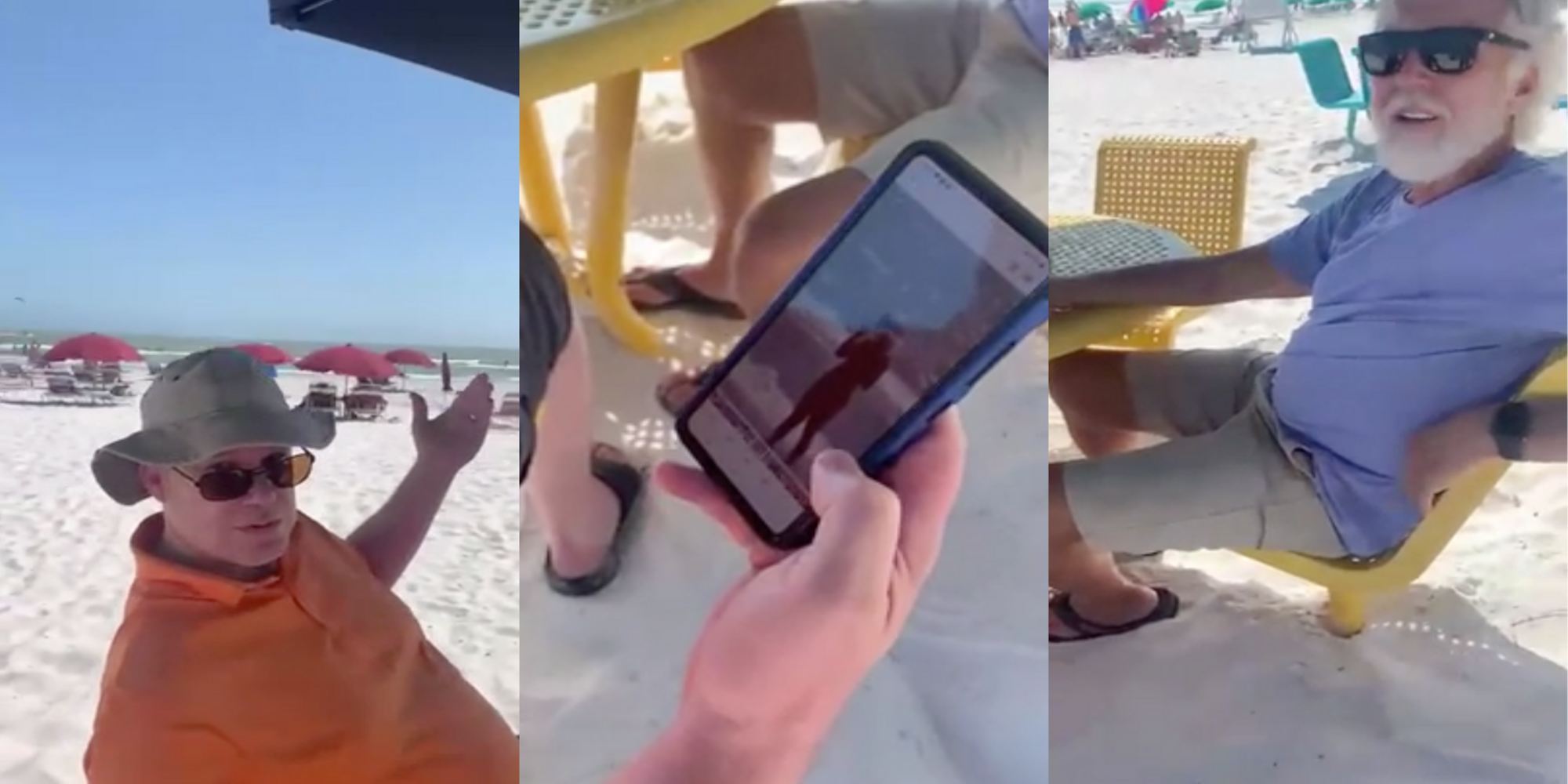 A video shows a girl at Fort Myers Beach in Florida yelling at an older man and demanding that he delete pictures of girls and women in bikinis off his phone. 
"Delete it now" appears to be an anthem for women rallying against men taking pictures of unsuspecting women in public places. From gyms to airports, women are using their phones to catch men in the act. 
The newest viral video shows the person filming approach two older men sitting at a table under an umbrella. A man in an orange shirt is leaning over his phone when the girl approaches him. 
"I would like to see you delete my pictures that you took of me and to delete all these other women's pictures that you're taking," she says.
The man pulls out his phone and unlocks it. The phone was open on a photo of a woman standing by the water in her bikini.
"Delete them all right now," the girl says. "All of them."
She scrolls through his phone, swiping several times to reveal more photos. It's unclear whether they depict minors or women over 18. One is of the man in the purple shirt he's sitting next to, smiling in his chair with a woman standing behind him. 
"You guys are fucking perverts taking pictures of all these people," the girl says.
After deleting each photo, the man asks the girl "What else?" as the girl keeps swiping to reveal more.
"All of these fucking pictures," the girl replies. "Where's the one of me?"
The video ends with the girl saying if anyone knows these men, "They're fucking perverts." As of Friday afternoon, the clip had more than 1,700 comments on Reddit. 
"If he's dumb enough to take pictures of them so obviously, then let's hope he's dumb enough to not understand the recently deleted feature," one user commented on Reddit.
Others said this was the second video of its kind they had seen on Friday and asked if it was a trend.
"I'm sorry, I'll be the one to destroy your innocence," one user replied. "Search for 'creepshots,' 'candid,' or 'voyeurism' and you'll find an endless collection of these kids of guys recording girls."
The post 'Delete them all': Girl catches older men taking pictures of girls in bikinis on beach appeared first on The Daily Dot.