upworthy CyberS
Delete Trump's cameo in Home Alone 2? We prefer these 12 hilarious alternatives instead.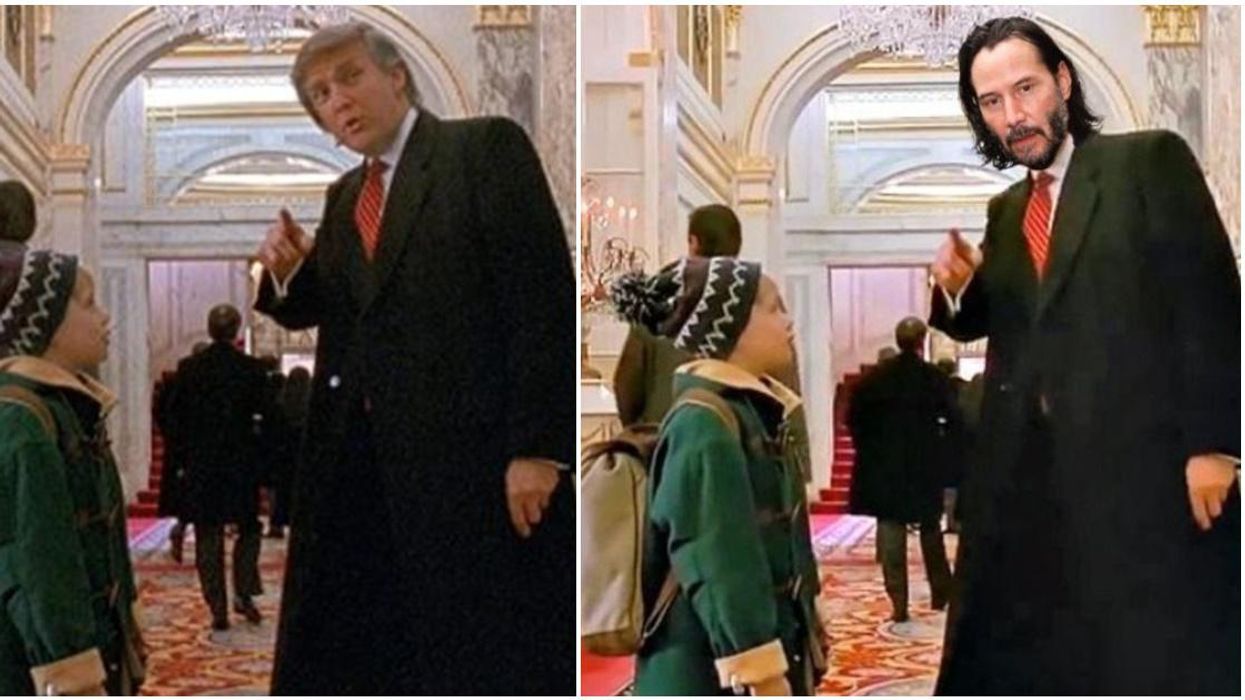 Remember when Donald Trump was best known as the quintessential obnoxious rich New Yorker? That's what made him a household name and he played the role perfectly.
Even if ten years ago, you said that the guy who fired Gary Busey on "The Apprentice" would eventually direct a mob of thousands to overthrow the U.S. government, no one would believe you.
Alas, it's 2021 and the public perception of Donald Trump has changed quite a bit. So his cameo in 1992's "Home Alone 2: Lost in New York" is a little jarring these days.
---
Trump appears in a short scene where he tells Macaulay Culkin's character, Kevin McAlister, how to get to the lobby of New York's Plaza Hotel. At the time, the property was owned by Trump.
These days, the scene makes you wonder: Why is it amusing that Kevin McAlister just ran into the guy who separated immigrant babies from their children and called Mexicans "rapists"?
That's why there have been calls for Trump to be removed from the family film. In fact, there were rumors Trump was eliminated from the Canadian Broadcast Company's (CBC) version of the film because of his behavior as president.
But the CBC swears it was only cut for time.
"These edits were done in 2014 when we first acquired the film and before Mr. Trump was elected President," the broadcaster said.
After Trump was recently banned from Twitter, social media commentator Matt Navarra jokingly claimed he "won't rest until he is removed from that scene in Home Alone 2."
This inspired dozens of people to create hilarious Photoshops and videos suggesting how Trump should be replaced.
How about Keanu Reeves? He's earned the reputation of being one of the nicest guys in Hollywood.
Country singer Dolly Parton is a national treasure. She's so popular that many have suggested that Confederate statues should be replaced with her image.
Since Disney now owns 21st Century Fox, the company that produced the film, the obvious replacement could be "Star Wars" characters. So why not insert the digital Jabba the Hutt that George Lucas awkwardly edited into the 1997 Special Edition of "Star Wars Episode IV: A New Hope"?
Or another obnoxious businessman?
Or this autocratic leader.
Joe Biden already replaced him once. Why not again?
How about Nicolas Cage? He needs the money.
Christopher Plummer replaced Kevin Spacey in "All the Money in the World." He surely has the acting chops to replace Trump.
How about Macauley's old buddy Michael Jackson. Wait? We haven't canceled him yet?
In a twist, some would like to see the Viking guy who tried to overthrow the U.S. government to be directed by the man who encouraged him to storm the Capitol in the first place.
Not quite as scary as Trump. But close.
How about turning the moment into a totally meta one where Macauley Culkin runs into his future, emaciated self? Don't worry folks, Macauley is back to a healthy weight these days.
While all of this speculation is fun, one Twitter user noted that if we start down the path of eliminating Trump from his "Home Alone 2" cameo, there's a lot more work to be done.