dailydot CyberS
'Don't ever stop at a Bareburger': Fast food joint says it was 'hacked' after Instagram account insults employees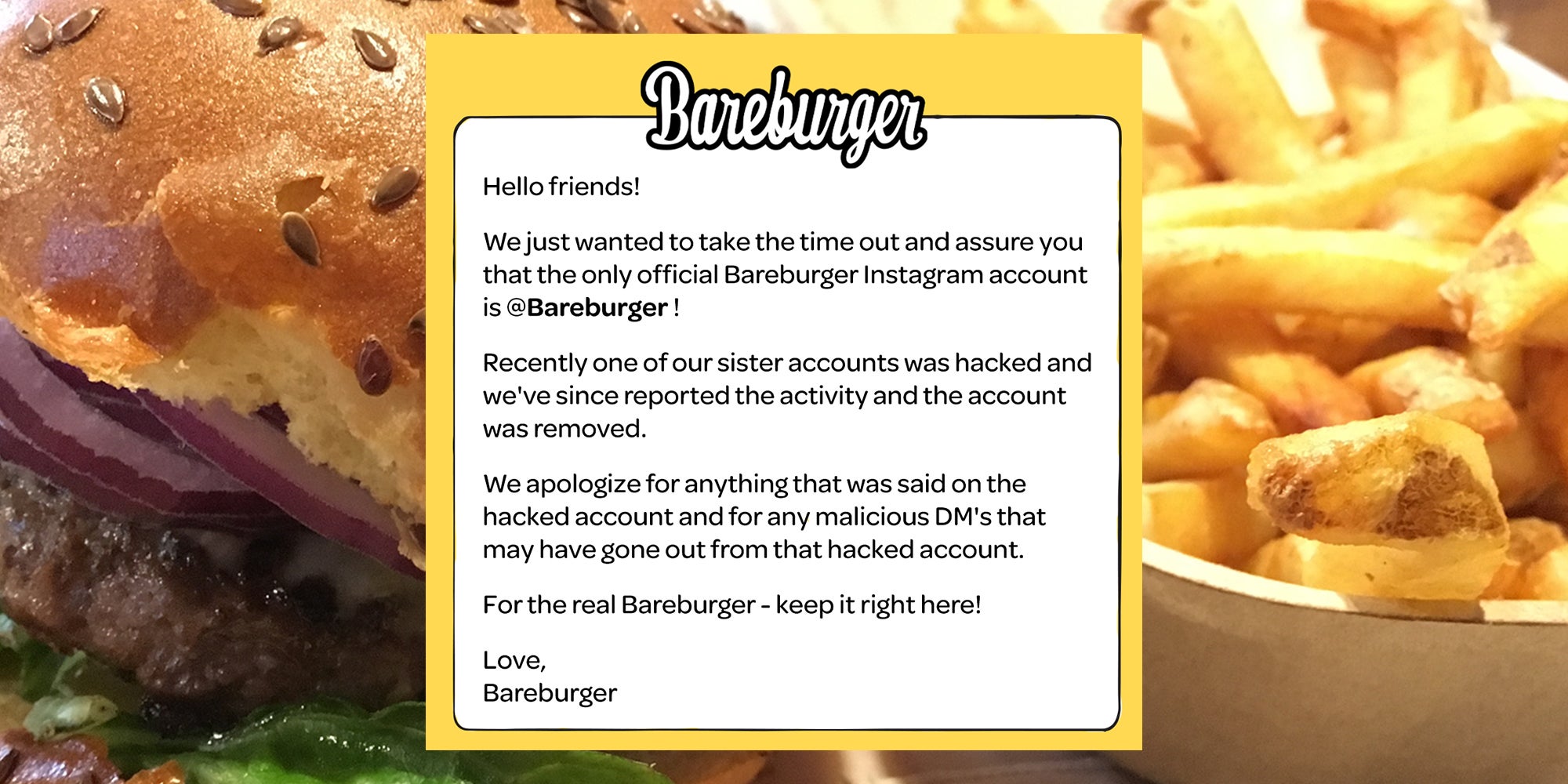 New York burger shop Bareburger received backlash Thursday after one of its Instagram accounts attacked commenters and claimed that its employees "lazily collect unemployment benefits and a stimulus." Bareburger later said that the account was "hacked."
A Twitch streamer, whose Twitter handle is @thesiegem4n, quote tweeted Bareburger's tweet requesting new applications for employment and wrote, "Noted: don't ever stop at a bareburger." He included screenshots of comments and Instagram Stories that appeared on Bareburger's Philadelphia account, which referred to employees as "leeches."
"Can everyone PLEASE BE PATIENT WITH US," one of the stories said. "Nobody wants to work rn when they can lazily collect Unemployment Benefits and a stimulus. Our manager just got COVID and we have no staff!"
Another Instagram Story screenshot showed a picture of Section 402(a) of Pennsylvania Unemployment Compensation Law with the caption, "Hey Leaches: Your free ride is over! All former employees are hereby ordered to return to work immediately or face losing benefits. If we offered a job and you declined we will be reporting you!"
Other screenshots of the Instagram account, which has since been deleted, showed commenters criticizing Bareburger for not "offering a living wage."
Bareburger's account replied to these comments, writing "These are higher than standard" and appearing to call out the commenter for getting a degree from an art school.
"Wow," @bareburgerphilly wrote. "I didn't know they were handing out economics degrees at art schools these days!"
One commenter wrote, "LMFAOOOOOOO the comments show how bad this place is to work at.. can only imagine how unsafe the food is! I will surely never eat here." To which @bareburgerphilly replied, "it's burgers not prime rib."
The commenter replied, "All meet requires safety? Are you insane?" And @bareburgerphilly replied, "Except the ones ya mans throws in ya I'm guessing. You take that raw but not our burgers? What a hypocrite."
In response to the commenters' concerns, @bareburgerphilly wrote, "This is the cheeky Twitter responses that people love from Brands. Are you even familiar with social media or do they not teach that in Feminism 101 at Liberal Arts College."
Bareburger's Twitter account addressed the posts Friday, stating that @bareburger is its only "official IG account."
Bareburger, which did not immediately respond to the Daily Dot's request for comment, wrote that one of its "sister accounts was hacked" and that the company "reported the activity," which led to the account's removal.
"We apologize for everything said on the hacked account," Bareburger wrote. "And for any malicious DM's that were received."
Although Bareburger claims it was "hacked," some commenters said they think one of the company's employees "went rogue." One commenter wrote, "Why would someone hack a local franchise? … Why would a hacker aggressively defend the company's wages and attack critics with reactionary talking points?"
The commenter continued, "I manage brands and feel for the team dealing with this. that said, the evidence points to a rogue owner/manager being a more likely culprit. scapegoating only fuels the fire."
Others accused the company of "lying." Another said, "nice damage control."
The post 'Don't ever stop at a Bareburger': Fast food joint says it was 'hacked' after Instagram account insults employees appeared first on The Daily Dot.