upworthy CyberS
Dr. Jill Biden promises that free community college will be a big part of rebuilding the economy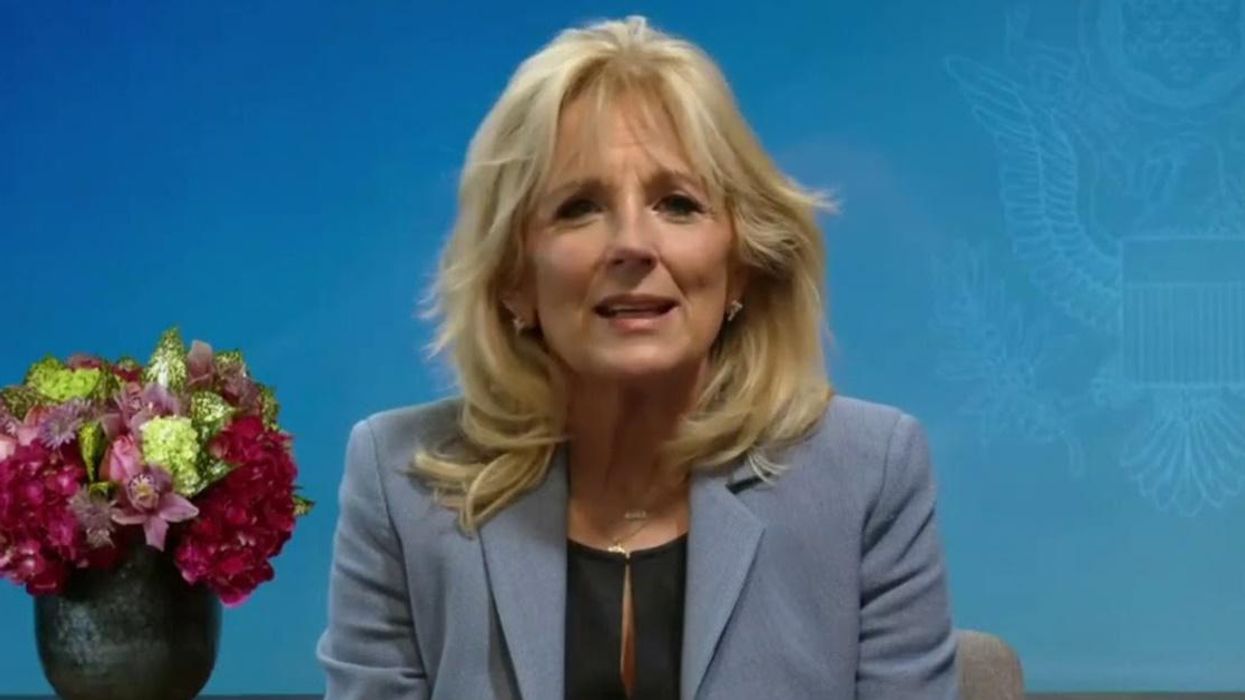 Education is one of the most reliable ways for people to climb the economic ladder. The Bureau of Labor Statistics says that in 2018, college graduates earned weekly wages that were 80% higher than those of high school graduates.
Americans with a bachelor's degree have median weekly earnings of $1,173, compared to just $712 a week for those who have a high school diploma.
One of the most affordable ways for people to get a college degree is to first start at community college. However, only 42% of first-time college students who attend a community college eventually complete a degree within eight years.
---
One of the major reasons these students fall through the cracks is the cost of their education. Studies show that graduation rates increase dramatically at community colleges with better public funding.
That's why the Biden Administration is pushing for free community college as a way to improve America's economic standing after the COVID-19 pandemic.
First Lady Dr. Jill Biden, a longtime community college professor, reiterated the Biden Administration's goal of free community college in taped remarks aired Tuesday during a virtual legislative summit hosted by the Association of Community College Trustees and the American Association of Community Colleges.
FLOTUS: "We're going to make sure that everyone has access to free community college" www.youtube.com
"We have to get this done. And we have to do it now," Dr. Biden said. "That's why we're going to make sure that everyone has access to free community college and training programs."
"We're going to make sure students have the support they need to cross that finish line," she said. "We're going to invest in programs that prepare our workers for jobs of the future."
Dr. Biden continues to teach virtually during the pandemic. She is the first first lady to have a paying job outside of the White House.
In the 21st century, twelve years of school isn't enough. That's why under the Biden-Harris plan, community college… https://t.co/E5FoVr5Tfc

— Joe Biden (@Joe Biden)1608776400.0
Last December, then-President-elect Joe Biden shared his pledge to make community and public colleges free. "That's why under the Biden-Harris plan, community college will be free — and public colleges and universities will be tuition-free for families earning less than $125,000 a year," he tweeted.
Biden's Twitter announcement echoed pledges listed on his campaign website, which spoke to "invest[ing] in community colleges and training to improve student success" for the benefit of the middle class.
"All of these proposals will be implemented in partnership with states as well as school faculty and staff. Educators must play a key role in decisions affecting teaching and learning," read a statement on his webpage.
The announcement comes as community college enrollment is on a steady rise. Between 2000 and 2017 undergraduate enrollment in community colleges grew from $13.2 million to $16.8 million. It's expected to rise another 3% over the next seven years.
When the free college debate comes around, cost will no doubt be at the forefront of the discussion. But that assumes we can attach a price tag to the benefit of living in a society that places a higher value on education. A better-educated populace is one with greater opportunities and can allow for greater aspirations.
The bigger question should be, what's the cost of living in a society where many don't have access to a quality education?