upworthy
Florida commissioner rejects governor's order to fly flags at half-staff for Rush Limbaugh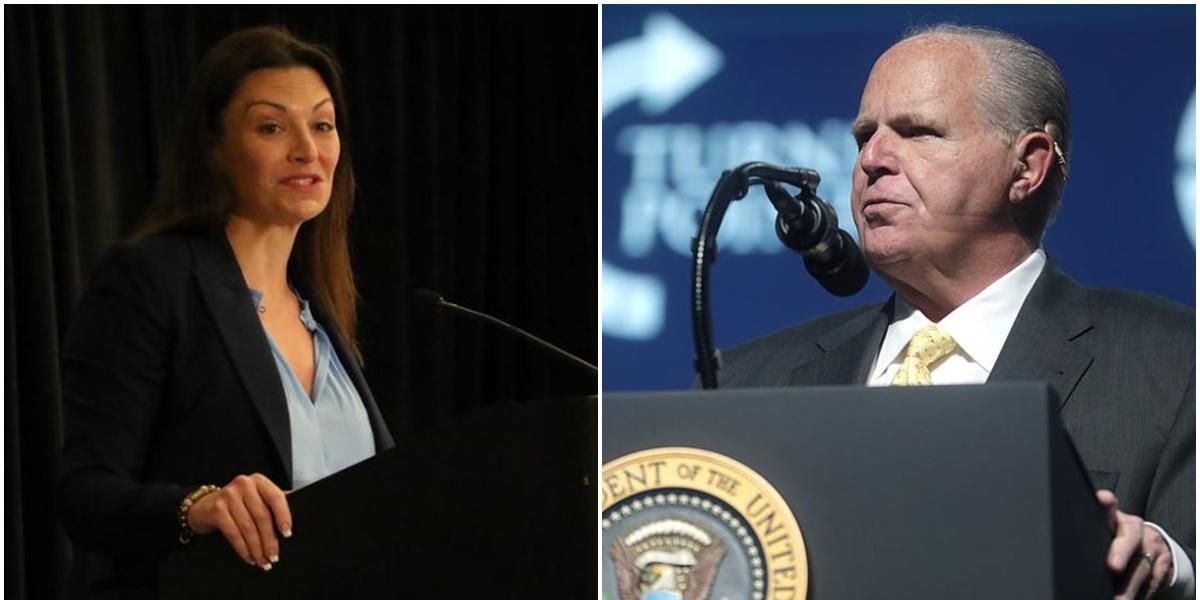 Can we get a round of applause for Nikki Fried, the Florida Agriculture Commissioner? On Monday, she stood up and defied an order from Florida Governor Ron DeSantis to fly flags at half-staff when Rush Limbaugh's body is laid to rest.
"Once the date of interment for Rush is announced, we're going to be lowering the flags to half-staff," DeSantis said Friday at a news conference, adding the honor is "what we do when there's things of this magnitude."
Limbaugh, 70, died of complications from lung cancer last week.
---
I will not lower the flags at my Department's state offices for Rush Limbaugh. Lowering our flag should reflect uni… https://t.co/9iPDNcsxOv

— Nikki Fried (@Nikki Fried)1614018610.0
Giving Limbaugh the honor of having flags flown half-staff is controversial given his six-decade career of fanning the flames of intolerance. Limbaugh is believed to be one of the architects of modern conservatism and did so by making targets of people of color, women, and the LGBT community.
Back in the '80s, Limbaugh celebrated the deaths of gay men from AIDS with a bit on the show called the "AIDS Update." He aired a parody song called "Barack, the Magic Negro," after Barack Obama announced he was running for president in 2007.
Limbaugh was also a fierce critic of feminism, saying it was "established so as to allow unattractive women access to the mainstream of society." He also popularized the derogatory term "Feminazi."
Recently, he championed the conspiracy theory that Joe Biden didn't win the 2020 election.
Democratic Florida Representative Debbie Wasserman Schultz called the governor's decision, "an embarrassment to Florida."
"Rush Limbaugh weaponized his platform to spread racism, xenophobia and homophobia across the nation," she said in a tweet. "His constant hateful rhetoric caused untold damage to our political landscape."
Rush Limbaugh weaponized his platform to spread racism, xenophobia and homophobia across the nation. His constant h… https://t.co/kLHCSgQ24M

— Debbie Wasserman Schultz (@Debbie Wasserman Schultz)1613758022.0
The move was also against the state's flag protocol which says it should be flown at half-staff "in the event of the death of a present or former official of the Florida State government or the death of a member of the Armed Forces from Florida who dies while serving on active duty."
Fried's decision is a harsh, but deserving rebuke of DeSantis and Limbaugh, an opportunist whose life should not be celebrated.
.@GovRonDeSantis is lowering Florida's flags to half-staff for Rush Limbaugh.

But he had no words for Congressman… https://t.co/qx7FmFlML1

— Nikki Fried (@Nikki Fried)1613749227.0
"Lowering to half-staff the flag of the United States of America is a sacred honor that pays respect to fallen heroes and patriots. It is not a partisan political tool. Therefore, I will notify all state offices under my direction to disregard the Governor's forthcoming order to lower flags for Mr. Limbaugh – because we will not celebrate hate speech, bigotry, and division," she said in a statement.
"Lowering the flag should always reflect unity, not division, and raising our standards, not lowering them. Our flags will remain flying high to celebrate the American values of diversity, inclusion, and respect for all," she continued.
Desantis' decision to commemorate Limbaugh after his death is an attempt to legitimize a man whose divisive politics and intolerance should never be accepted. Fried is brave to step up and condemn the decision at a time when many would be quiet out of respect to the recently deceased.
But why does anyone owe Limbaugh respect in death given how he behaved in life?