upworthy CyberS
Heroic Officer Eugene Goodman used himself as bait to lure rioters away from the Senate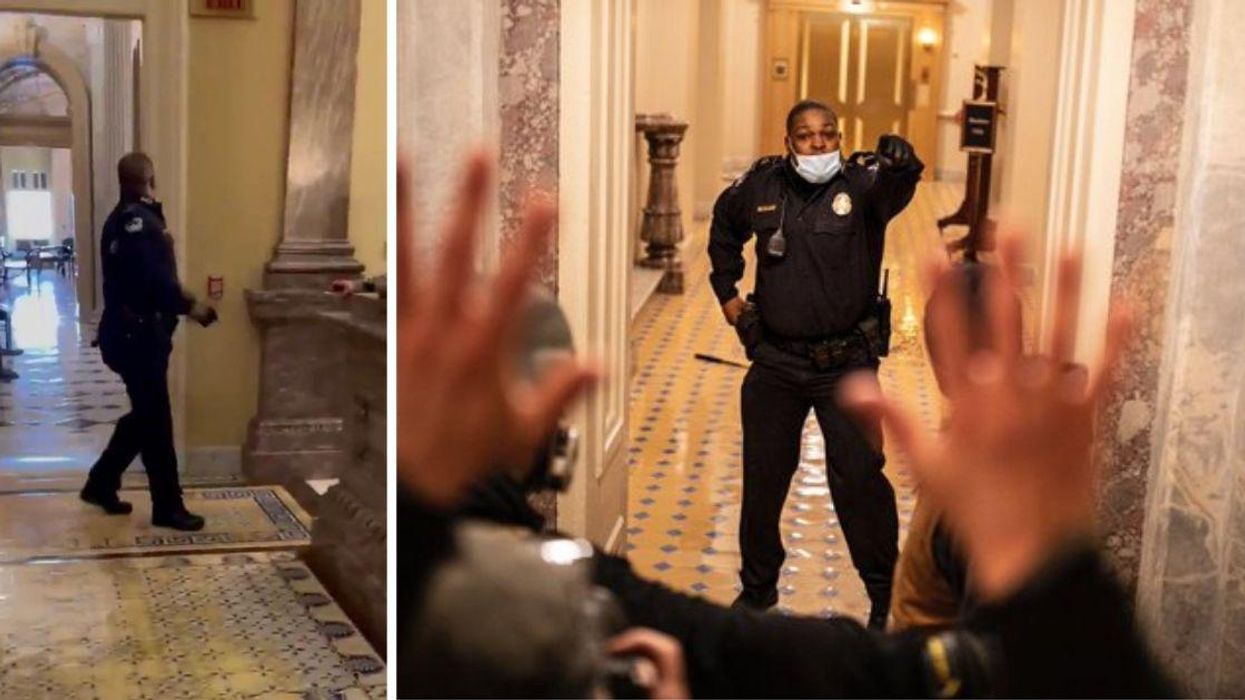 As more footage from last week's attack on the U.S. Capitol comes out, we're getting a fuller picture of what took place that day. And frankly, it's terrifying.
We've now seen the gallows erected outside of the Capitol and the rioters shouting "Hang Mike Pence!" We've seen reports of insurrectionists carrying zip tie restraints and now know how close we were to possibly witnessing lawmakers being taken hostage—or worse—live on TV. We've seen journalists attacked, a policeman dragged down steps and beaten with an American flag, and feces and urine left in the hallways and offices of the U.S. Capitol.
One piece of footage that has emerged shows how one Capitol Police officer's bravery may have saved members of the U.S. Senate. Officer Eugene Goodman found himself alone and confronted with a mob forcing him backwards up a stairway within the Capitol. Video from HuffPost reporter Igor Bobic shows Goodman attempting to hold back the rioters, but he is clearly outnumbered. They keep pushing him farther and farther up the stairs, toward the floor where the Senate chambers are.
---
What isn't immediately obvious in the video footage is a specific moment when the mob reached the floor where the Senate chambers were. Goodman appears to glance down the hall toward the chambers, where no security can be seen, and then shove the frontman of the mob before leading them in the opposite direction of that hallway.
In other words, it looks like he used himself as bait to keep the mob away from the Senate chambers. Insurrectionists did end up breaching those chambers, but thankfully, it wasn't until after lawmakers had been moved to a secure location within the building.
It's hard to imagine the terror this man must have felt in these moments. Completely outnumbered, charged with the duty of protecting the U.S. Capitol as it's being overrun, knowing that the nation's lawmakers—including the next three people in line for the presidency—were in the building and relying on the police for protection.
But the terror for Officer Goodman goes beyond that. This isn't just a police officer being outnumbered; it's also a Black man facing down an angry white mob. We've seen photos of pro-Nazi apparel worn by some of these people. We've seen a huge Confederate flag being marched through this building that day. Many of the people who have since been arrested are prominent members of white nationalist groups.
To be who he was, in the place that he was, facing the mob that he was—and to still have the presence of mind to do what he did—is a demonstration of heroism that can't be overstated.
As we express our gratitude and praise for his heroism, we must also acknowledge the trauma of this experience. Not just the trauma any of us would have endured, but the added racial trauma of knowing that this mostly white mob could—and just might—lynch him.
The racism in the group isn't just an assumption. Nor is the violent threat they posed.
BuzzfeedNews interviewed two Black Capitol officers, both of whom remained anonymous, about their experiences in the Capitol that day. They said they were repeatedly called the n-word as the rioters stormed the building. Some even abused them while telling them they were doing it for them.
"We were telling them to back up and get away and stop, and they're telling us they are on our side, and they're doing this for us, and they're saying this as I'm getting punched in my face by one of them … That happened to a lot of us. We were getting pepper-sprayed in the face by those protesters — I'm not going to even call them protesters — by those domestic terrorists," one officer told the outlet.
And they were left to fend off white supremacists without sufficient support. One officer, who has been with the Capitol Police for more than a decade, said the threat was downplayed before the event, and then the chief of police was MIA during the riot. He also explained how the absurd costuming and antics of some of the rioters served as a distraction from how serious the threat really was.
"That was a heavily trained group of militia terrorists that attacked us," said the officer. "They had radios, we found them, they had two-way communicators and earpieces. They had bear spray. They had flash bangs … They were prepared. They strategically put two IEDs, pipe bombs, in two different locations. These guys were military trained. A lot of them were former military."
The threat isn't over. There are multiple reports of plans for more armed protests in the nation's capital as well as state capitals in the days leading up to Biden's inauguration. Social media companies have cracked down on incitement, including banning the president, in an attempt to keep extremist groups from organizing via their platforms. Other private companies have also taken action to limit further violence by denying service to Parler, a "free speech" social media platform that has been a favorite of many pro-Trump organizers, as the seriousness of what happened last week truly sinks in.
In everything that's happened this week, Officer Goodman's brave actions stand out as a beacon of hope. President Biden will have an incredibly busy schedule once he takes office, but as soon as possible, he should award this man the Presidential Medal of Freedom. If anyone has ever deserved that honor, Eugene Goodman certainly does.