upworthy
Hilarious TikTok explains what NOT to do for the Lunar New Year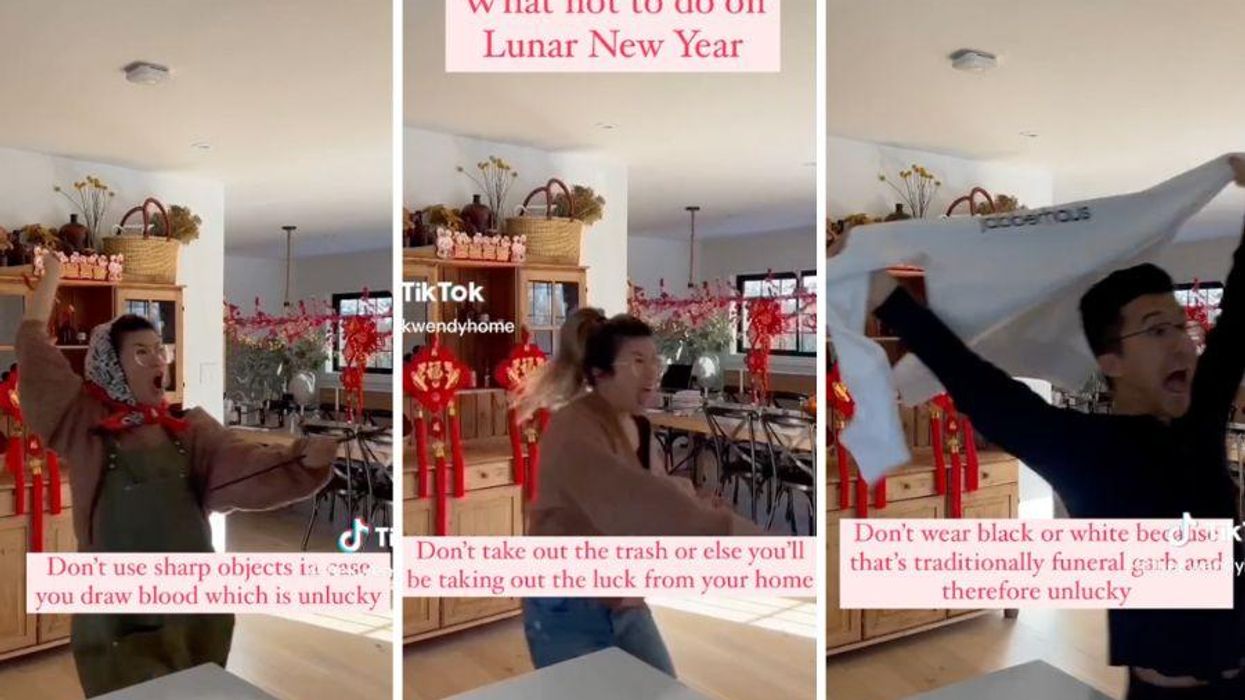 Lunar New Year is one of the most important celebrations among East and Southeast Asian cultures. Unlike the Gregorian New Year, which takes place for one night, Lunar New Year celebrations last for several days and involve centuries old traditions steeped in superstition. Even the most mundane of everyday activities, when done on Lunar New Year, could decide a person's fate—for better or worse.
Luckily, home decor blogger Wendy has given us a perfect rundown of taboo activities to avoid this Lunar New Year and thwart ill tidings—in the form of one hilarious TikTok.
---
As Wendy explains in her caption, many customs are based not only in superstition, by a play on words. Washing your hair "washes" away your fortune, for example. Sweeping "sweeps" it all away. You get it.
There's even caution against items that sound like Chinese words with a negative connotation—buying a book, which sounds like the word "lose" in Chinese, would bring bad luck. Similarly, buying shoes, which sounds like "rough" in Cantonese and "evil" in Mandarin, would be equally bad. There will be no trips to Barnes and Noble or Foot Locker during Lunar New Year. No sir.
While the education is already great, what makes this video next-level is the amazingly cartoonish slow motion chase scene happening the whole time on loop.
Watch:
Wendy alluded to the video being a time consuming project—what with all the special edits—but man was it worth it. This is TikTok comedy at its finest.
The clip has already garnered over 195K views. Those familiar with the customs found it laughably relatable. One person wrote, "thank you! I was running them through my mind and this was a great mini refresher."
Others marveled at just how many things could make a year go terribly, terribly wrong. "Well, I'll just stay in bed and not do anything," one person joked.
The Lunar New Year for 2023 will fall on Jan 22, transitioning away from the Year of the Tiger and into the Year of The Rabbit, which represents wealth and prosperity in Chinese culture. Hey, if it means becoming rich this year, I suppose we can let the hair washing and sweeping slide for a day.