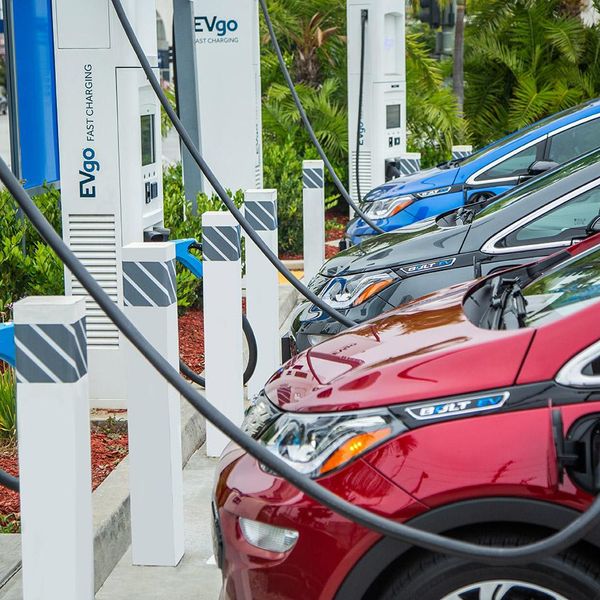 Electric vehicles are no longer lofty, futuristic goals—they're here and they're growing in popularity. There are currently more than 650,000 battery-powered and hybrid electric cars on the road in California alone and that number is only expected to grow, both in the state and across the United States as a whole. In fact, according to industry analysts, sales of electric cars and SUVs are expected to hit record levels in 2021.
Shifting to electric vehicles and using more renewable energy sources is believed to be a big step towards creating a better world for all. Some companies such as General Motors are beginning to pave this path. EVs don't emit tailpipe emissions, which can disproportionately affect the health of poorer neighborhoods and people of color.
Electric cars have historically had a big problem: they're known as rich people's cars, aka luxury vehicles that for a lot of people are simply too expensive to buy. It's expensive to buy a new car—any new car—and the average sticker price of an electric car is $19,000 higher than an average gasoline-powered vehicle. So even though you can generally recoup this upfront cost over time because EVs can be cheaper to operate with no fueling and lower maintenance costs, people just can't come up with the money upfront. To change this, though, GM is helping combat costs through a joint venture with LG Energy Solutions to reduce battery cell costs which may help make the vehicles more affordable to new buyers.
Of course, there were other barriers that have made owning electric cars inaccessible and inequitable in the past, contributing to their image as rich people cars, but this too is rapidly changing thanks to new developments.
One of those barriers was that EVs were also seen as too inconvenient to own in certain neighborhoods, especially in poorer neighborhoods or cities where most people rent apartments. This was partly due to range. EVs haven't traditionally driven as far as their gasoline counterparts before requiring a "fill-up"—aka a charge. In fact, the industry average for EVs is a range of around 250 miles, though some can go a little further. This is especially a problem if you need to drive a lot, need to commute long distances, or you don't own a garage.
This leads us into barrier number two: EV chargers are not always easy to find and they're not equitably distributed across the United States. For example, if you don't have a garage—as is the case for most city dwellers— you're reliant on public charging stations, and there simply aren't enough (yet) in cities such as New York. And when they are available, they tend to be in high-income communities. For example, in California, low-income communities have the fewest total EV chargers per capita, while high-income communities have the most.
There's good news though: companies like General Motors are taking huge strides to help make EVs more accessible to everyone by investing $27 billion into electric and autonomous vehicles over the next five years, with specific investment in their new Ultium battery technology, which is capable of charging fast, running long, and fitting every type of vehicle, from crossovers and sedans to SUVs and trucks.
The new Ultium batteries are made up of large, pouch-style cells that can be stacked horizontally or vertically, allowing them to optimize energy storage and layout so they can be used in different-sized vehicles. They will also be capable of powering an EV with a GM estimated range of up to 450 miles on a full charge — which is way more than the current industry average of 250 miles—though of course range will vary depending on temperature, terrain, battery age, vehicle model, the load it's carrying, and maintenance.
In addition, General Motors is working with EVgo to triple the size of the country's largest public fast-charging network by adding more than 2,700 new fast-charging stalls in the US by the end of 2025 so that more people can charge their vehicles without issue. (Even better, all of these new chargers will be powered entirely by renewable energy.)
Once EVs become more available and more practical to own and use, they can become more accessible to everyone, no matter where they live. It's going to take a lot to make a better world; but with corporations and individuals all doing our part, we have a fighting chance.