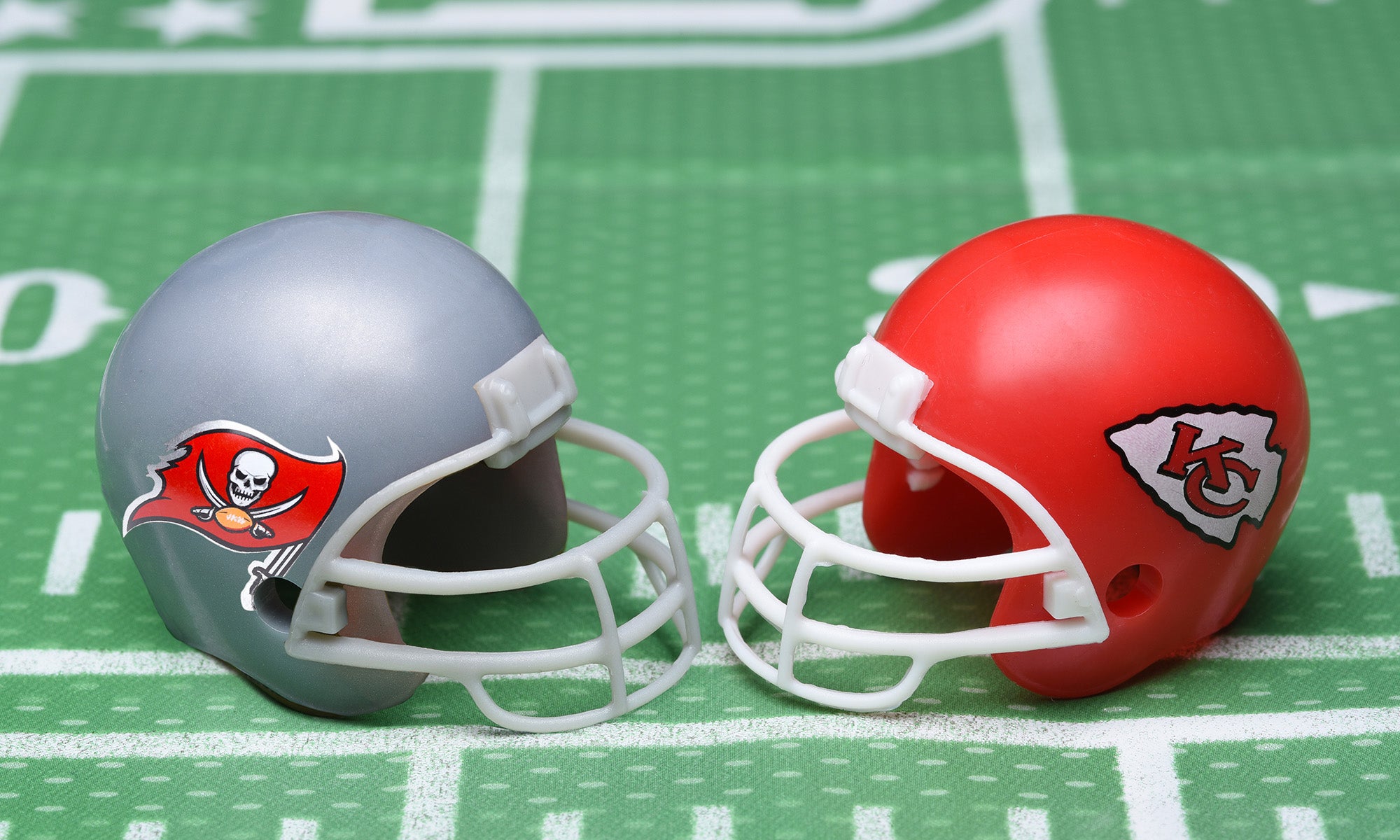 Here's how to stream the Super Bowl on Sunday. Super Bowl LV (or Super Bowl 55, if you don't read Latin numbers) features the defending champions, the Kansas City Chiefs, against the Tampa Bay Buccaneers. The Bucs are the first team in Super Bowl history to luck into playing the big game in their home stadium.
You also may be aware that there's a pretty great quarterback matchup at the heart of Super Bowl 55. Patrick Mahomes is looking for his second straight Super Bowl ring, while Tom Brady is looking for his seventh all-time.
Also, starting at 2pm. ET on Sunday, Feb. 7, CBS Sports notes that its "streaming coverage will also be available to viewers across an expanded lineup of platforms and devices, including unauthenticated at CBSSports.com and on the CBS Sports app for OTT devices and services, smart TVs and mobile devices."
Super Bowl 55: Preview
The Chiefs were expected to make the Super Bowl as the AFC's No. 1 seed, but still faced some tough competition to make it in.
Nothing quite equalled the drama of last year's playoffs. (You'll remember the Chiefs fell behind to the Texans 24-0 in the first round en route to winning that game 51-31.)
Still, Kansas City had to best a tough Browns team that closed a 19-3 deficit to the 22-17 final score. Then, the Chiefs beat a beloved Bills team handily in the AFC Championship.
By contrast, the Bucs had to win three straight playoff games on the road before getting the Super Bowl at home. Tom Brady worked his playoff magic, including a 31-26 NFC Championship win over the Packers.
That game featured the confounding move by the Packers to kick a field goal deep in Bucs' territory down eight points with just over two minutes remaining. While they cut the lead to five with the made field goal, all Brady had to do was manage the clock and lead his team to make a first down. And that's something Tom Brady can definitely do.
More from the Daily Dot on Super Bowl LV
How to stream the Super Bowl: Streaming services carrying CBS and ESPN Deportes
You'll be able to catch the big game live on CBS if you have the CBS All Access streaming service, or if you have FuboTV, AT&T TV Now, YouTube TV, or if you pair your Sling TV with Air TV to get all your local channels.
If you have Hulu, Sling, AT&T TV Now, or Vidgo, you can access ESPN Deportes (but make sure you have the service tier that includes it before you try to dial it up on Sunday).
CBS All Access
This streaming service is the network's official entry into the streaming arena, and set the tone for other major networks launching their own streaming services. CBS All Access anchors itself in the vast CBS show library, going into TV history as well as relying on the Star Trek series and the crime dramas that help define it today. It also has a selection of movies tied to Paramount's ownership by CBS parent Viacom. (In fact, it's set to change its name to Paramount+ soon.)
It's also a destination for live events like the annual Grammy Awards, and it's becoming a destination for live sports fans. The 2020 NWSL Challenge Cup and a new role as Champions League soccer host, as well as the host for Super Bowl 2021, makes it a legitimate player in sports programming.
Hulu Live TV
Hulu Live TV is a great way to stream live TV, as it comes with access to Hulu's massive library of on-demand content. You'll be able to choose from movies, shows, and Hulu's original programming, and keep up with what's new each month. Hulu plans even include a bundle option where you can access Disney+ and ESPN+ along with Hulu.
Hulu Live TV sets you up with local channels and has a broad spectrum of entertainment and sports channels to review, including the full suite of ESPN channels, Cartoon Network, FX, HGTV, and even deep cuts like National Geographic and Syfy.
Sling TV
If you're looking for a streamlined, cost-effective streaming package, check out Sling TV. It offers two basic cable packages, Sling Orange and Sling Blue, each of which costs $35 per month. There's also the third option of getting Sling Orange + Blue for just $50 per month. You'll get more Sling TV channels by choosing Sling Blue, with its 40 channels including sports favorites like FS1 and NBCSN and cable mainstays like Food Network and Discovery Channel. But Sling Orange brings must-haves Disney Channel and ESPN as part of its package. Sling also has a number of add-ons, including robust international packages organized by languages all over the globe.
To gain access to ESPN Deportes, you'll either need Sling Orange + Best of Spanish TV.
How to use AirTV with Sling
AirTV solves one of Sling's biggest problems: The inability to receive all of your local channels. By purchasing a basic AirTV for $79.99 or the AirTV Player for $119.99, you can merge your NBC affiliate and other local channels into your Sling TV, (or on your mobile device if you have the basic AirTV). As the Daily Dot wrote in its AirTV review, "It's practically magic."
The basic AirTV is a dual-tuner streaming device, while the AirTV Player is basically an upgraded Chromecast that has Netflix preinstalled. You'll still need to own an HD antenna because even though AirTV gets you access to your local channels, it doesn't actually physically show them to you.
AirTV has no monthly fee. And once everything's set up, Sling users can access their local channels to complement the Sling package of their choice.
---
Fubo TV
FuboTV started as a streaming service geared toward sports fans. It's since evolved into a broadly-appealing option with entertainment and news options alongside its robust sports choices. It starts at $54.99 a month, and depending on the package, you can access as many as 180+ FuboTV channels. Fubo can entertain you with Bravo, IFC, MTV, and VH1 at even Fubo's most basic tier.
The Fubo channel list still includes plenty of sports, including the Fubo Sports Network, which has original programming mixing sports and humor. Fubo added the ESPN suite of channels in an agreement that also brought ABC and the Disney Channel. It's also got NFL Network, NFL RedZone, and local channels for streaming the whole slate of games each week. Pretty much every sports channel you could think of is available through Fubo, including BeIN Sports, CBS Sports Network, and TUDN. If you want to access all the sports Fubo delivers, get Fubo Elite plus the $10.99 per month Sports Plus with NFL RedZone add-on.
AT&T TV Now
If you're already looking to AT&T for your wireless needs, you might consider AT&T TV Now to cover streaming for you. AT&T TV Now channels start with Plus and Max, which even include HBO. Then, AT&T plans expand from there, approaching cable selection and pricing with AT&T TV Now's biggest packages. AT&T streaming also comes with Cloud DVR, letting you record up to 20 hours of TV per month.
At its most basic Plus tier, you can find sports staples like ESPN, ESPN2, and FS1. Considering that AT&TV TV Now plans include the loaded Ultimate and Premier tiers, as well as the Spanish-language Optimo Mas package, you can find whatever sports channel you're seeking in at least one of the AT&T TV Now plans. AT&T TV Now definitely covers you if you want to stream the Super Bowl.
YouTube TV
The YouTube TV channel list includes local channels and sports channels; you can stream the NFL in its entirety with it.
It's got plenty to keep kids (and kids at heart) occupied, including Disney Channel and its companion channels, Nickelodeon, and Cartoon Network—all in one easy-to-access package. It even comes with a few Spanish-language channels like Telemundo and NBC Universo. YouTube add-ons include HBO Max, Showtime, and Starz. YouTube TV packages have some advantages over their competitors, including a generous DVR and multiple screens package. From one account, each user can create an individual profile to track favorite shows.
It's a great option for sports fans. It comes with ESPN, ESPN2, FS1, FS2, and NBCSN at the ready. Deeper sports cuts, like NBA TV, MLB Network, CBS Sports Network, and ESPNU are also part of the YouTube TV plan. For $10.99 more a month, upgrade to the Sports Plus plan to get NFL RedZone and six additional sports channels.
Vidgo
Currently with a $10 a month special going, Vidgo brings more than 60 English-language channels into its National English Package. Vidgo channels include ABC, Fox, the ESPN family of channels (including ESPN Deportes), NFL Network, and it's one of the few streaming services that carries BeIN Sports. Like Fubo, it started out for streaming sports but carries a lot more now. There's even a Social TV platform that allows you to chat with other Vidgo viewers about what you're watching.
Vidgo has two Latino options featuring ESPN Deportes, Fox Deportes, and TyC sports at both levels. At the Plus level on the English side, you get NFL RedZone and all the Pac-12 Network regional options.
The post How to stream the Super Bowl appeared first on The Daily Dot.