dailydot CyberS
'I am not the guy for you': TikToker captures awkward end to friend's Tinder date
Awkward Tinder dates are nothing new— but this is a unique way to end one.
A TikTok video of a double-date gone wrong, that started on the dating app, has gained 290,000 likes on the platform and over 2,900 comments. The poster, TikTok creator Sarah Updike (@Sarah_Updike) shared the video of her friend's date shouting, "I am not the guy for you," loudly in the street, following date, and then, clapping every word, "But that's just how it is."
Updike, who has a following of 12,900, started the video by saying she and a friend went on a double date with a pair they met on Tinder. Her own date didn't show up.
"I wish I could have snuck the whole thing in," she captioned the video. "Can't make this shit up!"
In replying to a commenter, Updike said that if her date had shown up, it would have been her first tinder date.
"Lmao it would have been my first tinder date ever too," Updike wrote.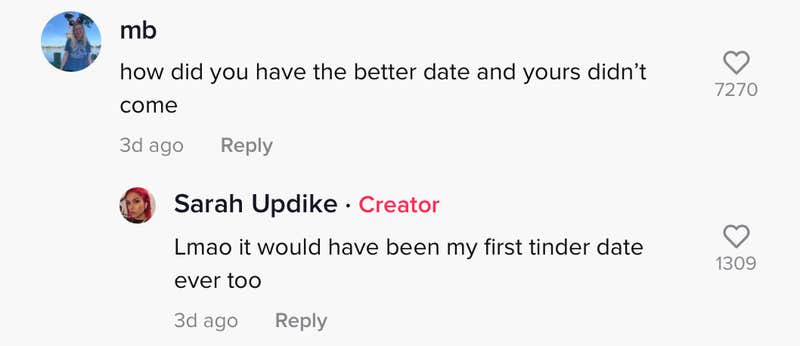 She revealed in another reply that the pair had gotten in an argument over Miley Cyrus earlier in the evening and that she had given them space to say goodbye when she heard them yelling.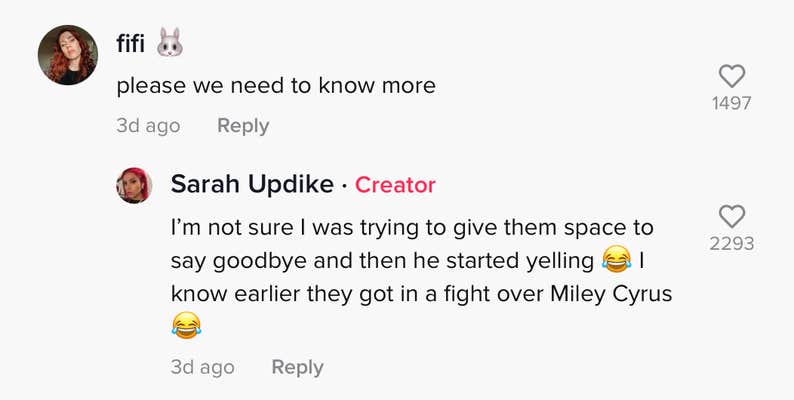 Updike said her friend was OK, and that they had laughed about the situation after the fact.
"She's fine I'm right there we both thought it was funny and let him go off," Updike wrote in response to a commenter who asked why she wasn't defending her. "She's laughing at him too."

Without complete context, some of her followers were confused about what was going on.

The argument—whatever it was about—came far too early in the relationship for some.
"The relationship ain't even start yet," user Lynat's TV wrote.

Others remarked on the novelty of the situation.
"WOW this must be what the opposite of ghosting looks like," user Angela Rockstar wrote.

It's not clear what all happened leading up to the footage included in the video, but the Daily Dot has reached out to Updike.
The post 'I am not the guy for you': TikToker captures awkward end to friend's Tinder date appeared first on The Daily Dot.