dailydot
Indigenous TikToker speaks out against professor's 'spirit animal' quiz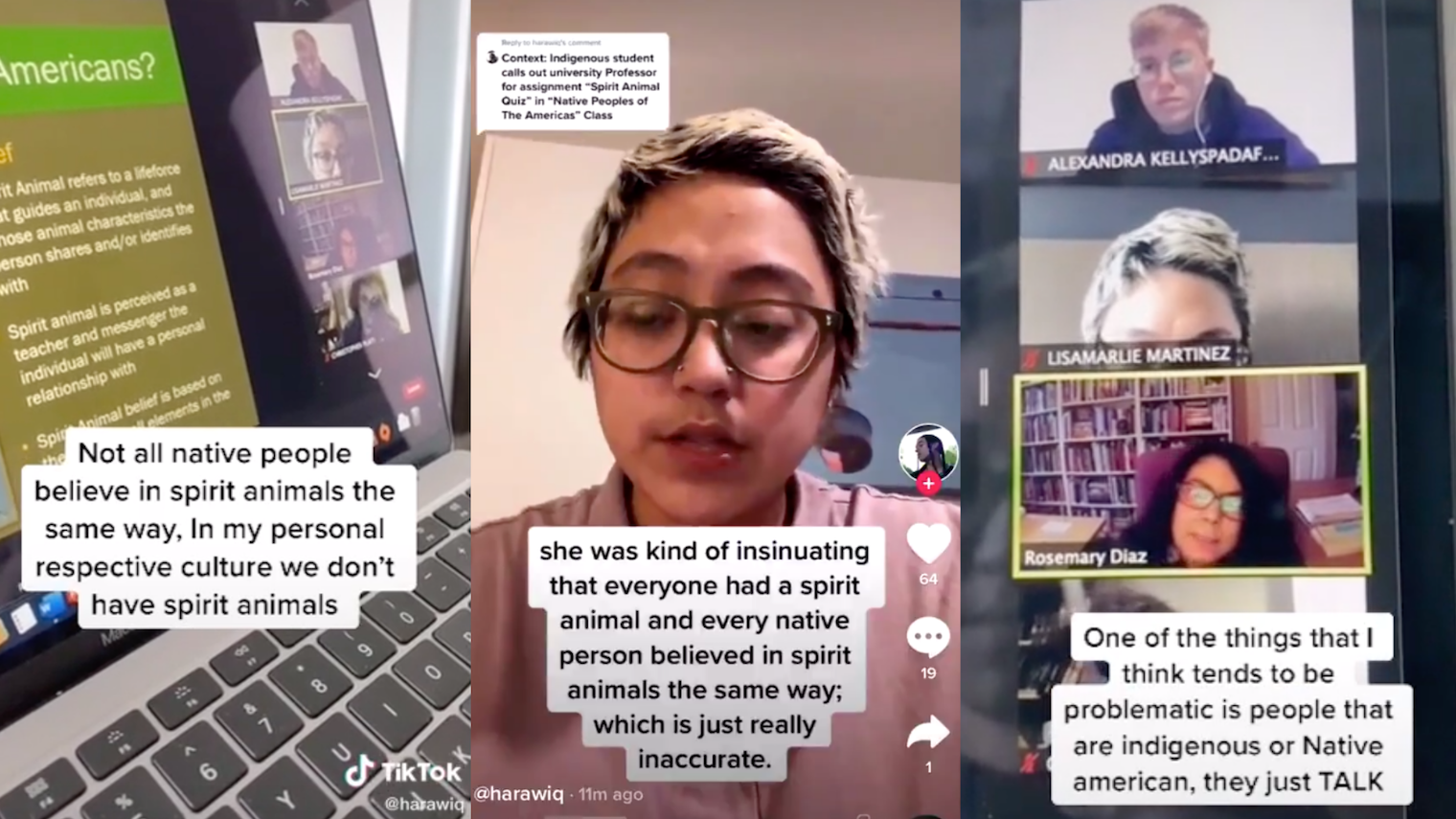 After a viral TikTok showed a professor dismissing an Indigenous student's protest of a "spirit animal" assignment, people on social media demanded that the professor step down.
Rosemary Diaz, adjunct professor of social science at Westchester Community College in New York, asked students to take an online quiz that would tell students their "spirit animals." Lisa Marlie Martinez, who first posted the TikTok, protested the assignment and said it was disrespectful to Native peoples' cultures.
"I was taught to respect other Native peoples' cultures and if I were to do some … quiz … instead of actually going to an elder in those respective tribes, I don't know. It feels a little tone-deaf," Martinez said in a follow-up video.
In the video, Diaz says she wasn't being disrespectful or being culturally appropriative and had been teaching for 20 years.
"One of the things that tends to be problematic is people that are Indigenous or Native American … They just talk without basically understanding that other people don't understand," Diaz says.
The concept of "spirit animals" has circulated in school curriculums and pop culture, but the non-native term trivializes Indigenous peoples' relationships with animals and the environment. Animals and their imagery are often tied to spirituality, creation stories, and clan and kinship systems specific to a tribal community. 
The term "spirit animal" commodifies the culture and reality of Indigenous people in America who already have a history of being colonized, assimilated, and dehumanized. It also is one example of the way Indigenous people have been painted as a monolithic group.
People on TikTok expressed outrage at the professor's disregard for the student's input on the assignment. TikTok user @jo432699 commented, '"All she had to say was, 'I apologize. Thank you for informing me of this and I will educate myself further and reevaluate the assignment."'

TikTok user @aichella highlighted the professor's use of her "years of experience" to disregard listening to the Indigenous student's opinions.

Twitter user @princesadelsol5 said, "Being an Indigenous student and constantly having to explain and correct other students, let alone professors is incredibly exhausting and can be super intimidating."

Professor of education and culture William A. Smith at the University of Utah highlights this struggle of BIPOC students when he coined the term "racial battle fatigue" in 2003. The phrase describes the exhaustion, anxiety and frustration people of color experience when facing microaggressions.
Martinez said the professor indicated that taking the quiz would give students a better understanding of Indigenous people. 
"She was kind of insinuating that everyone had a 'spirit animal' and every native person believed in spirit animals the same way, which is just really inaccurate," Martinez said.
Martinez said the class also taught inaccurate and harmful depictions of Indigeous people, portraying them as "savage" and "merciless," along with using slurs like "Indians."
Outraged by Martinez's video, Twitter users emailed the university and called out the racist and anti-Indigenous remarks made by the professor. 
"Rosemary Diaz has proven that she does not know the subject she is teaching," Twitter user @permanxiety wrote in an email to college officials. "Action must be taken. Ms. Diaz must apologize directly to the student she belittled, and she must step down from her position."

Westchester Community College, which did not immediately respond to the Daily Dot's request for comment, on Friday tweeted a statement that appeared to be related to the TikTok.
"We are concerned by reports we have received regarding a video of one of our classes," the statement said. "Accordingly, we are following our policies to ensure a fair, inclusive, and equitable process for all members of the college community as we begin an inquiry into the facts."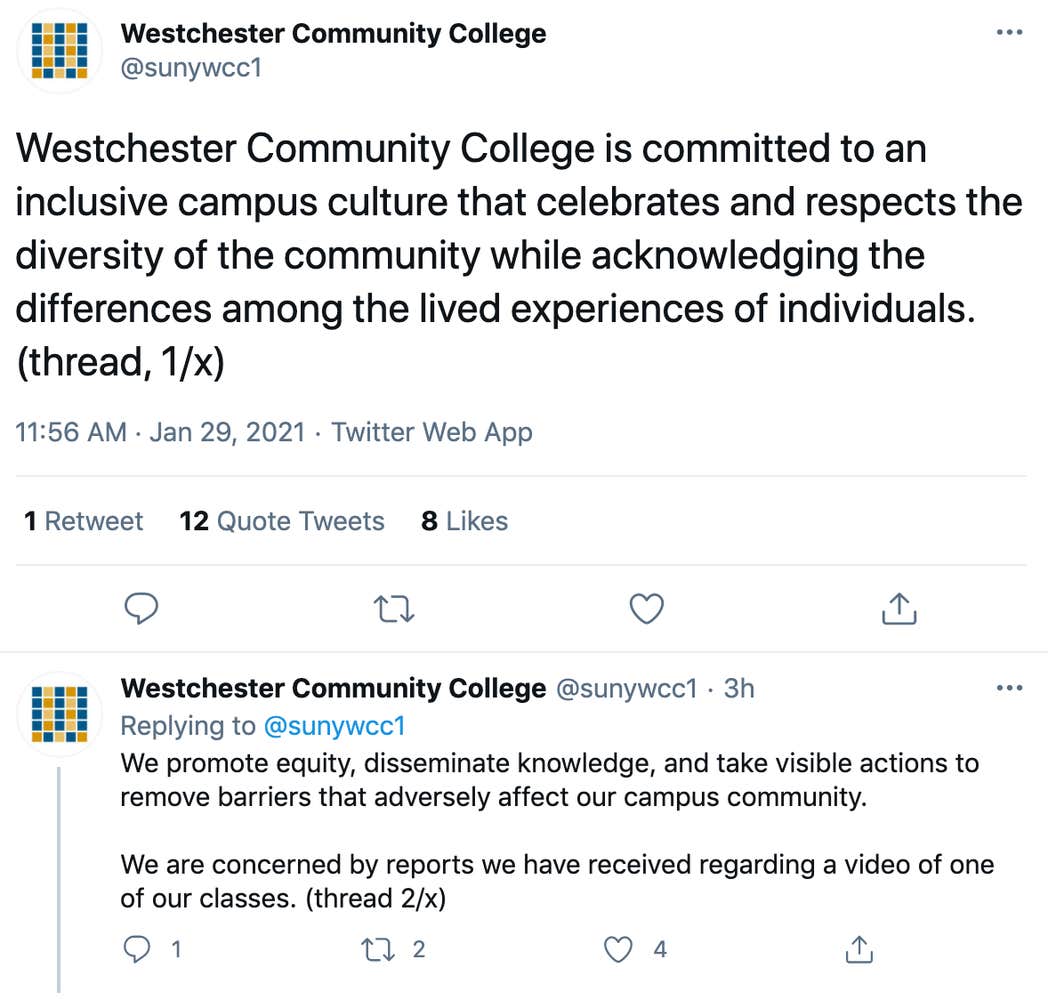 The post Indigenous TikToker speaks out against professor's 'spirit animal' quiz appeared first on The Daily Dot.