dailydot
Is this QAnon-touting member of Congress also part of a militia?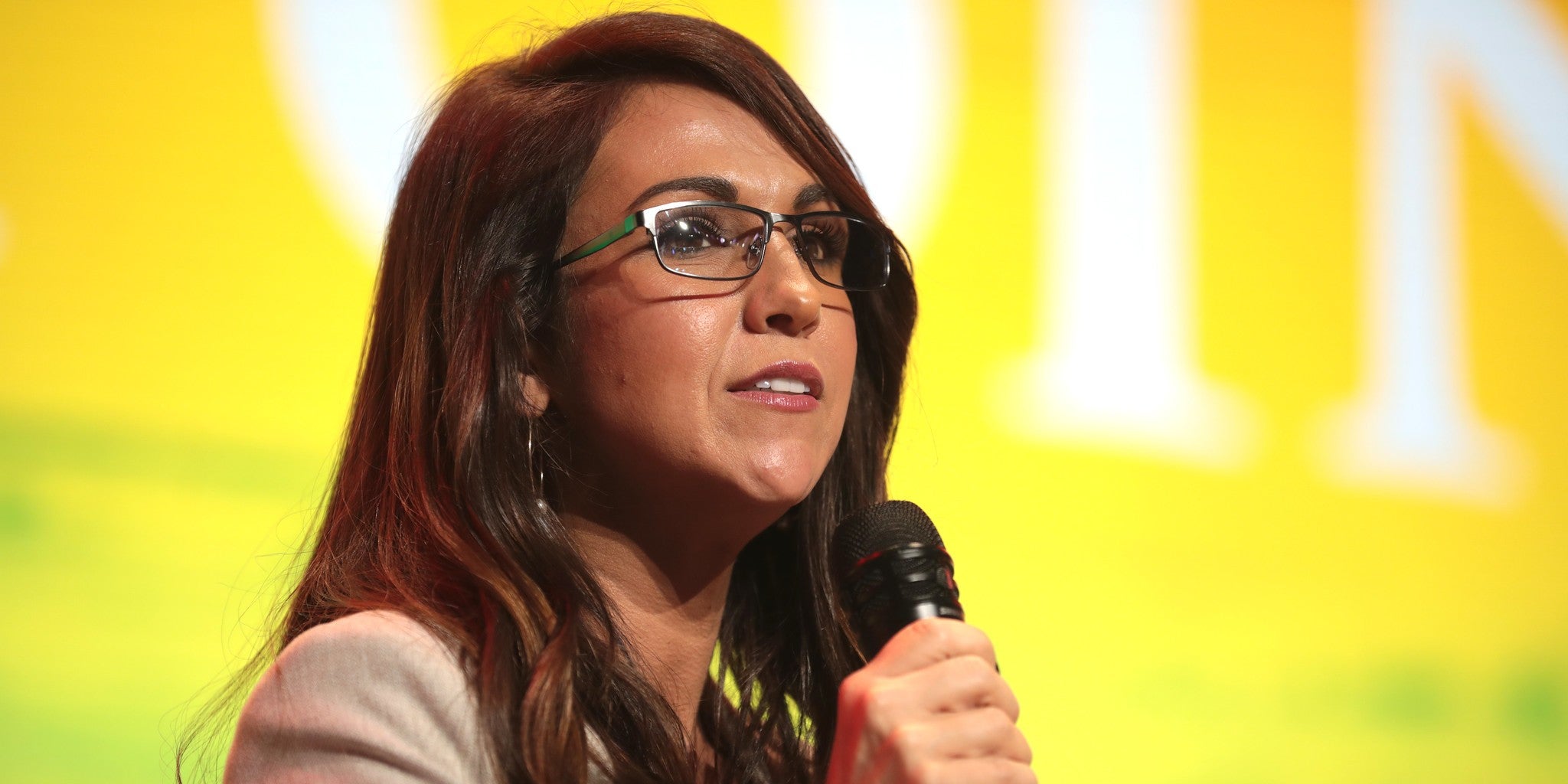 In the few weeks since she's been in office, freshman Rep. Lauren Boebert (R-Colo.), part of the QAnon class of representatives, has been accused of assisting insurrectionists at the Capitol riots (a charge she denies), flaunted breaking Washington, D.C. gun laws, and feuded with school shooting survivor David Hogg on Twitter.
However, little has earned her as much scrutiny as Boebert's lengthy history of associating with anti-government militia groups, which have a particularly strong presence in the West. The Denver Post recently reported on the "aggressive" rise of extremist militias in Colorado, Boebert's home state.
Boebert clearly supports the Second Amendment and gun rights, but some of her statements referencing the "militia" portion of the amendment raise questions. She also certainly has no problem associating with militias or taking part in their activities.
Even after members of the Oath Keepers and III Percenters were arrested for their roles in the Capitol riots, including one who posted photos of himself outside her restaurant, Boebert attended an event with at least one militiaman and posted proof of such on her social media.
But Boebert doesn't just rub elbows with militias regularly; she's implied that she is part of one. She's pretty much boasted about it publicly in the past.
Last June, Boebert tweeted: "I am the militia."
In an undated Facebook video tweeted by Resist Programming, Boebert again directly implied that she belongs to a militia. She says, "You're not touching our Second Amendment, because that's a right that us well-regulated militia have." (Emphasis added.)
Although she begins by referring to gun rights generally, finishing by lumping herself in with "well-regulated militia," implies more than a passing association, particularly coupled with her June 2020 tweet.
Boebert's office didn't immediately respond to request for comment. This article will be updated with response received subsequent to publication.
The Oath Keepers and III Percenters are far-right militias. The former largely comprises ex-law enforcement and ex-military; the latter is a loose collective of affiliated groups. The main III Percenters' Twitter account claims that it isn't violent.
Boebert has associated with both for years. She's had militia provide security at her campaign events on multiple occasions and promoted and attended their events, including an Oath Keepers gun rally in Colorado in 2018, and the gun rally in Virginia last year that led the governor to declare a state of emergency. A day after Resist Programming tweeted links to her restaurant promoting the former on Twitter, the account was deleted.
When the mob assaulted the Capitol on Jan. 6, Boebert hunkered down inside with other members of Congress. As lawmakers donned protective gear and feared for their lives, Boebert live-tweeted lawmakers' location, even after being warned not to post about where they were.
Many have accused her of attempting to assist the rioters with these tweets, a charge she denies. She also has attempted to walk back her statement on the floor of Congress that morning that she had constituents outside.
During the riots, a viral photo incorrectly claimed that Boebert had posed with III Percenters on the Capitol steps that morning; the photo actually was taken in Colorado in 2019. Boebert claimed she "didn't know" the people in the photo. This is false.
The Colorado Sun Times unearthed numerous photos of her hanging out with two of the people photographed, Cory Anderson, a purported III Percenter who goes by Duke Everest online, and his wife Jacqueline Anderson as far back as September 2019. Neither Anderson immediately responded to Facebook messages seeking comment.
"When one of your most favorite people says, 'We're in town, come out,' you figure out how to rally last minute and join them," Jacqueline Anderson captioned Facebook photos of herself hanging out with Boebert in December 2019, the Times reports. "I love you so much Lauren Boebert."
Anderson also reportedly appeared in Boebert's campaign materials alongside other members of Colorado Boots on the Ground Bikers for Trump, to which he also belongs.
On Jan. 20, Boebert posted a video of herself accepting a custom Glock 22 from Anderson at a private event in Colorado. Salon subsequently pointed out that it's illegal for congresspersons to accept gifts valued at more than $50. (Standard Glock 22's retail for several hundred dollars or more.)
Boebert later deleted the video. But mere days later, she reposted photos of herself accepting the weapon, claiming that she plans on paying for it so she "can keep it."
Anderson appears to be the same man Boebert posted a photo of on her verified campaign Facebook account last March. In the photo, he wears one of her campaign shirts under a vest with his III Percenter patch stitched to the lapel and a portion of a III Percenter flag tattoo on his forearm visible in the lower left.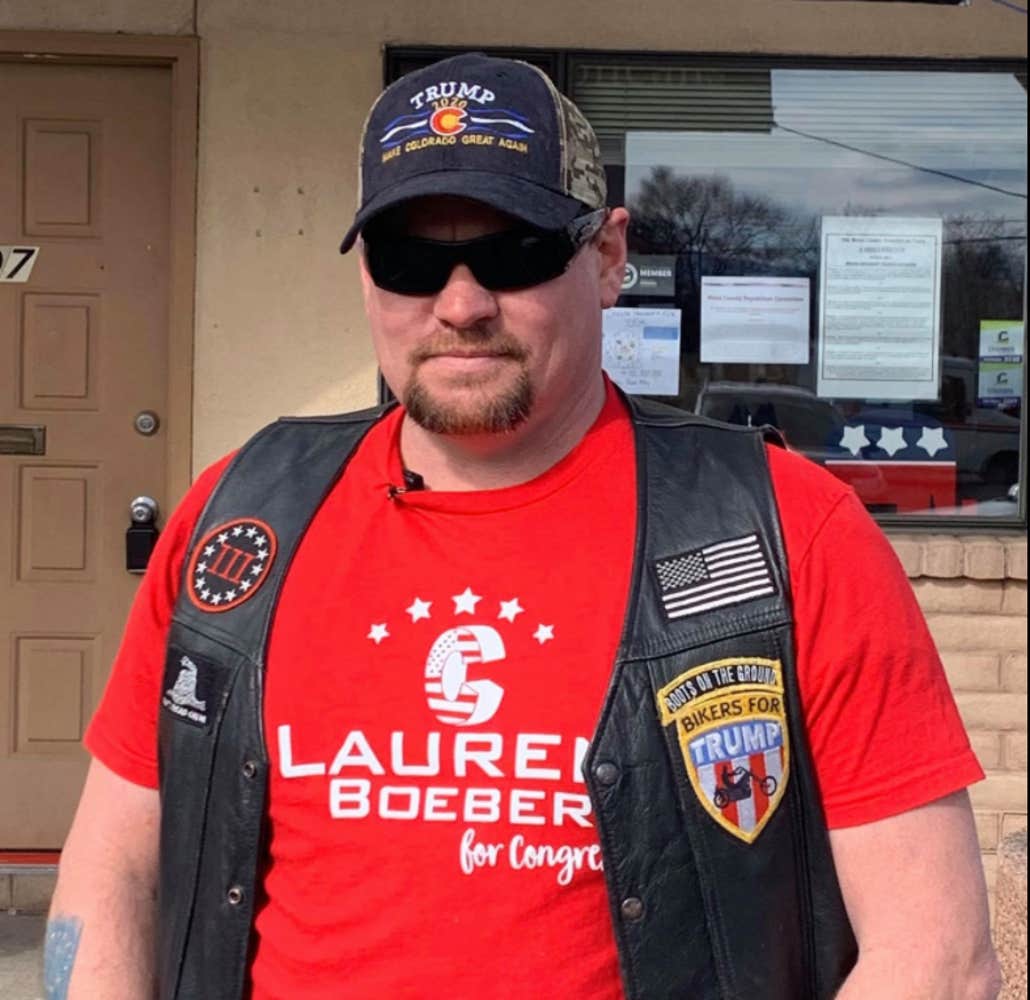 Boebert captioned the image, "Great online convention today by Mesa County GOP. Glad to see Colorado Bikers For Trump BOTG and my supporters representing!"
The post Is this QAnon-touting member of Congress also part of a militia? appeared first on The Daily Dot.