upworthy CyberS
Jill Biden brought cookies to National Guard troops to thank them for keeping her family safe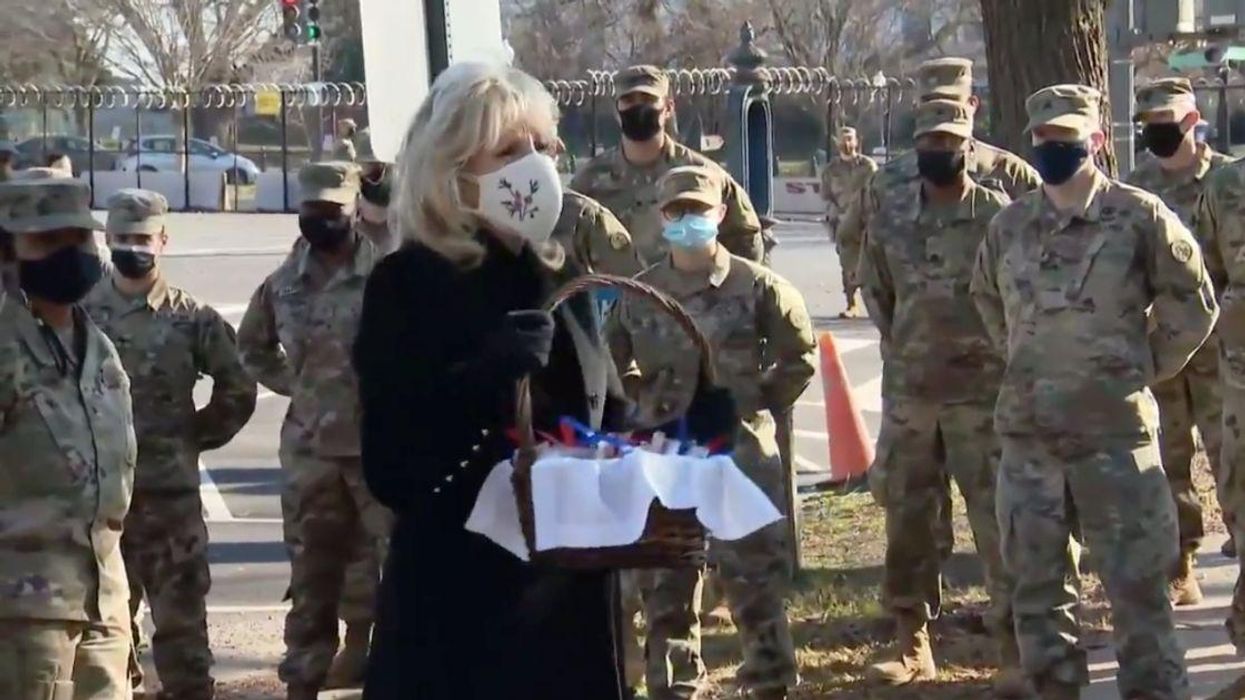 Even as millions of Americans celebrated the inauguration of President Joe Biden this week, the nation also mourned the fact that, for the first time in modern history, the United States did not have a peaceful transition of power.
With the violent attack on the U.S. Capitol on January 6, when pro-Trump insurrectionists attempted to stop the constitutional process of counting electoral votes and where terrorists threatened to kill lawmakers and the vice president for not keeping Trump in power, our long and proud tradition was broken. And although presidential power was ultimately transferred without incident on January 20, the presence of 20,000 National Guard troops around the Capitol reminded us of the threat that still lingers.
First Lady Jill Biden showed up today with cookies in hand for a group of National Guard troops at the Capitol to thank them for keeping her family safe. The homemade chocolate chip cookies were a small token of appreciation, but one that came from the heart of a mother whose son had served as well.
---
"I just wanted to come today to say thank you to all of you for keeping me and my family safe. I know that you've left your home states," she said. "The Bidens are a National Guard family. Our son Beau was Delaware Army National Guard. He served for a year in Iraq in 2008–2009. So, I'm a National Guard mom and when I saw … all that you've done and you left your home states and you've come here to protect us … I just wanted to say thanks from President Biden and my entire family."
Dr. Biden explained that she didn't make the cookies herself—the White House made them—but she wanted to deliver them personally.
"I wanted to give everybody a cookie just as a small thank you for your service and your families' service and all that you've done for our nation … I truly appreciate all that you do. The National Guard will always hold a special place in the hearts of all the Bidens. So thank you. Thank you very much."
The National Guard troops who have been protecting the U.S. Capitol received some help from members of Congress and the media last night when a news report shared that some of them had been ordered to vacate the building to take rest breaks in a nearby parking garage. It was unclear who gave the order or why, but it caused bipartisan outrage and multiple angry tweets from CNN's Jake Tapper who called it "just hideous" and "completely unacceptable" before tagging every federal government leader saying "WTF – Fix this ASAP."
Many members of Congress also expressed outrage on Twitter, but Tammy Duckworth, who served in the armed forces herself, got on the horn to figure out what had happened and fix it. "I am demanding answers ASAP. They can use my office," she wrote.
After she was informed that the Capitol Police had apologized to the troops and that they were being allowed back in the complex, she kept checking to make sure that it happened.
An hour and a half later, she tweeted, "Troops are all out of the garage. Now I can go to bed."
When our National Guard troops are sleeping on hard, marble floors already to protect our lawmakers from our own citizens, the last thing we should do is make things any more uncomfortable for them. They're taking good care of our government representatives, so we should make sure they're being taken care of as well.