upworthy CyberS
Kevin Hart and Snoop Dogg's uncensored Olympics commentary is hilarious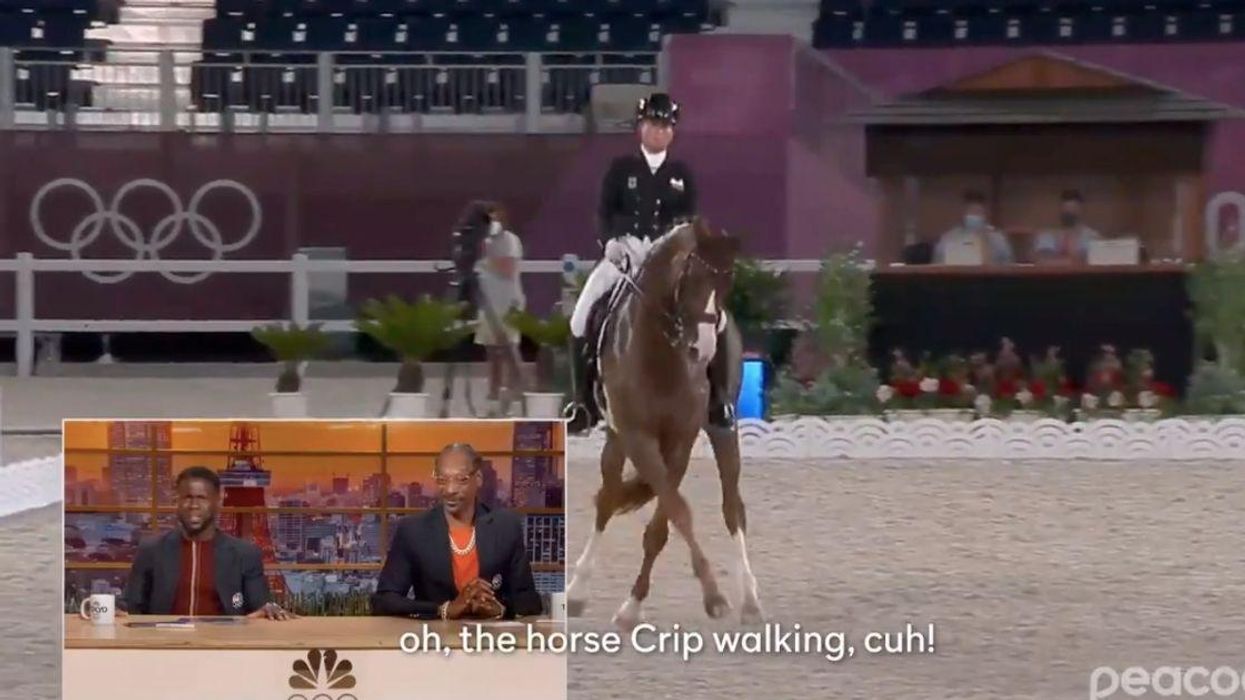 When the COVID-19 pandemic socially distanced the world and pushed off the 2020 Olympics, we knew the games weren't going to be the same. The fact that they're even happening this year is a miracle, but without spectators and the usual hustle and bustle surrounding the events, it definitely feels different.
But it's not just the games themselves that have changed. The coverage of the Olympics has changed as well, including the unexpected addition of un-expert, uncensored commentary from comedian Kevin Hart and rapper Snoop Dogg on NBC's Peacock.
In the topsy-turvy world we're currently living in, it's both a refreshing and hilarious addition to the Olympic lineup.
Just watch this clip of them narrating an equestrian event. (Language warning if you've got kiddos nearby. The first video is bleeped, but the others aren't.)
---
We hereby demand all Equestrian events at the #TokyoOlympics be commentated by @SnoopDogg and @KevinHart4Real 💀 https://t.co/dDRAzCT3Me

— Peacock (@peacockTV) 1627685660.0
The duo has been sharing their unbridled thoughts since the opening ceremony:
.@peacockTV, whoever thought to put together @KevinHart4real and @SnoopDogg to cover the Tokyo Olympics deserves a… https://t.co/TZnCruEJoh

— Patricia Alba (@palba_c) 1627519976.0
Watch Kevin Hart explain to Snoop why the lane 8 gold medal upset is such a big deal in swimming:
Our #TokyoOlympics commentary from @KevinHart4Real and @SnoopDogg is going (…ready for it?) Swimmingly. 🏊‍♂️ https://t.co/Tt1aW6kRau

— Peacock (@peacockTV) 1627516801.0
Here they discuss how adding a word to a sport makes it a whole new sport, and Snoop proves he's as quick as any comedian on the fly.
"Oh, that's Auntie! Look at Auntie! Go ahead!" Snoop says, as 46-year-old Oksana Chusovitina performs the vault in gymnastics. Hilarious.
"Oh that's Auntie!" @SnoopDogg's new favorite gymnast? 46-year-old Oksana Chusovitina. 🤸‍♀️😂 #TokyoOlympics… https://t.co/NAyJgD2QHn

— Peacock (@peacockTV) 1627938300.0
So many times since the pandemic started, it's felt like we've just collectively tossed up our hands and said, "Whatever!" With Kevin Hart and Snoop Dogg commentating on the Olympics, it feels like that's what Peacock did, and the coverage is all the better for it. We all need to laugh, and if it takes Snoop Dogg talking about Olympic dressage horses "crib walking" to make it happen, so be it.