upworthy
Linda Ronstadt's 1970's ballad is a chart-topping hit once again thanks to 'The Last of Us'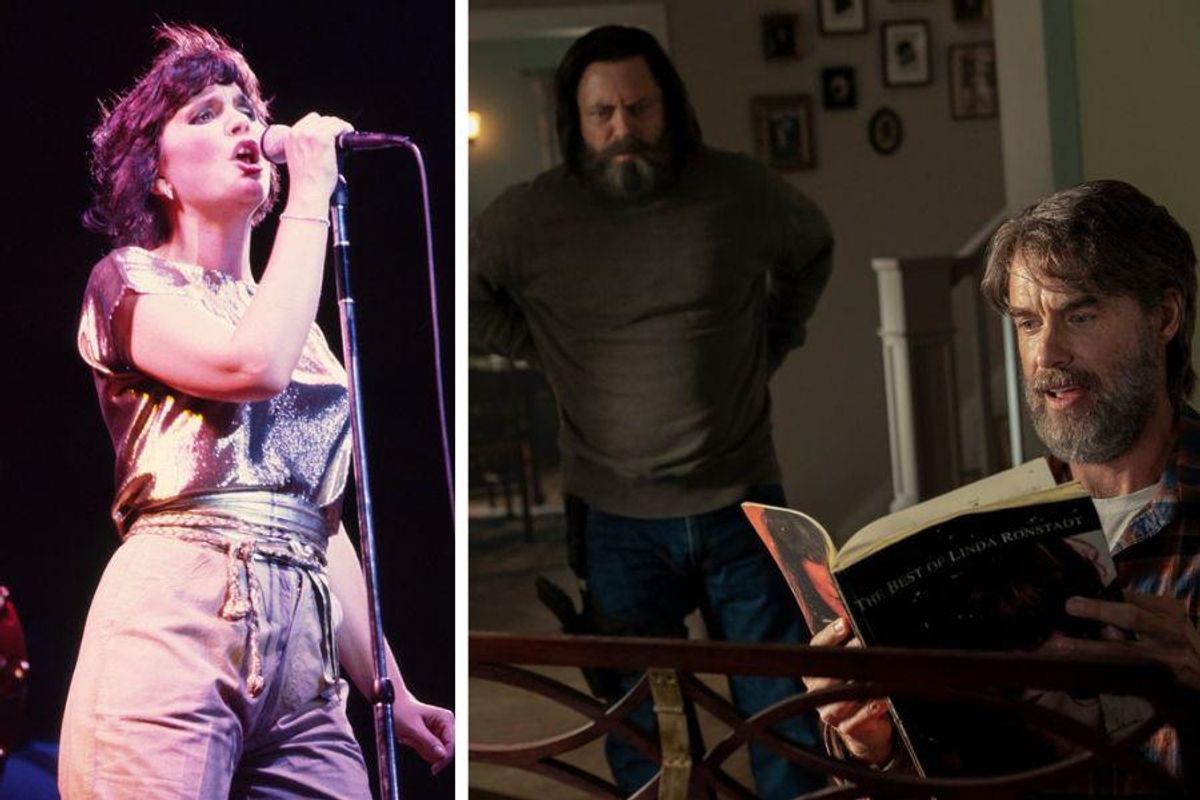 HBO's emotional third episode of the zombie series "The Last Of Us" became an instant favorite among fans, thanks in no small part to Linda Ronstadt's late 1970s ballad, "Long, Long Time."
Using the song as the episode's title, "Long, Long Time," moves away from the show's main plot to instead focus on a heartbreakingly beautiful love story between Bill (Nick Offerman) and Frank (Murray Bartlett), from its endearing start all the way to its bittersweet end.
The song makes its first appearance during the initial stages of Bill and Frank's romance as they play the tune on the piano, just before they share their first kiss.
We see their entire lives together play out—one of closeness, devotion, and savoring homegrown strawberries—until they meet their end. The song then plays on the radio, bringing the bottle episode to a poignant close.
---
Series co-creator Craig Mazin recalled in an interview with IndieWire that he searched far and wide for the right song to encapsulate a theme of "commitment."
"It was important for me to show that the romance, however long it lasted, it didn't last. And then it's arguing. And then it's bargaining. And then it's realizing what the other person does for you…The whole idea was to hit the highlights of moments in your life where love means something different," he said.
Still broken after watching Nick Offerman sing "Long, Long Time" by Linda Ronstadt on #TheLastOfUs pic.twitter.com/TSytBb2kZI

— Dave Quinn (@NineDaves) January 31, 2023
It wouldn't be until Mazin reached out to a friend with an "encyclopedic knowledge of all music" that he would stumble upon Ronstadt's song, which had fallen into obscurity.
Clearly, Mazin made the right choice. Immediately after the episode aired on Jan 29, viewers were hailing it as "one of the greatest episodes of TV ever made."
Music streaming service Spotify also reported that "Long, Long Time" received a 4900% increase in plays compared to the previous week. The chart-topping phenomenon resembles that of Kate Bush's 80s pop hit "Running Up That Hill," which saw a huge spike in plays after it was used in a pivotal episode of Netflix's "Stranger Things."
Oh, so all our hearts were breaking last night… 🍓 #TheLastOfUs pic.twitter.com/upTiav0MLw

— Spotify News (@SpotifyNews) January 30, 2023
During its original release, "Long, Long Time" spent 12 weeks on Billboard's top 100 list and earned Ronstadt a Grammy nomination for "Best Contemporary Female Vocal Performance." Sadly, due to a 2013 diagnosis of progressive supranuclear palsy, a rare neurological condition similar to Parkinson's disease, the rock icon hasn't sung her legendary ballad, or any of her great songs, in over a decade.
Though Ronstadt has yet to comment on the use of her song in "The Last Of Us," the singer did post an older clip of a live performance onto her Instagram soon after the episode aired, along with the caption, "I think I'm going to love you for a long long time."
We might never hear Ronstadt sing again, but her music is being honored in beautiful ways. Her song's comeback through the show (which let's not forget is an adaptation of a video game) is a perfect example of how great art has a way of finding new life time and time again.