upworthy CyberS
'Mad genius' can make literally anything out of chocolate, including a working foosball game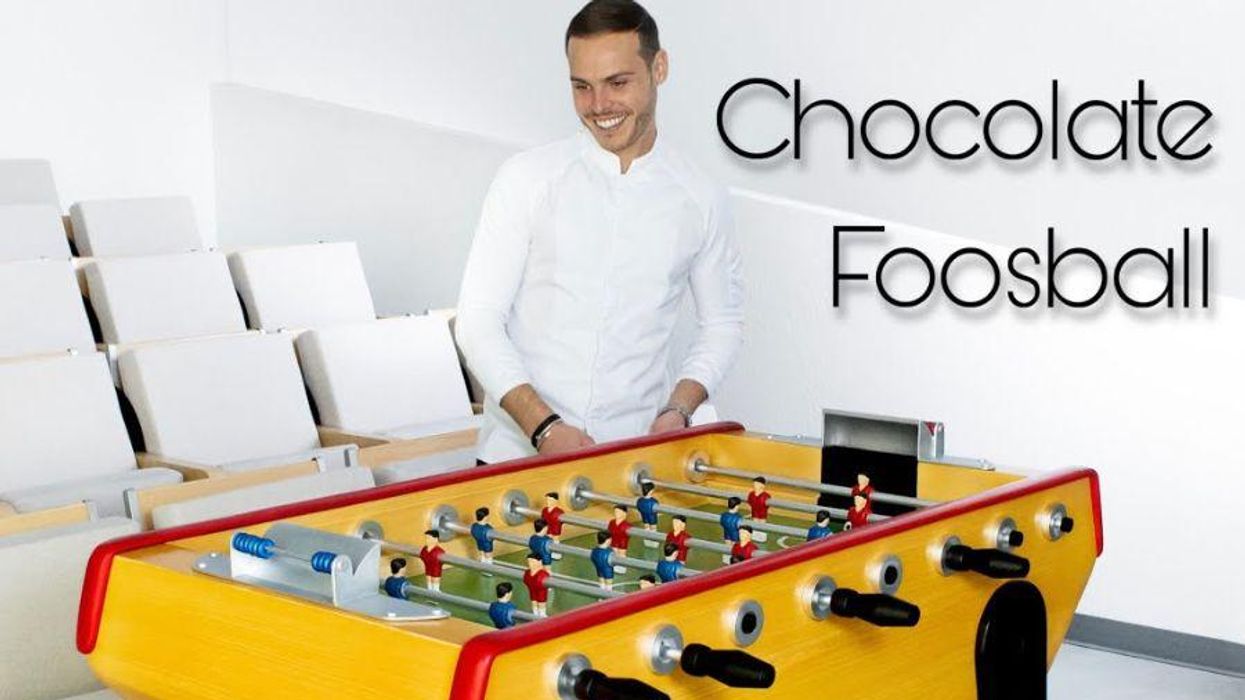 You've probably seen people make impressive chocolate confections before, but if you haven't seen Amaury Guichon at work, prepare to be floored.
The French-Swiss pastry chef can do things with chocolate that simply don't seem possible. As the host of the Netflix show, "School of Chocolate," Guichon wowed viewers with his expertise as he educated other chefs in the art of chocolate sculpture, and he continues to outdo himself.
Have you ever seen a full-sized, realistic cello made out of chocolate? Guichon has done it. Life-sized shark? Done it. Seven-foot high Statue of Liberty replica? Done.
---
The number and variety of things Guichon has managed to create perfectly out of chocolate is enough to make your head spin. Anyone who has watched him work knows that his talents know no bounds, but a flippin' chocolate foosball table? That actually works? No way.
Guichon's calm, diligent manner doesn't exactly jive with a commenter calling him a "mad genius," but what else would you call someone who considers creating a real, full-sized foosball game out of chocolate, much less actually makes it happen (and right in time for the World Cup)?
Watch how he did it:
I mean, wow.
Years of professional education, trial and error and a deep knowledge of how chocolate works have enabled Guichon to become an artist as well as an engineer. He knows just how chocolate will behave under various conditions and just the right amounts to use for various desired outcomes.
His projects range from mechanical wonders like this:
To beautiful animalistic sculptures like this flaming phoenix:
To this full-sized chocolate harp:
@amauryguichon

Chocolate Harp! 🎶 5ft tall of chocolate and 47 sugar strings! #amauryguichon #chocolate
He's like a real-life Willy Wonka without the slightly terrifying quirkiness, right?
It's not an exaggeration to say that Guichon can make literally anything out of chocolate. His skill is unreal and unmatched, which perhaps is not surprising since he started learning the art of making pastry in Geneva, Switzerland when he was 13. However, his chocolate skills aren't just show—he's dedicated his career to making desserts that are as delicious as they are beautiful to look at. "I wanted to create a fusion between French taste and American showmanship," he told Les vergers Boiron.
Now 31, he has had his own Netflix show, founded The Pastry Academy in Las Vegas where he shares his pastry skills with others, and has millions of followers on social media. When you watch him at work, it's not hard to see why.
You can follow Amaury Guichon on Facebook, Instagram, TikTok and YouTube.