dailydot CyberS
Netflix's 'The Woman in the Window' is a subpar Hitchcock wannabe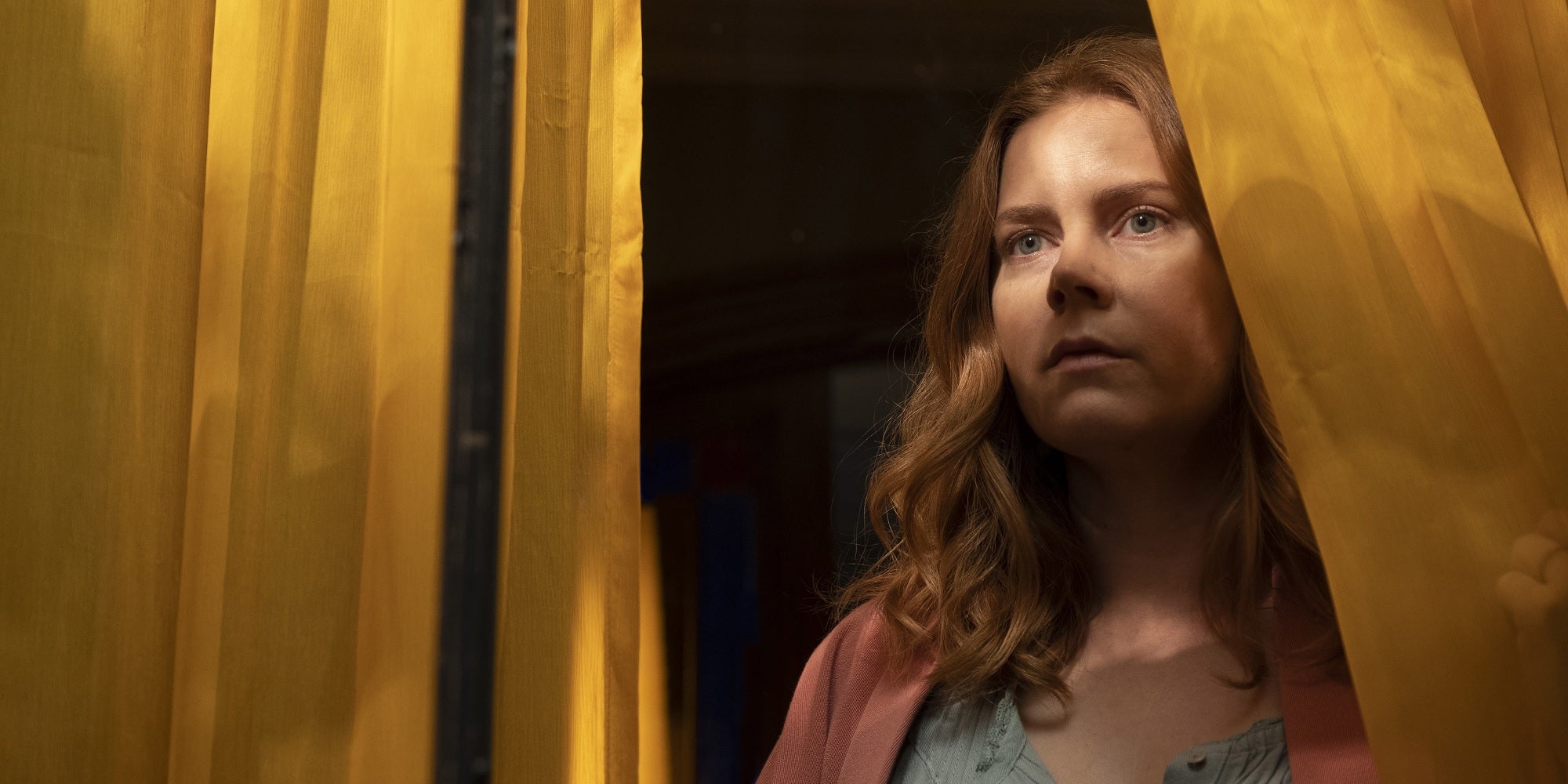 Adapted from the bestselling novel by A.J. Finn —who was scandalously outed as a serial liar in 2019—The Woman in the Window is neither realistic enough nor stylized enough to really work. A psychological thriller in the mold of Rear Window, it stars Amy Adams as Anna Fox, an agoraphobe who witnesses a crime in her neighbor's house across the street. Or rather she thinks she witnessed a crime, but her meds may be messing with her head.
The Woman in the Window
RELEASE DATE:
May 14, 2021
DIRECTOR:
Joe Wright
STREAMING:
Netflix
Riffing off the Hitchcock classic 'Rear Window,' Amy Adams stars in this rather limp thriller about an agoraphobic woman who witnesses a crime in her neighborhood.
Directed by Joe Wright with a screenplay by Tracy Letts, The Woman in the Window boasts a star-studded cast. Anthony Mackie plays Anna's estranged husband, with Gary Oldman and Julianne Moore arriving as her new neighbors, Jane and Alistair Russell. Up-and-comer Wyatt Russell plays Anna's lodger. Later on, beloved character actor Brian Tyree Henry shows up as a detective. But their combined efforts are not enough to salvage the film's intrinsic silliness, even though Oldman gets some genuinely scary moments here and there.
In theory, The Woman in the Window follows a tried-and-tested Hitchcockian formula: A neurotic woman is driven to the brink by mysterious threats, losing her grip on reality. Is she being gaslit to disbelieve the evidence of her own eyes, or is she simply hallucinating? Unfortunately it's hard to get invested in this particular iteration, because very few of its characters ring true.
The whole plot hinges on Anna making near-instantaneous connections with two of her neighbors: Jane Russell and her teenage son Ethan (Fred Hechinger). Both of them individually invite themselves into her house, in a wealthy New York neighborhood where this behavior just doesn't feel very plausible. And wouldn't you know it, both meetings quickly lead into deep, almost invasive conversations about their private lives, with Jane and Ethan both insinuating (to a stranger!) that Alistair Russell is abusive. This sows further seeds of paranoia for Anna, who already spends her days spying on her neighbors while washing pills down with glasses of wine. How does an unemployed child psychologist afford to live in this palatial New York brownstone, in addition to presumably hefty medical bills? Don't worry about it.
Working with cinematographer Bruno Delbonnel (Amélie), Joe Wright livens up the static setting with looming camera work and moody lighting. Occasionally things take a turn into the surreal, inviting us to wonder how much of what we see is actually Anna's imagination. Some of these moments are among the best in the film—a room full of falling snow; a splash of lurid blood across the screen. But for all that Wright can make things look good, this movie is nothing compared to the emotional precision of his earlier work: Atonement, Pride & Prejudice, and Hanna. The story is too contrived to work as a straight-up thriller, preventing us from getting truly swept up in Anna's paranoia. It might have worked better as a fully stylized melodrama, but that evidently isn't what Wright was going for either. We're meant to be gripped with uncertainty by twists that are clumsily telegraphed too early in the film.
Originally slated for release in 2019, The Woman in the Window was delayed and "retooled" due to poor test screenings, then delayed once again by the pandemic. Intended as a high-profile cinematic release for 20th Century Fox, it's now arriving on Netflix instead. Rarely a good sign. Despite the A-list cast, this thriller often feels more laughable than tense, failing to capture the paranoid vibes of its predecessors.
The post Netflix's 'The Woman in the Window' is a subpar Hitchcock wannabe appeared first on The Daily Dot.