dailydot
News site retracts essay comparing COVID lockdown to Anne Frank and the Holocaust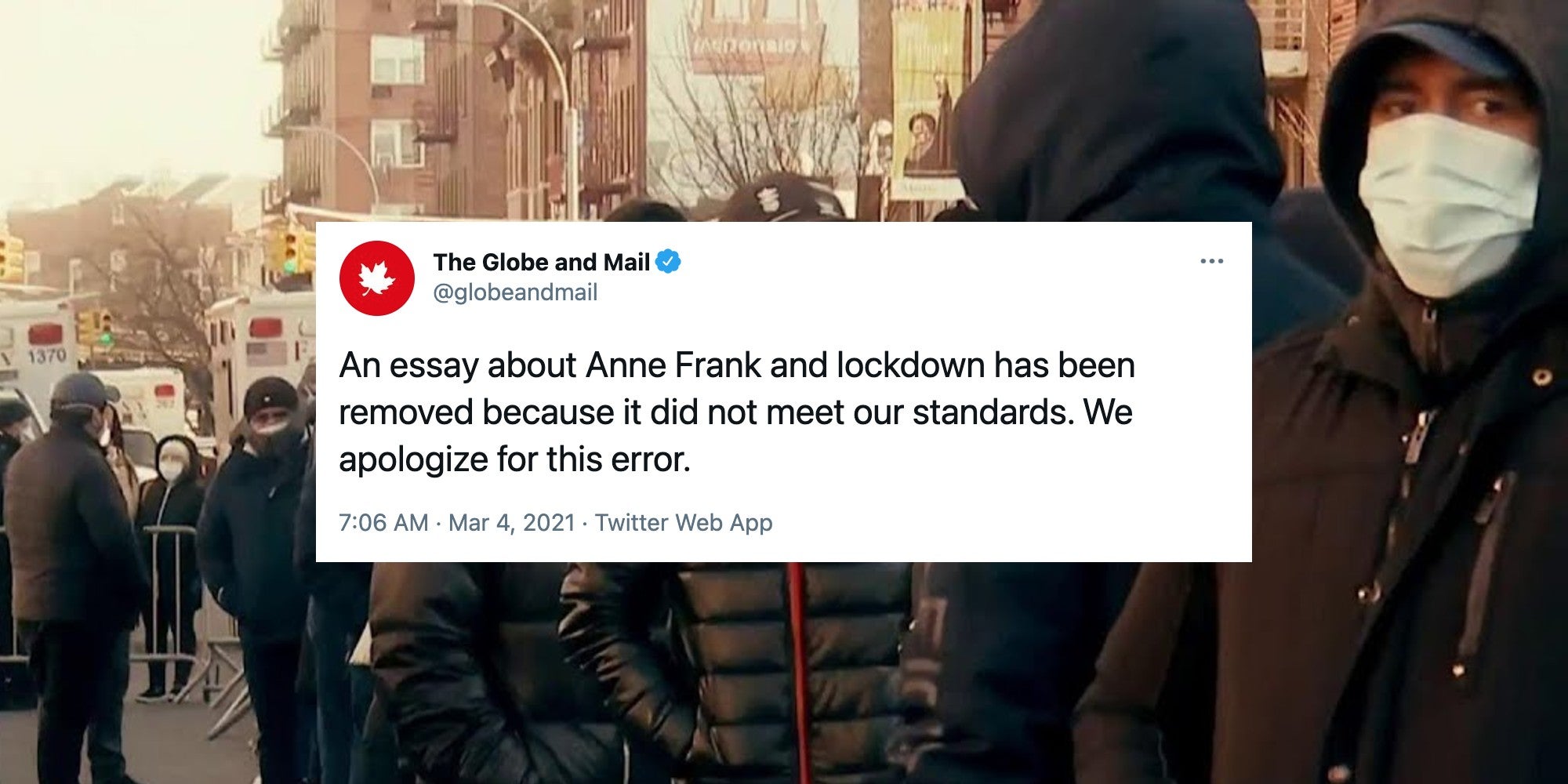 A Canadian news organization apologized on Thursday after it published an essay that compared living through the coronavirus to Anne Frank's experience during the Holocaust.
The article, published by the Globe and Mail, questions how Frank, who died at the age of 15 after being sent to a concentration camp, would have coped during the pandemic.
"As my COVID fatigue has gotten the better of me in recent weeks I started to say to myself, 'What would Anne do?' or 'How would Anne describe this time?' and 'How would she cope?'" writes Debra Dolan, the article's author.
The essay, which has since been deleted but remains archived online, immediately stirred outrage across social media.
"This story in @globeandmail compares #COVID19 'fatigue' to the Holocaust," @nilikm said. "Reading Anne Frank as a child was reading my family's story; those who didn't escape were killed. Don't casually turn our transgenerational trauma into metaphor. Will the paper print an apology?"
The Globe and Mail quickly got the message, pulling the article down and issuing an apology shortly after.
"An essay about Anne Frank and lockdown has been removed because it did not meet our standards," the news organization tweeted. "We apologize for this error."
But Twitter users questioned how the article was ever approved to begin with.
The framing on social media was also appalling to people, with the site tweeting out that the author was "channeling Anne Frank."
"How many people approved it before it went online in the first place?" @meganbielby asked.
While many have called on the author to be fired, it turns out she wasn't even paid for her tasteless article.
"An extra wild thing about that terrible Anne Frank piece is that the Globe doesn't pay for the First Person series," @anne_theriault said. "That lady humiliated herself for free."
The post News site retracts essay comparing COVID lockdown to Anne Frank and the Holocaust appeared first on The Daily Dot.