upworthy CyberS
Olivia Newton-John has a refreshing response to those who say 'Grease' is problematic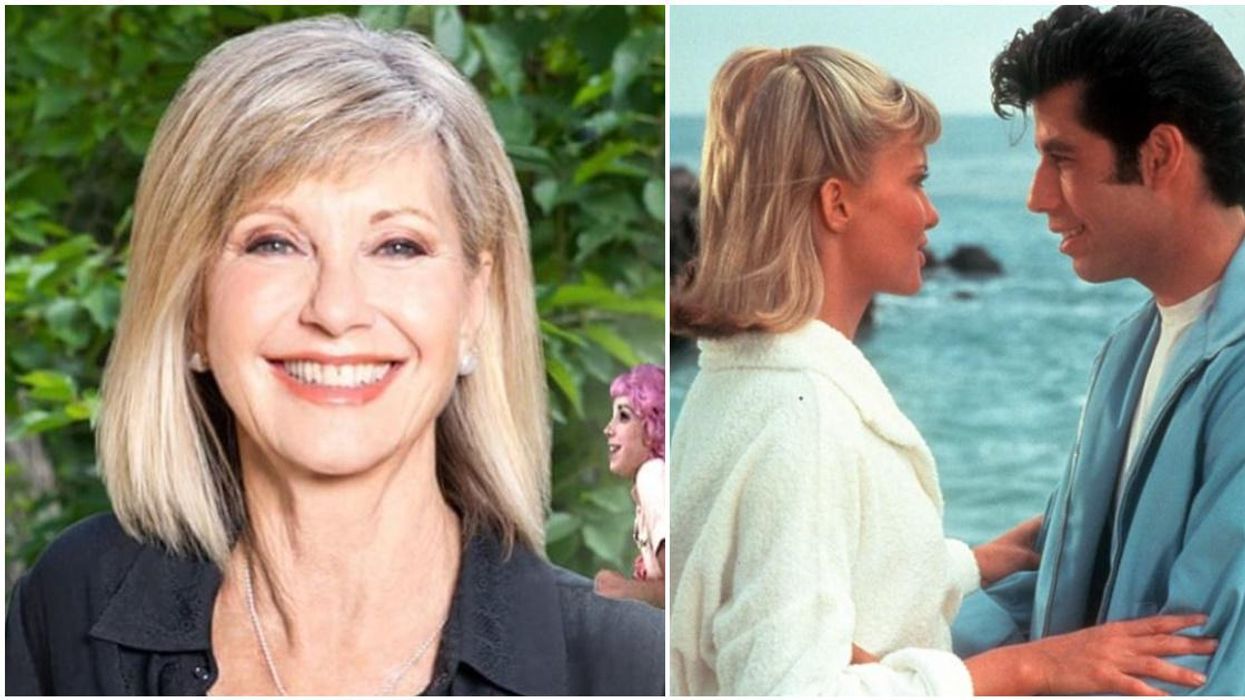 A recent airing of "Grease" on the BBC resulted in a backlash online with some calling for it to be banned from further showings.
Critics cited the scene where John Travolta's character Danny Zuko repeatedly tries to put a move on Sandy Osbourne, played by Olivia-Newton John, but she pushes him away.
They also called the film homophobic because the dance contest is for straight couples only.
---
People also objected to how Rizzo, played by Stockard Channing, is slut-shamed for being with multiple men. There's also a line in the song "Summer Loving" where a T-Bird asks, "Did she put up a fight?"
Thematically, It's also pretty cringey that Sandy wins over Danny in the end by dressing herself up for the male gaze by putting on skintight black pants.
All of these critiques seem to forget the fact that the film was made in 1978 about teenagers in the 1950s, an era that was far more sexist, segregated, homophobic, and racist than the one we live in today.
The film is also about men who are in a gang who talk about getting into rumbles and carry switchblades. Those types aren't usually known for being too progressive.
Olivia Newton-John pushed back against people who believe the movie is too problematic in a recent interview on the "A Life of Greatness" podcast.
Newton-John said the movie was "not [meant] to be taken so seriously." She believes that the criticism is "kind of silly, because the movie was made in the '70s about the '50s. It was a stage play. It's a musical. It's fun."
"We need to relax a little bit and just enjoy things for what they are," Olivia continued. "I think it's just a fun movie that entertains people. That's all."
The actor's call for people to mellow out is refreshing in a world where many people are scared and quickly dismiss work they've done in the past if it doesn't live up to the exacting measure of our times.
"Grease" clearly falls short of the standards that we have today. But it also has some amazing music, choreography, and wonderfully charismatic performances from Newton-John, Travolta, and Channing.
We should have a bit more faith in people by believing they can walk and chew gum at the same time when watching an outdated piece of culture. Most mature adults have the capacity to watch something that is old and separate the inappropriate material from the wonderful music and dancing.
If we can trust people to watch a horror film and not come out the other side an axe murderer, we can let them see a film with outdated portrayals of gender without thinking they'll become raging sexists.
In other "Grease" news, Travolta and his daughter Ella make a brief appearance in a new Super Bowl ad for Scotts Miracle-Gro. In the ad, the Travoltas recreate the "Hand Jive" dance that Travolta and Newton-John do in the film. But this time, instead of dancing to Sha Na Na, it's to Surfaces' "Sunday Best."
Scotts & Miracle-Gro Big Game Commercial | Keep Growing :45 www.youtube.com