dailydot CyberS
'Our kids are gonna be so emotionally scarred': 7-year-old's depressing Zoom school poem is too relatable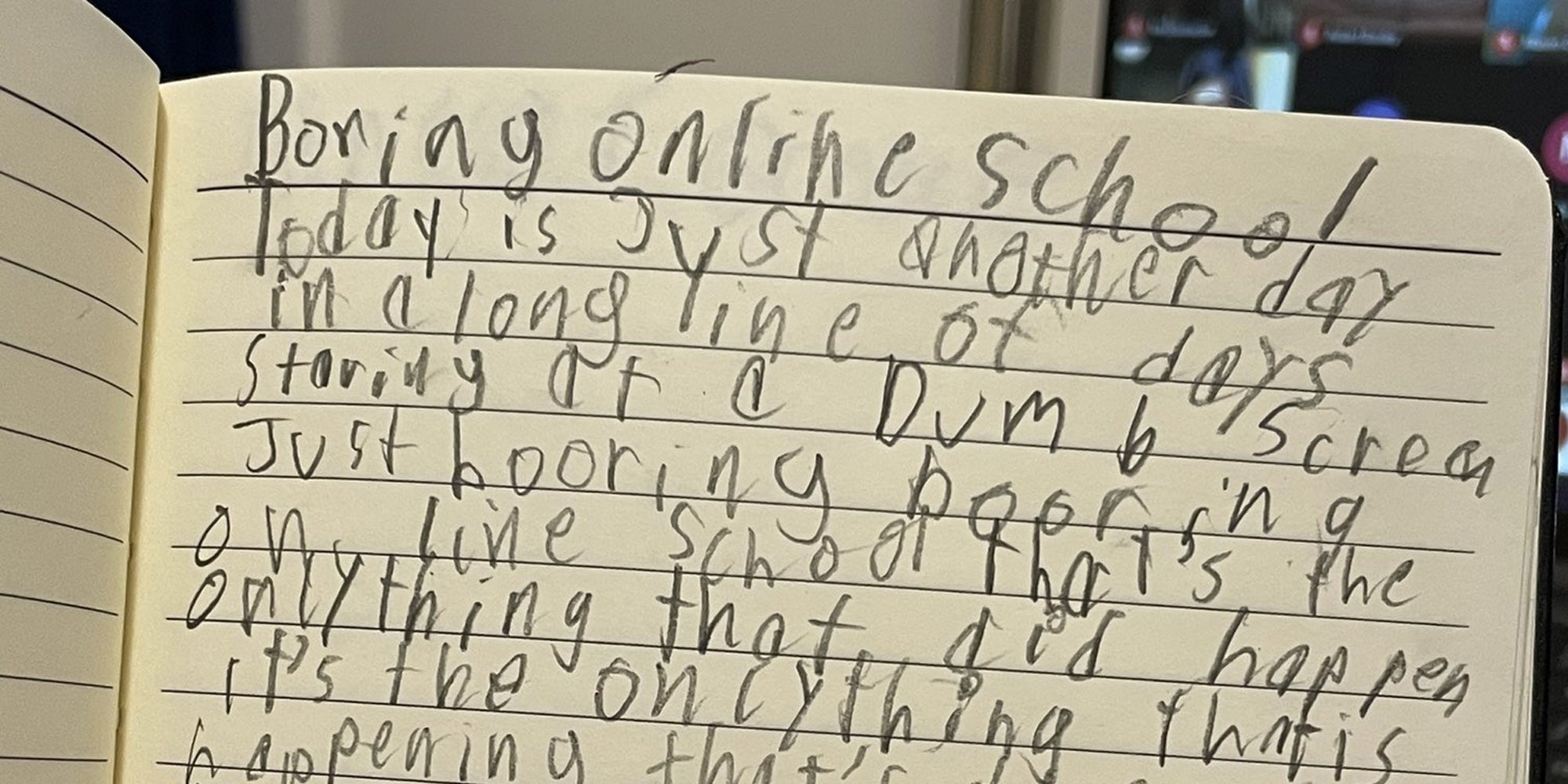 The way our society has temporarily shifted during the pandemic has been hard on everyone, but it may be school-aged children who have been affected the most.
Sitting in school all day is never fun for kids, but in pre-pandemic times, at least they were able to socialize and hang out with their friends during part of the day. But with Zoom learning, that part of class is gone, and school time simply isn't as engaging or memorable despite teachers' best efforts.
One 7-year-old's poem reflecting on the realities of this temporarily Zoom-centric world is both reminding people just how hard it is for kids right now, while also providing a little bit of levity.
"Boring online school

Today is just another day

in a long line of days

staring at a dumb screen

Just booring booring

online school that's the

only thing that did happen

it's the only thing that is

happening that's the only

thing that will happen"
The poem was shared by the unnamed child's babysitter, with the Zoom class in question slightly visible in the background of the photo.
"It's an assignment for class he wrote and read out loud to be snarky," @bugtypepokemon explained to calm any concerns for the kid's well-being. "He has a breadth of hobbies and interests and is a brilliant, deliberate, and prolific writer."
She also added that he is "healthy and very loved" and is perfectly aware that she shared his poem to Twitter.
Fans of this budding young writer's work were quick to praise the piece.
But despite the babysitter's reassurances of this individual kid's mental health, there has still been a renewed discussion surrounding how difficult this time is for the youngest among us.
Fortunately, kids are resilient, and as quite a few people pointed out, hating your school and your teachers and having to spend time in the classroom at that age is pretty common. And at least this little poet has found a great outlet to express his frustrations.
The post 'Our kids are gonna be so emotionally scarred': 7-year-old's depressing Zoom school poem is too relatable appeared first on The Daily Dot.