upworthy CyberS
People are baffled over this machine that sorts out green tomatoes in a mere second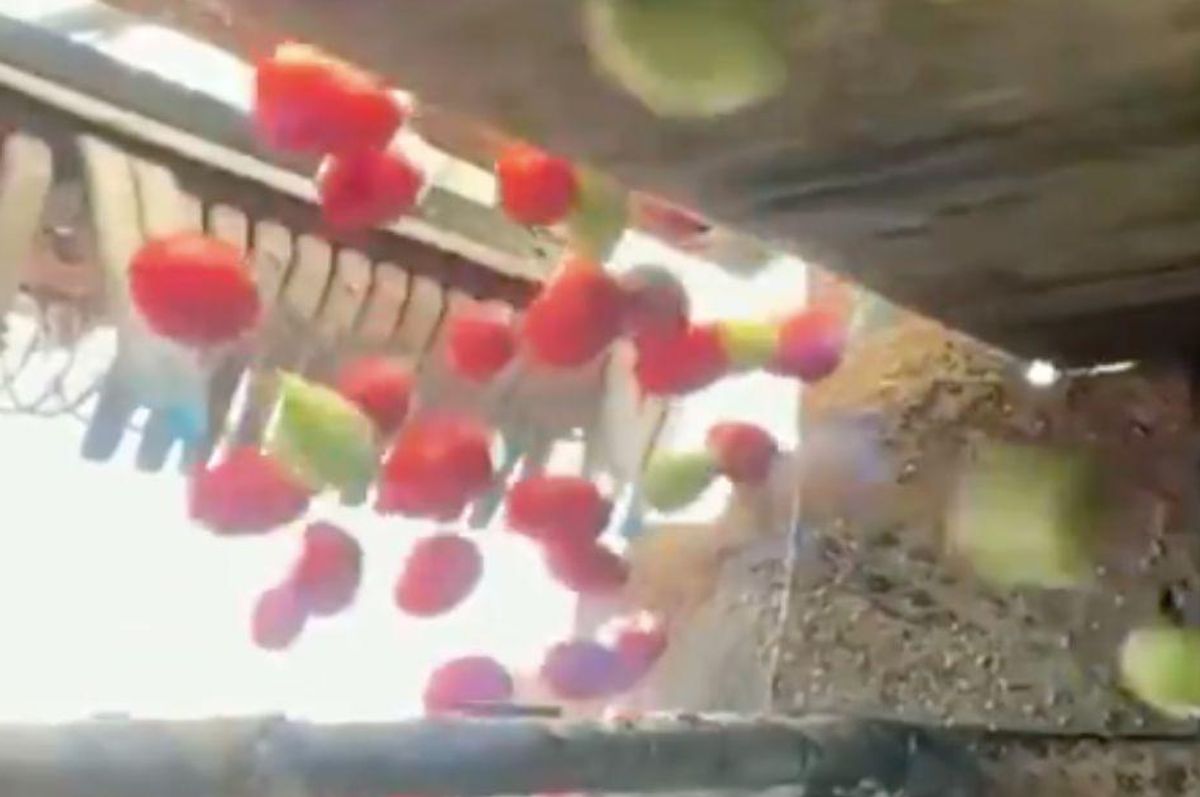 For thousands of years, people around the world have been honing the art of agriculture. For the vast majority of human history, people planted and harvested and sorted produce largely by hand, gradually developing tools and machines over time that would make farming more efficient.
Many crops still have to be harvested and/or sorted by hand, but thanks to a rather mind-blowing machine, tomatoes aren't one of them. A machine that harvests tomatoes saves a ton of time and labor, but as tomatoes don't all ripen at the same time, pulling up an entire tomato plant results in a good number of green ones getting into the mix.
One solution to this problem would be to have the tomatoes transported down a conveyor belt in a factory while workers spot and remove the green ones by hand. However, an automated green tomato sorter does it right in the field as the tomatoes are being harvested, and a whole lot faster than any person ever could.
---
How many humans would it take to separate 32 green tomatoes from red ones in a single second? Um, a lot.
We'll get to the technology of how it works in a minute, but first you have to see the sorter work in slow motion. The machine is so fast you can't even really see what it's doing until you slow it down, but when you do, the wow factor is awesome. There are occasional misses, of course, but for how fast it's going, the accuracy is remarkable—and impressive to watch.
As James Vincent put it in The Verge, "It's sorting tomatoes, but it looks like the fingers of God flicking damned souls straight into hell." Check this out:
\u201cAutomated tomato sorter. \u201d

— Fascinating (@Fascinating) 1669510632
So many immediate questions:
What?!?
How?!?
How does it know which tomatoes are green?
How does it work so precisely and freakishly fast to flick them away?
Am I the only one with a sudden urge to play Fruit Ninja?
The Henry Ford's Innovation Nation dove into a few of those questions with Don Douglas, president of Weco, a company that builds the optical technology behind the sorter. Douglas explained that light is used to create a reflection off the tomatoes and a sensor connected to software determines which tomatoes are green using that reflection.
It's actually tech that's been used for decades, but it's obviously been perfected and optimized over the years. Watch the machine at work and hear Douglas explain how it does what it does:
It's not always better to have machines do work humans can do, and there's certainly plenty of reason to be concerned about human labor being replaced by machines. But when that labor is back-breaking and tedious, technology can be a big help. Some inventions are also such prime examples of human innovation and ingenuity, you just have to marvel at them—even if they're just sorting green tomatoes from red ones.