upworthy CyberS
Pink shares a proud mama video of her daughter's first singing recital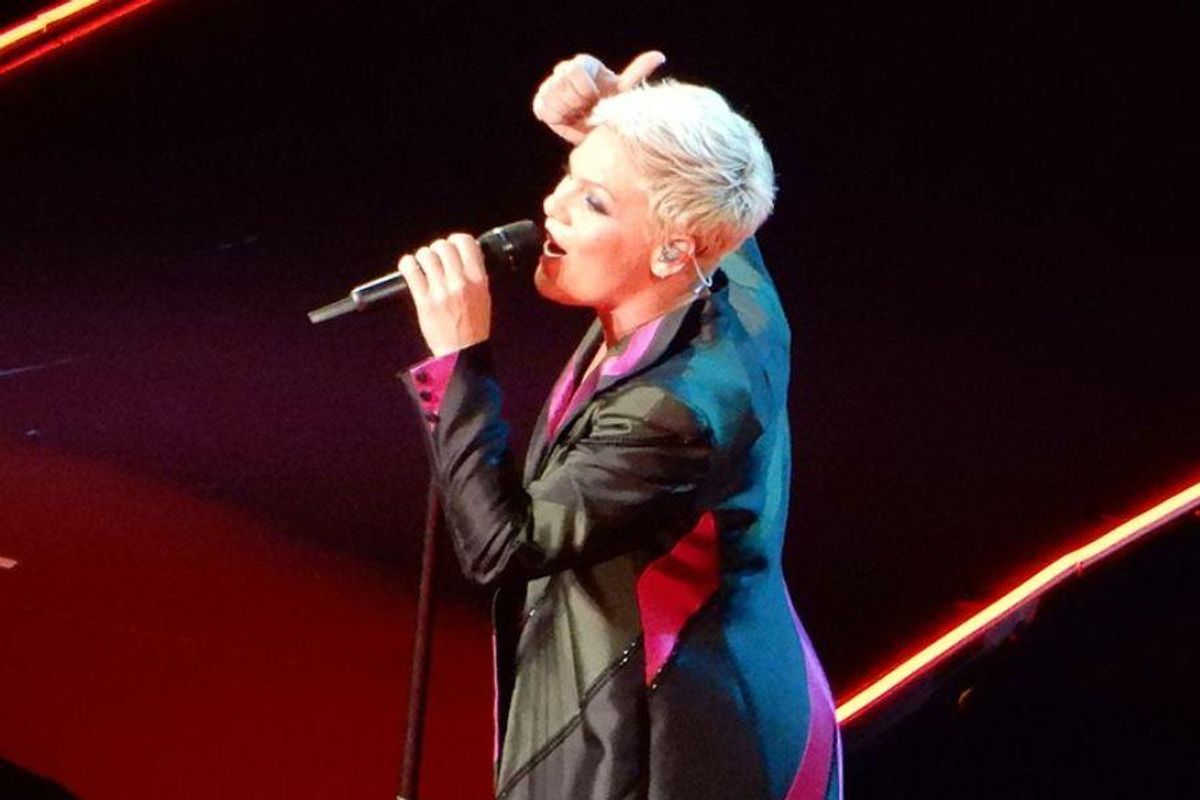 One of the best things social media offers is the ability for parents to share some of their kids' big moments. Proud parents are going to proud parent, and modern technology gives us ample opportunity to publicly gush about our offspring without forcing anyone to bear witness to their burgeoning talents.
Celebrity parents are in a bit of a different boat, however. When you're a household name with millions of followers, you might think twice about sharing your proud parent videos. But iconic pop star Pink has shared a video of her daughter's first singing recital just like any other proud mama would, and it's totally sweet.
Pink posted the video to an Instagram reel with the caption "This 11 year old (11,000 year old soul) blows me away."
---
Pink's daughter Willow can be seen standing on a stage holding a microphone with a purple curtain behind her. A Christmas tree sits on stage to her left and a piano to her right. The piano accompaniment begins, and she begins to sing "The Rose Song" by Olivia Rodrigo.
Imagine being the child of one of the best singers in modern times and wanting to be a singer yourself. It would be so hard not to feel a huge amount of pressure or feel like people are going to expect you to sound like your mom.
But Willow's voice is sweet and unique. She doesn't sound that much like Pink, but her performance shows the apple doesn't fall far from the tree nonetheless.
Watch:
It takes a lot of courage to stand on stage alone and sing, no matter how talented you are. So kudos to Willow for that alone.
But people are loving the performance itself, the way she connects emotionally with the song and how she keeps control of her voice. Even some other famous singers weighed in with praise for the 11-year-old.
"Holy cow!!! What a voice! What composure. Superstar," wrote singer and actress Mandy Moore.
"Whoah Nelly!" wrote Nancy Wilson from Heart. "They'll be no stopping her!"
Chrissy Metz of "This Is Us" fame shared a simple, emoji-filled "Wow."
The video has thousands of comments from supportive fans, of course, but as any parent knows, the pride that comes with watching your child succeed at what they set out to do doesn't require any fanfare. Pink's sharing of her daughter's recital comes from the same urge most parents have to celebrate our kids' achievements and encourage them in their endeavors. (Did you notice the camera starting to slip up and up before coming back down? A sure sign of a parent trying to balance recording on a phone while watching the performance. Classic.)
It's especially sweet to see this proud mama moment from Pink, as she's previously shared that she never had an urge to be a mom.
"It surprised me. I didn't really want to be a mom," she told Carson Daly on Today last year. "I didn't not not want to be a mom, but it just wasn't sort of on my list of to-dos. I had Willow and, man, that saying of watching your heart go walking outside of your body, it's truly how it feels."
Indeed it is. Congrats to Willow on a beautiful recital and congrats to Pink for raising such a talented, self-composed young lady.