upworthy CyberS
President Biden poses with his 'First Dogs' in a legendary Oval Office photoshoot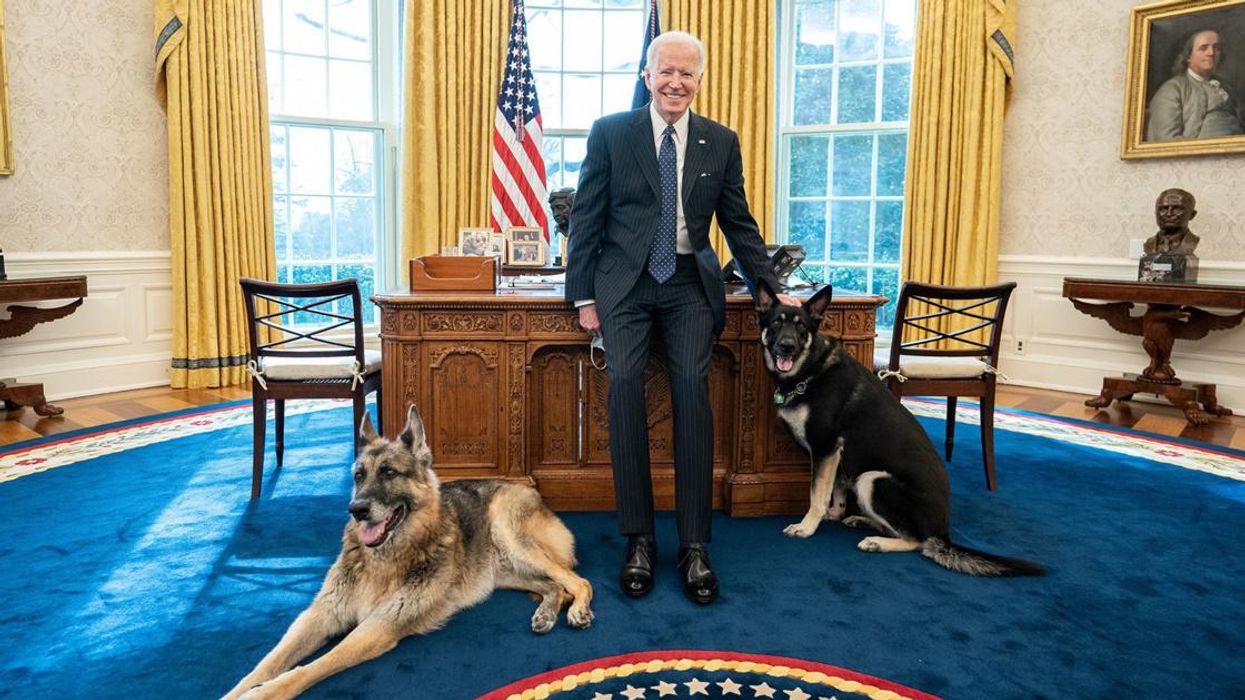 The White House is America's house and it feels a lot more like home these days after the arrival of Champ and Major, President Biden's German Shepherds. There's something about the presence of pets at the White House that gives it a sense of warmth. It also makes the residents of 1600 Pennsylvania Avenue seem a lot more human.
Dogs have a special way of connecting us to nature and reminding us what's really important in life, a nice walk, a cuddle, and a rub on the belly.
The White House missed that sense of normalcy in the Trump era. According to an article published by The Atlantic, Trump thinks owning a pet is "low class," so the White House was dogless for four years.
---
Champ has been with the Biden family for more than a decade after being purchased from a breeder. Major joined the Biden clan in 2018 after they fostered him from the Delaware Humane Association.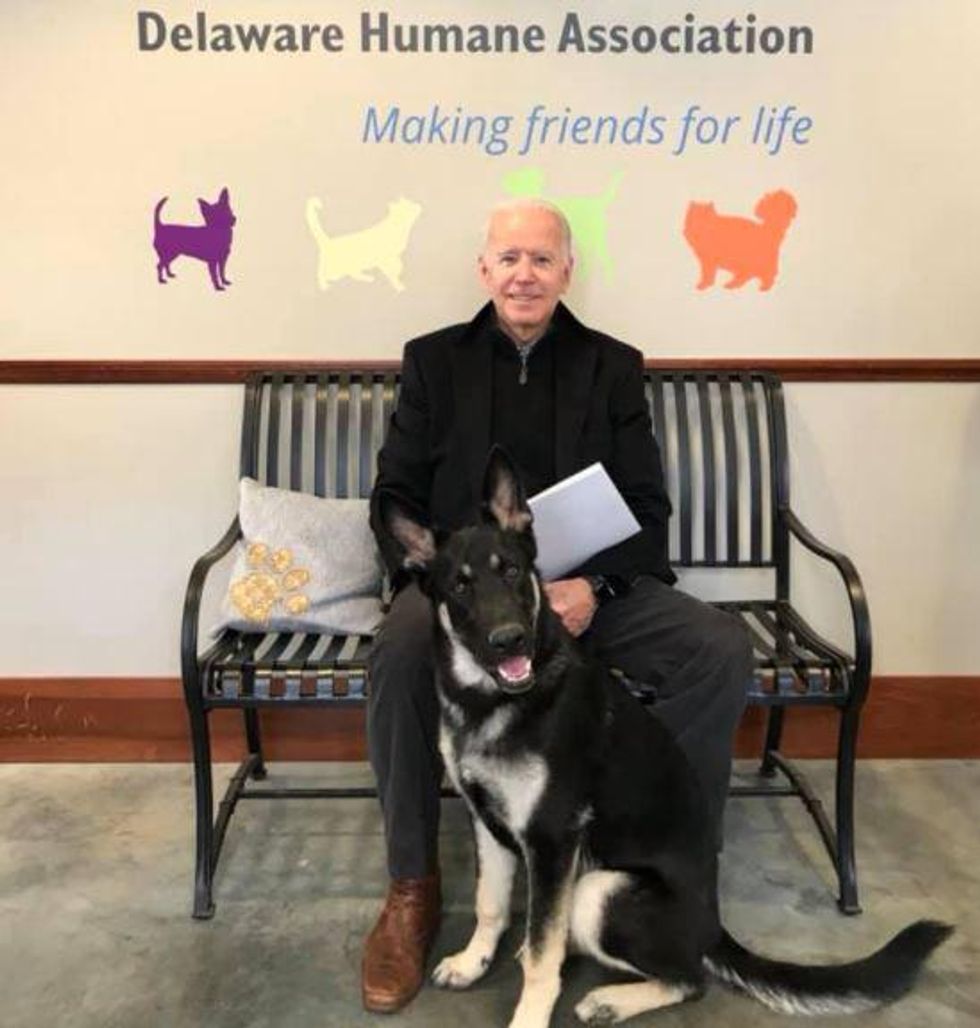 via Delaware Humane Association
Major is the second rescue dog to live in the White House. President Biden says a reason why they adopted him was to have a younger dog around the aging Champ to keep him spry. Lyndon Johnson's dog Yuki was a mixed-breed pup abandoned by his owner. Johnson found the dog on the side of a Texas road and gave him a forever home.
President Biden celebrated the two new First Pooches by posing with them for a photoshoot. In the photos posted to Instagram and Flickr Monday, Champ and Major sit regally in the Oval Office while the president smiles at his new desk.
The White House Flickr account recently shared a shot of Champ watching over the proceedings as Biden met with senior advisers on Feb. 9.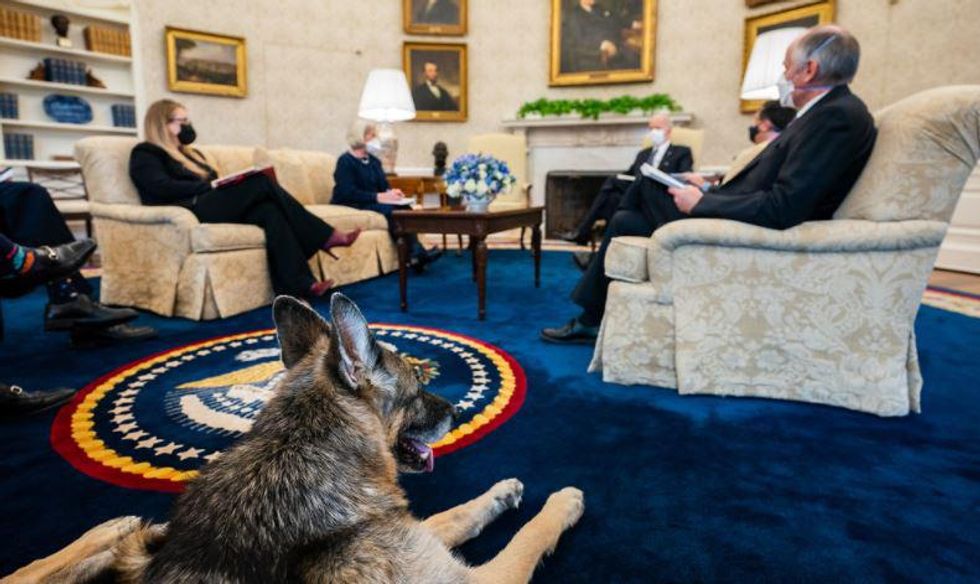 via The White House / Flickr
The photos of the dogs in the Oval Office may be a bit of shade directed at Newsmax. Last Friday, the conservative news outlet aired a segment where host Greg Kelly took aim at Biden's dog Champ, making fun of his appearance.
The segment was an embarrassing example of the lengths partisan media will go to criticize the other side. It was also an indication of how well Biden is doing as president. If all you can do is make fun of his dog, he must be doing pretty well.
WTF? Nexmax's Greg Kelly is now attacking @POTUS' German Shepard, Champ, for being dirty and "unlike a presidential… https://t.co/nEs8ufkVYk

— Chris D. Jackson (@Chris D. Jackson)1613787772.0
"Did you see the dog?" Kelly asked, referring to Champ. "Doesn't he look a little, uh, a little rough? I love dogs, but this dog needs a bath and a comb and all kinds of love and care. I've never seen a dog in the White House like this."
Kelly then compared Champ to Buddy, former President Clinton's Labrador retriever, and Millie, former President George H.W. Bush's English springer spaniel.
"I remember Buddy. I remember Millie. I remember lots of dogs but not a dog who seems — I don't know. I don't know how much love and care he is getting," Kelly said.
Champ and Major will be sharing the spotlight with another pet in the coming weeks. Last November, after winning the election, the Bidens announced they would be adding a cat to the first family.
There's no word yet on how the folks at Newsmax plan to take down the First Feline.