dailydot CyberS
See if you can parse Ted Cruz's baffling comparison of the left to 'Avengers: Endgame' and 'Watchmen'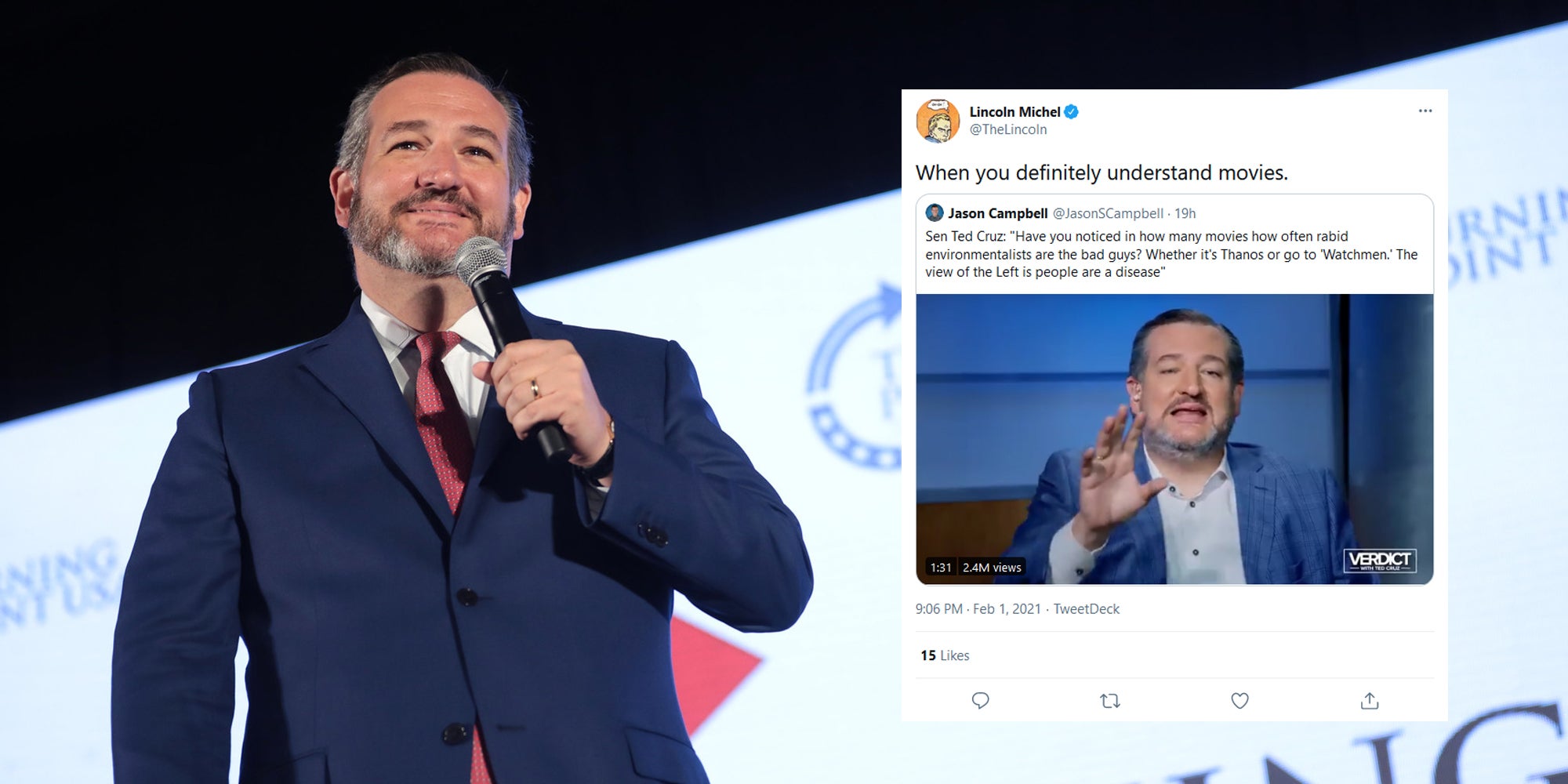 Sen. Ted Cruz (R-Texas) is facing a mountain of backlash online after perplexingly linking Avengers: Endgame, Watchmen, environmentalism, and "the left" in a rant on his podcast.
Cruz made the odd connection during a diatribe on "Verdict with Ted Cruz" recently, where he spoke about people being able to "choose what you want to do with your life" before pivoting to something he claimed was "curious" about Avengers: Endgame.
"You talked about 'inevitable,' and I have to say it brought to mind Avengers: Endgame. You know, [John Kerry] doesn't quite have the massive Thanos hands and fingers, but you could see the 'inevitable' and finger snapping," Cruz began. "It actually, what is interesting, and Endgame is curious: Have you noticed in how many movies how often rabid environmentalists are the bad guys? Whether it's Thanos or go to Watchmen … The view of the left is people are a disease. They buy into the Malthusian line that there are too many people in the world, that people are bad, and everything would be better if we had fewer people."
The whole thing doesn't make a ton of sense. Cruz seems to be implying that "the left" embraced Thanos' goal of wiping out half of the universe? Or that environmentalists want to wipe out half the universe? Regardless, it's not clear what he's trying to say.
It's also unclear what iteration of Watchmen Cruz was referring to, the comic book, movie, or TV show.
The Texas senator's perplexing rant got the attention of people online—including Lila Byock, a writer and producer for Watchmen.
"Hi, @SenTedCruz, Watchmen writer/producer here. Literally what the fuck are you talking about?," Byock tweeted.
Byock wasn't alone in mocking Cruz for his odd take.
"Ah yes, thanos, famous leftist," one Twitter user wrote.
It's worth noting this isn't the first time that Republicans have totally missed the point about Avengers: Endgame.
The post See if you can parse Ted Cruz's baffling comparison of the left to 'Avengers: Endgame' and 'Watchmen' appeared first on The Daily Dot.