dailydot CyberS
'Shazam' star Zachary Levi is under fire for a seemingly anti-vax tweet about Pfizer
Is Shazam actor Zachary Levi an anti-vaxxer? Right now the jury's still out, but a lot of people are already passing judgment based on an ominous tweet he posted on Sunday.
Replying to a question from businessman and self-described conspiracy theorist Lyndon Wood, Levi agreed that the pharmaceutical company Pfizer is "a real danger to the world." Neither Wood nor Levi actually mentions vaccines here, but Wood has expressed plenty of anti-vax sentiments elsewhere, tweeting conspiracy theories and misinformation about the efficacy of covid-19 vaccines.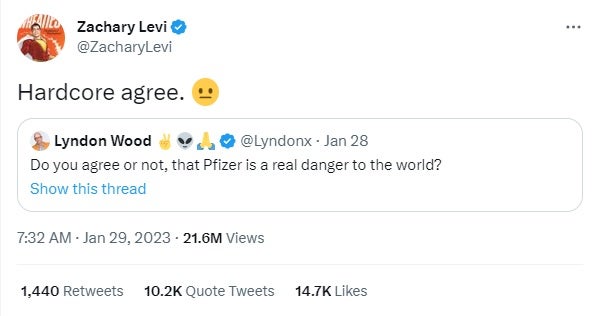 In his next tweet, Levi linked to a healthcare fraud lawsuit where Pfizer paid a $2.3 billion settlement over the anti-inflammatory drug Bextra, which had serious side effects. "Just one example of what I'm referring to…" Levi wrote.
This lawsuit had nothing to do with vaccination, but because Pfizer's brand is now inextricably linked with the Covid-19 vaccine, people assumed that Levi's original anti-Pfizer tweet was an anti-vax comment. To be honest, it's still open to interpretation.
Maybe Levi was just randomly speaking out about the evils of Big Pharma. Or maybe he was indirectly endorsing an anti-vax sentiment, and then posted that Pfizer lawsuit link for a bit of plausible deniability.
This kind of tweet certainly echoes the phenomenon of celebrities testing the waters for sharing controversial views online, like Gina Carano and J.K. Rowling posting ambiguous dog whistles before making their views more explicit. For movie stars like Levi, vaccination is a particularly contentious topic because film sets tend to have strict Covid safety protocols. If an actor refuses to get vaccinated, they may put the cast and crew at risk.
Levi's Pfizer tweet soon drew criticism, with some people cracking jokes about the DC franchise's reputation for scandal (i.e. Ezra Miller) while others delved into Levi's politics. Detractors were quick to bring up problematic statements he's made in the past, like tweeting tone-deaf comments about white privilege, attempting to "both sides" the 2020 election results, or endorsing Jordan Peterson on the Joe Rogan podcast, in a segment where Rogan misgenders Elliot Page.
Meanwhile, Levi's Twitter follow list points toward a familiar kind of libertarian/manosphere vibe, following people like Rogan, Peterson, pick-up artist Neil Strauss, right-wing commentator Stephen Crowder, and columnist Bari Weiss.
For some celebrities, an ambiguously anti-vax tweet wouldn't come as a big surprise. However, Zachary Levi isn't really seen on those terms, belonging to the "likeable but forgettable" end of the superhero actor spectrum. His political views aren't common knowledge, which is why so many people had strong reactions to this tweet. For the record though, he identifies as a libertarian and doesn't support Trump. And so far he hasn't shared any explicit opinions either way on the topic of Covid-19 vaccines.
The Daily Dot has reached out to Zachary Levi's representatives for comment.


We crawl the web so you don't have to.
Sign up for the Daily Dot newsletter to get the best and worst of the internet in your inbox every day.
*First Published: Jan 30, 2023, 11:04 am CST
Gavia Baker-Whitelaw is a staff writer at the Daily Dot, covering geek culture and fandom. Specializing in sci-fi movies and superheroes, she also appears as a film and TV critic on BBC radio. Elsewhere, she co-hosts the pop culture podcast Overinvested. Follow her on Twitter: @Hello_Tailor