upworthy CyberS
Teen kicked out by her parents for political activism outs them as violent Capitol rioters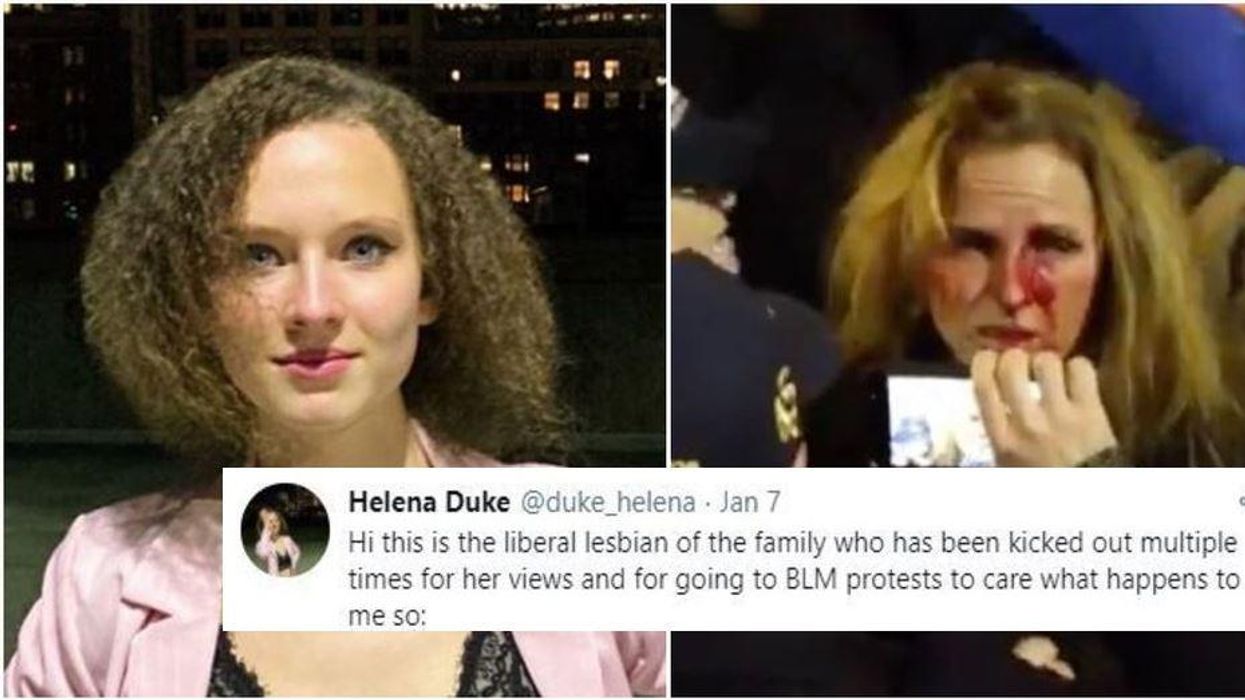 One of the primary jobs of being a parent is setting a good example and teaching your children right from wrong. 18-year-old Helena Duke caught her mother being a terrible role model and, in a powerful reversal, punished her for it publicly.
What else can you do after catching your mother harassing a Black woman while attempting to overthrow the U.S. government?
It all started when Helena's mother, Therese Duke, claimed she was going to visit Helena's aunt to accompany her for a medical procedure. However, Helena suspected she was really going to Washington, D.C. to attend the "Stop the Steal" Trump rally near the White House.
---
Therese conveniently turned off the geo-tracking app on her phone so she wouldn't get caught.
But as the rioters have learned over the past week, there were a lot of cameras and photos taken of the insurgency. The day after the riot, Helena's cousin sent her the video of a physical encounter on the stress of D.C. that featured some familiar faces.
The video shows multiple people harassing a Black woman who eventually becomes fed up and punches a woman in the face. That woman is Therese.
"My initial reaction was more like, Oh my gosh, I was right. I was actually right about them being there," Helena told BuzzFeed News. "It was very surreal because it was an insane video, first of all, and then it was the revelation that, Oh, that's my mother. That's her."
So Helena decided to out her mother as well as her aunt and uncle for their participation in the ugly scene.
On Thursday, Helena texted her mother asking where she was on Wednesday and didn't receive a response. The day after, Helena texted again asking, "how's your nose?"
"Please call me or talk to me if you really wanna know," her mom wrote.
A big reason why Helena outed her family is that she had been kicked out of the house multiple times for being a liberal lesbian and attending a Black Lives Matter protest. Her mother was once a Democrat, but after Trump's election, became a right-wing extremist.
Hi this is the liberal lesbian of the family who has been kicked out multiple times for her views and for going to… https://t.co/jYaakZkioz

— Helena Duke (@Helena Duke)1610048548.0
"She told me she thought Black Lives Matter was a violent organization and they would be inciting violence," she recalled.
"I always felt almost heartbroken over how they viewed the world and how skewed it was and how they wouldn't allow me to express my views. But showing that they can act in such a horrible way is just really appalling to me," she said.
"I am honestly very disappointed to have to be part of this family that is so…just, very not welcoming or supportive," she added. "I don't feel safe being part of this family."
The Black woman, who later identified herself as Ashanti, was arrested for the assault but claims she wasn't the aggressor in the heated situation.
"A video has surfaced where I was surrounded by a group of Trump extremists, and I honestly feared for my life. The video makes me look like I am the aggressor, but it does not show what happened prior to my defending myself," she wrote on a GoFundMe page.
"People shoved me, tried to take my phone and keys, yelled racial epithets at me, and tried to remove my mask," she wrote. "I asked them to social distance and stay out of my personal space due to COVID. They refused, and I was afraid of being hurt and harmed. After being assaulted, I defended myself."
In the video, a man who was identified by Helena as her uncle, Richard Lorenz, is seen throwing a punch.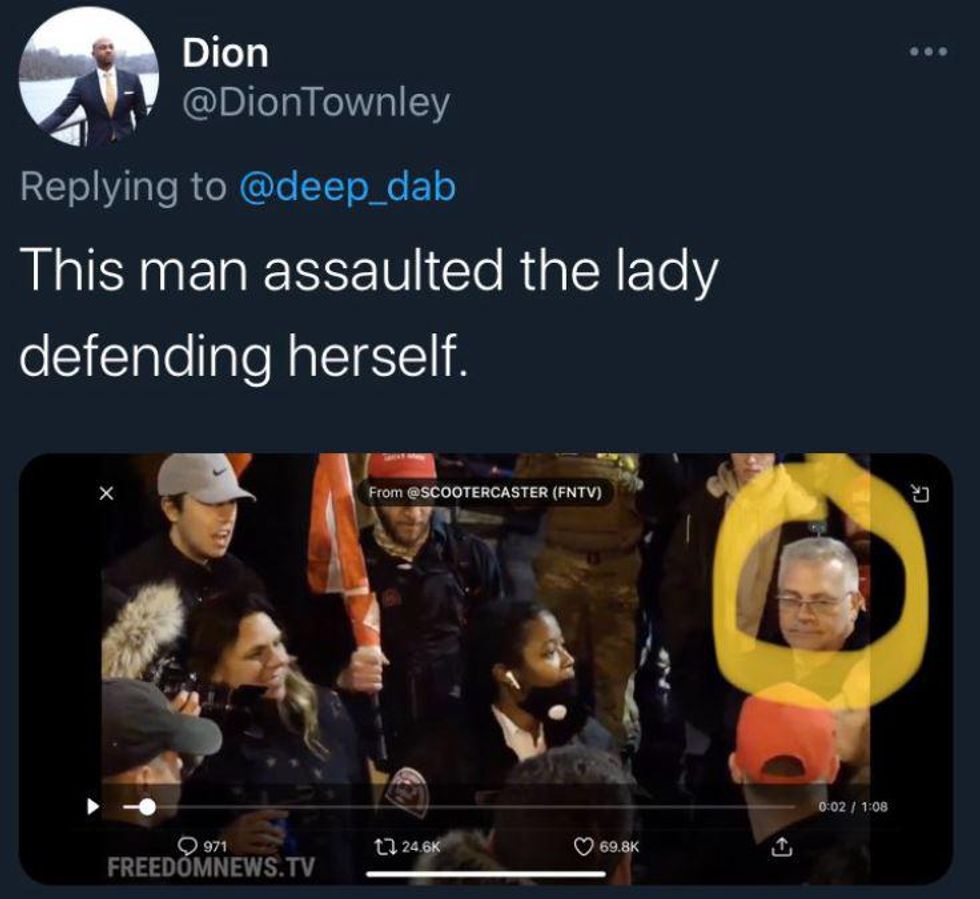 via Twitter
Since Helena's tweet about her family went viral, her mother has been fired from her job at UMass Memorial Medical Center.
Helena has started a GoFundMe campaign to help with her college expenses.