BuzzFeed CyberS
The Police Officer Who Shot And Killed Atatiana Jefferson Has Been Found Guilty Of Manslaughter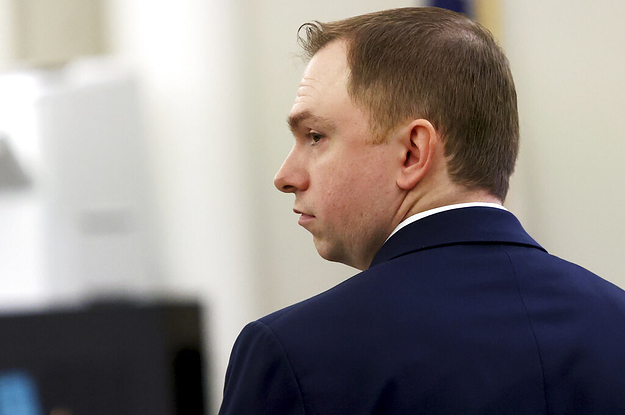 On the fourth day of trial, Dean himself took the witness stand. "The jury needs to hear from me and hear the truth," he told the court.
Dean explained that when he got to Jefferson's house, he thought the house had been burglarized.
"Objects were strewn about all over the floor. It looked ransacked. It was a mess. Kitchen drawers were open… it looked like someone had gone through looking for items to steal," Dean said.
When Dean saw the silhouette of an adult in the window, he said that he thought Jefferson was a "burglar," so he "straightened up and drew my weapon…and then pointed it toward the figure."
The former officer insisted that Jefferson was pointing a gun at him before he fired.
"As I started to get that second phrase out, 'Show me your hands,' I saw a silhouette," Dean said. "I was looking right down the barrel of a gun, and when I saw the barrel of that gun pointed at me, I fired a single shot from my duty weapon."
During cross-examination, Dean admitted that his actions on that day were "bad police work," as he failed to tell his partner he saw a gun and fired without seeing her hands.
According to prosecutors, Dean was only on the scene for one minute and 17 seconds before he shot Jefferson.
In closing arguments, prosecutors portrayed Jefferson as someone who was defending her home and nephew.
"You can be in your own home, owning a weapon, owning a gun, and you can protect yourself in your home. That's one of the most fundamental rights. That's the reason we all feel so safe," prosecutor Ashlea Deener told the court. "Atatiana Jefferson didn't commit any criminal acts by walking up to the window with her gun thinking someone was outside. It's what many of us would do if we were in our house in the middle of the night in the back bedroom and we hear somebody outside."
During closing arguments, defense attorney Bob Gill told the court that "a tragedy doesn't always equal a crime, it doesn't always equal a law violation."
Gill focused on the narrative that Jefferson pointed her gun at Dean and that he had the right to self-defense.
"She pointed a firearm at a Fort Worth Police officer…the rights stop there," he said. "It's a crime, and it's an unlawful act."
The jury began deliberating on Dec. 14 after six days of testimony.