dailydot CyberS
'This is someone's head': Ghost-hunting couple finds human remains while filming YouTube video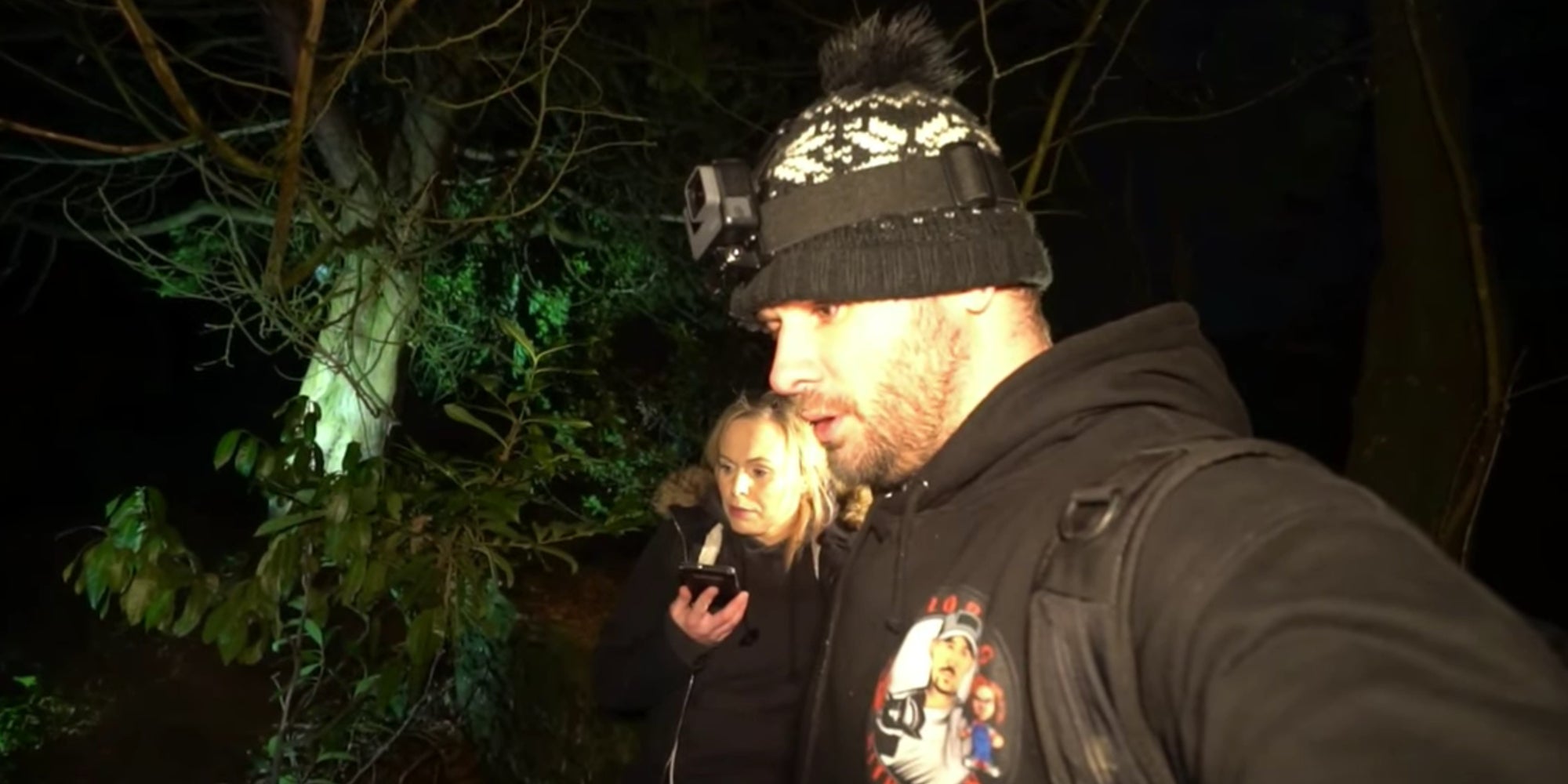 A ghost-hunting couple is receiving some backlash for posting their grisly discovery on YouTube.
YouTubers Danny and Felicity Duffy, who operate under the channel Exploring With Danny, were conducting a "paranormal investigation" in a wooded area near Bolton, Greater Manchester, on Monday when they stumbled upon a skull. In the video, which is still up on YouTube and includes a graphic footage warning, Danny puts on gloves to pick up the skull before showing it to the camera. 
"This is as real as it gets," Danny says while holding the skull, which was found next to a green army-style jacket. "This is 100% real. This is someone's head. I am not joking right now."
Felicity even tells Danny to "put it back" at one point. "You shouldn't have moved it," she says while filming him.
Three minutes after finding the skull, the couple calls the police. Officers eventually arrive and set up a crime scene. Greater Manchester Police (GMP), according to the Daily Mail, has since confirmed the skull is that of a human. 
The YouTubers, who boast nearly 150,000 subscribers and are self-proclaimed "urban explorers," posted the hour-long video featuring the discovery on Tuesday, drawing ire from some viewers online. One accused the couple of messing with the crime scene.
"Why would you pick it up? You could clearly tell it's a skull without touching it," another said.
Others urged the YouTubers to have more empathy for the person whose remains they found and their loved ones. "I can't believe you have posted this or that the police have allowed you to, if this was a family member or friend of mine I would be distraught that you had put this all over the internet," one said, to which Danny reportedly replied: "People die everyday that's the facts of life get over yourself."
In the video, the couple also sits down to discuss their discovery, calling the person whose remains they found a "poor soul" and saying it caused Danny to take a break from YouTube. "I think I've had an hour's sleep (since). What we stumbled across was absolutely disgusting, horrible, shocking," he says. 
He also ensures viewers that the footage is "100% real" and that "nothing was staged."
Police have not yet released any other details regarding the remains, and the incident is under investigation, according to the Daily Mail. "What we do know is that the item found has been confirmed to be a human skull, but it is still unknown how old the skull is and how long it has been at the location for – these enquiries by specialist forensic officers are ongoing and will be determined in due course," Detective Inspector Debbie Hurst, with GMP's Bolton Criminal Investigation Department, told the Daily Mail.
The Daily Dot has reached out to YouTube.
H/T Daily Mail
The post 'This is someone's head': Ghost-hunting couple finds human remains while filming YouTube video appeared first on The Daily Dot.